---
As families love to spend time together, the Sunday Brunch is becoming more popular everyday! With the need to entertain the kids and to cater for their diets, a family friendly restaurant is a MUST! This was why we loved "Atmosphere by the Sea" at Shangri-La's Rasa Sentosa Resort and Spa.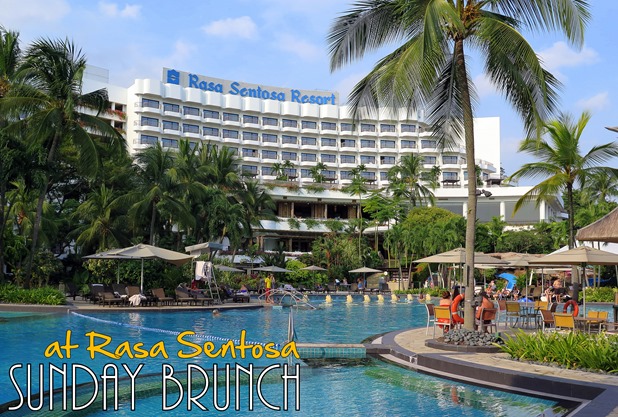 This Sunday Garden Party that runs from Noon to 3pm is a feast for the family! With a sumptuous seafood spread and a kid's menu for the children, the whole family was busy eating and enjoying all the food. With a multi-tiered seafood tower of fresh prawns, alongside a live carving station with succulent roasts, this is a buffet worth skipping breakfast for!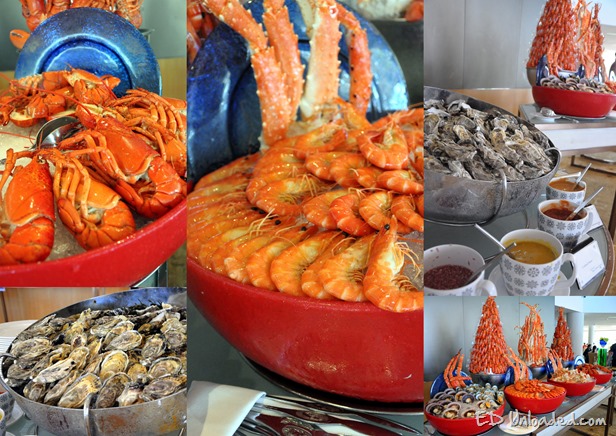 With a comprehensive array of appetisers, soups, pasta, meat carvings and seafood, this Buffet even has the cooks BBQing the meat for you, as you sit back and relax.  Being a seafood lover, I went for the lobster and deep sea oysters freshly flown in from the French coast.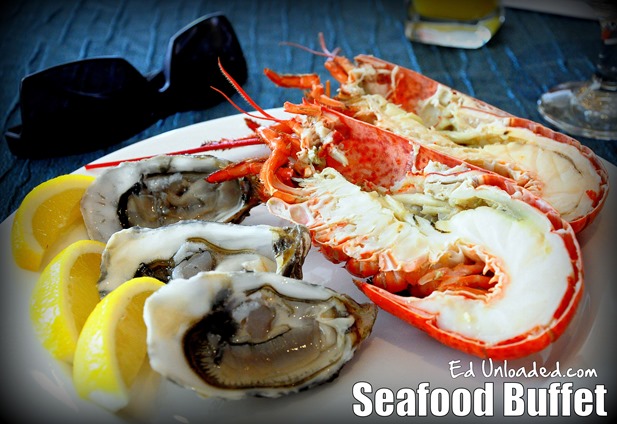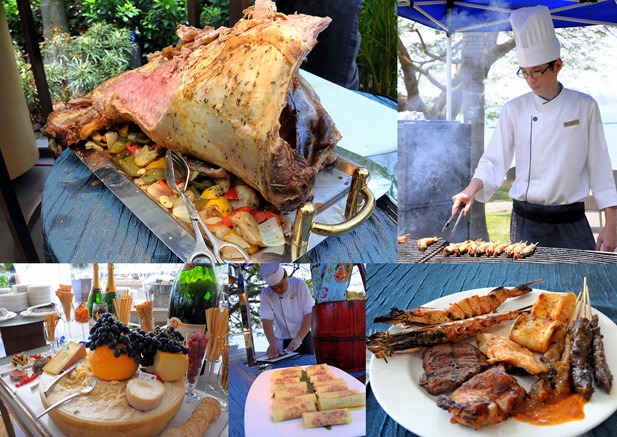 There was also Peking Duck and very delicious Indian Food. Shangri-La hotels are always good for Indian food, as I found this same strength, when I went for the Sunday Buffet at "the Line" as well.
Is there something that you really really like at this Brunch?
This Sunday Brunch scores very high in terms of Ambience! And that is why it is called the Atmosphere by the sea. When we reached the Buffet after 1pm, the resident band was already moving around, and crooning out familiar Jazz Tunes, as we dined overlooking the South China Sea. With the Double Bass and their melodic voices, they brought a different feel to the whole afternoon. We were so glad to have them Singing to us, all the way to 230pm, which was just before the Buffet closes.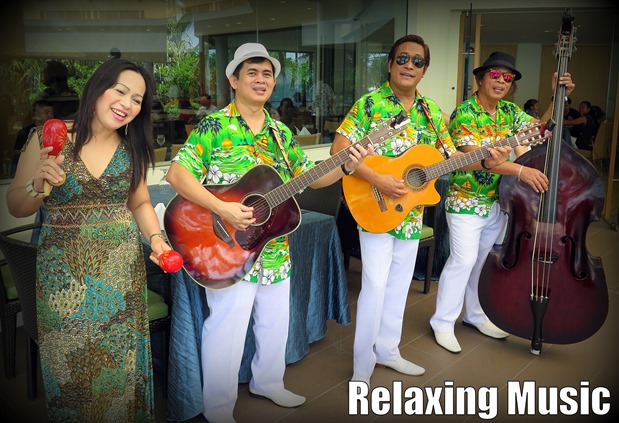 The Family Ambience goes up a notch with Rasa Sentosa's own Resident Magician. He entertained the kids in his own Mini theatre, as he performed magic and balloon sculpting.  This was a much deserved break, as Parents will get to eat lunch peacefully, while the kids are entertained.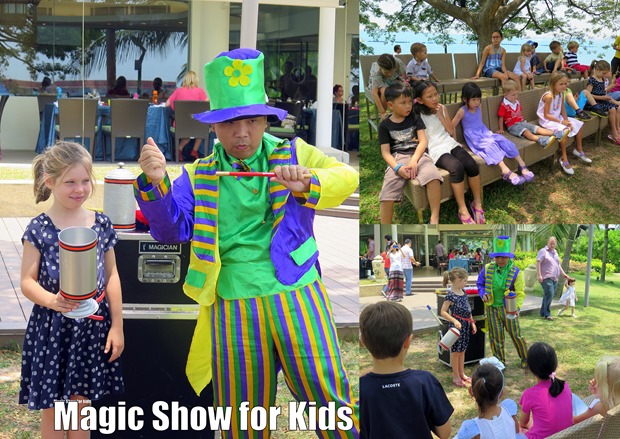 With the green open fields, the inviting ocean and relaxing music, the kids just loved to run around and soak in the whole atmosphere. We felt like we were on Holiday, even though we were within sight of Keppel Harbour!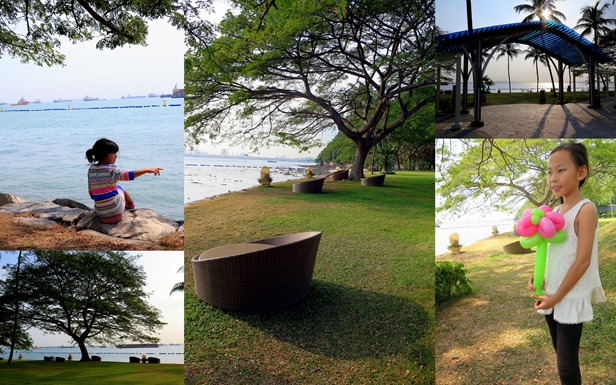 As you can see, my girls were smiling all day! It was the beginning of a beautiful day!

After lunch, the fun does not stop there!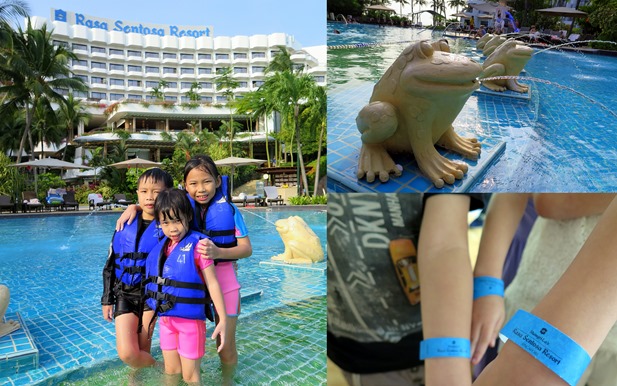 Families are given a Blue Wrist Tag which gives everyone access to the resort's swimming pool. The hotel supplies towels and also life vests for the kids, so that they can splash around safely in the pool.
With the family in mind, the hotel is further equipped with children's slides and a splash pad. Water is kept clean through a particle physics based water management system which keeps the water in a natural pristine condition. This makes the  facilities suitable for younger guests without incurring chlorine-related risks such as skin and eye irritations.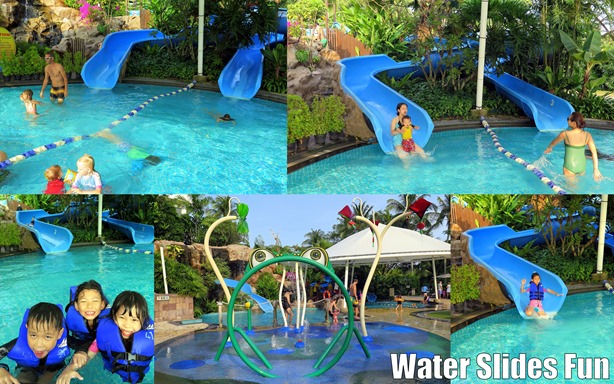 The pool at the water slides is built for the kids, and it is only about 1m deep. My youngest girl had no problem standing after the splash from the slide and this really helped to build up her confidence, as my kids can't really swim yet. It did not them long, to get used to the surroundings, and keep running up the slides by themselves.
Besides the Pool, Patrons can visit the nearby Sentosa Beach and let the kids have some fun building sandcastles. Parents can maximize their benefits at Rasa Sentosa, by enjoying One-for-One drinks at the Siloso Beach Bar from 5 to 8 p.m., after their swim.
The Sunday Garden Party at Atmosphere by the sea is available at S$128++ per adult.  There is a Promotion at the Buffet, One child below 12 years dines free with every paying adult.  S$28++ applies for each additional child.  For reservations or enquiries, please call (65) 6371 1966 or e-mail fbreservation.sen@shangri-la.com.
And oh Yes! For our Readers once again, we are having a GIVEAWAY!
We are giving away a FREE Sunday buffet to One family (2 Adults and 2 kids under 12yo).
All you need to do is:
1. Comment on this blog post, and tell us why you like the Sunday Brunch?
2. Join and LIKE the Rasa Sentosa Facebook Page and ED Unloaded Facebook Page.
3. Share this blog post on your Facebook Wall with the Caption "FREE Buffet at Sentosa" (Do ensure that you TAG me or Ed Unloaded, so that I know that you have done it.)  Editors decision on Winners are final.
(Closing Date 19 March , 2359hrs)