Sponsored Review
Continental Cars are a common sight in Singapore. We are the only nation in the world where car makes such as Mercedes Benz and BMW have the best selling models. With the ability to offer better drives and competitive fuel consumption, many middle income families have left their Japanese cars to go European. Having a family of 5, we are driving a Citroen C4 Grand Picasso, and although it has been a comfortable drive, it has been a nightmare to maintain.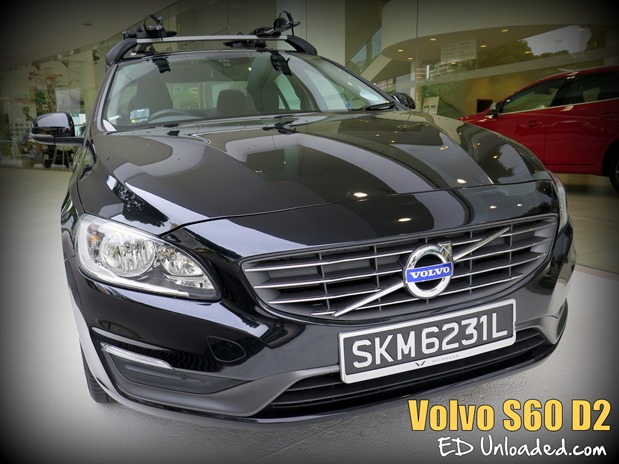 After my experience with the Citroen Grand Picasso, I have been telling myself to go Japanese with my next car. The mileage isn't that fantastic, and a frugal sedan is the way to go. Last week, we were invited to take the Volvo S60 D2 (Turbo Diesel) home, and our hearts have been "tugged" by the Swedish Carmaker.
Firstly, the Volvo S60 D2 features a 1.6 litre Diesel Engine. Producing 115 Bhp (84 Kw) and 270 Nm of torque, this put the S60 within the Cat A COE Category. The Diesel engine has a CO2 emission of only 114 g/km, offering a rebate of $15,000 under the Carbon Emission Vehicle Scheme (CEVS). This means Savings for any family, especially with the current Car Loan Restrictions.
Secondly, being a Father of 3 and always on the road, fuel consumption is a BIG Deal to our family. Since Winning the Shell Fuel Save Challenge, I have been trying to drive my Citroen MPV in the most economical way.  And in terms of fuel consumption, I take my hats off to the Volvo s60 D2! This sedan only drinks 4.3 litres / 100 km. In lay man terms, this Volvo can drive up to Penang and back to Singapore on 1 Fuel Tank.
There is no need for you to visit any Diesel Station in Malaysia, as the S60 can bring you there and back at one go! Truly Amazing and pleasing to the wallet!
How does the s60 perform?
Taking into account that the car has a Diesel Engine, I enjoyed my drive.
Wipe away those misconceptions about noisy Diesel Engines. This sedan does NOT sound like a Comfort Cab, and when you are in the Cabin, you can hardly tell that the engine is on.
When you come out of the car, there is no "tik-tik-tik" sound of the loud Diesel engines that we are used to as well. However, if you are expecting the "purr" of a petrol engine, you will be disappointed. The engine is quiet, but it is still a diesel engine. However, for non F1 Drivers like myself, this is not a great drawback, as the car is loaded with class.
Driving Performance was enjoyable. Although you are not going to get the acceleration of a Sports car, there was still additional "Oomph" when I needed it. The car sticks when it takes a turn, and I felt safe when accelerating. The S60 D2 hits 0-100 km/h in 12.3 Seconds.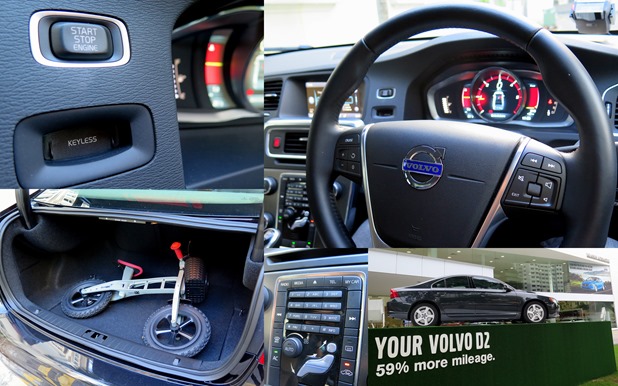 What do you love most about the car?
The No.1 Selling point about this car for me is definitely the Mileage. When they gave me the car, the Volvo had a full tank of diesel. After 1 weekend of driving, where I went from Changi to Jurong, and running numerous errands in between, the petrol indication only went down by 1 Notch. Truly Fantastic Mileage and it does live up to it's ability to go to Penang and back on 1 Full Tank.
Other selling points would be the technology found in the car. Besides the normal door detection devices, where the door opens when you place your hands on the handles, the car has other technological innovations.
Volvo has always flown the badge of Safety and it has continued to do so with its cars. With it's Pedestrian Detection capability, it can detect pedestrians who walk into the road in front of the car, and automatically apply full braking power, if the driver fails to respond! Naturally, I did not try out this function, but the independent car experts have testified to Volvo's Performance in this area. With Collision Warning, brakes are also activated when the driver doesn't respond when a rear-end collision with a moving a stationary vehicle is imminent. A definite Double Thumbs Up for Volvo!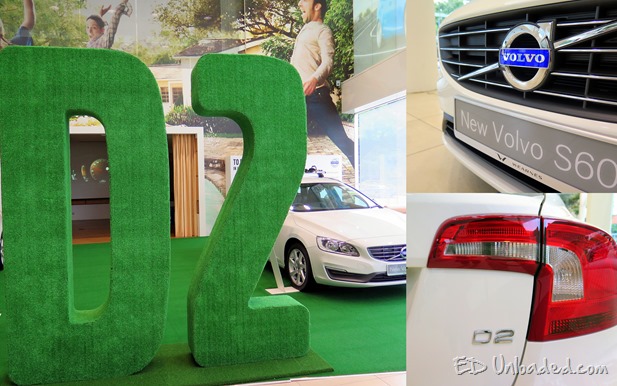 Overall, I loved driving the car Volvo although I still have my reservations about maintaining a Continental Car. However, the ability of the car to save on the Petrol bill, has got me sitting up and perked my interest in Volvo. For a normal everyday driver, who does not need a ultra high performance car, the Volvo does score well in this area.  At Press Time, the Volvo S60 D2 has a list Price of $167,000 (Current COE for Cat A: $71 672). This is of course a rough estimate of what the car is going at.