Free Petrol from Shell!
How many of you want FREE PETROL?
Well, Shell is giving out $5 Fuel Vouchers to all ED Unloaded Readers! Do keep on reading to find out how!
If you guys don't know, I was part of the Shell Fuel Save team in 2011, and it has been a joy working together with the Eunice Olsen and the rest of the Shell Fuel Save team. It was also great fun to drive on an actual F1 track in Malaysia!
This year, Shell has a new competition which ensures that everyone is a winner, as all participants get to find out how to save Fuel, and receive a $5 fuel voucher at the same time. Called the Shell Target One Million Contest, this contest challenges everyday drivers to help spread awareness on how good driving habits can help  motorists in Singapore save fuel and money.
All you need to do, go to the Shell website and sign up to be part of the Target One Million Campaign. Play the simple online game (which even my kids have no problem playing) and upon completion, you will qualify for the $5 voucher.
Here are the detailed instructions:
1. Proceed to the  Target One Million online game. website
2. Register your details before playing as, this ensures valid entry.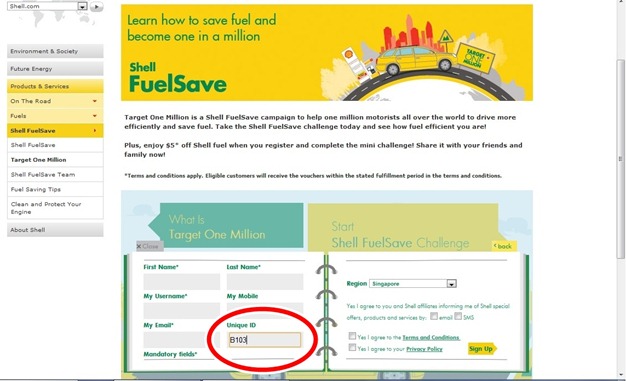 3.  Remember to key in  all your details and the UNIQUE ID: B103, as Shell will need all your details to send you the $5 voucher. The Unique ID also lets Shell know that you are my friend and helps in my blogger competition with them!
4. Play the online game (which is really very simple), and Shell will send you the voucher upon successful completion of the game.
So, don't delay in signing up and click on this link to head over to Shell
I am definitely getting all my friends and relatives involved. $5 can go a long way, as the vouchers can be combined, and it is definitely great savings! (Promotion ends 26 August 2012 at 2359hrs)