Thinkasaur: Primary School Science delivered!
Kids just love Science, and at Thinkasaur, one gets Primary School Science delivered in a box! Nathan just loves discovering new things, and with Thinkasaur, we have unearthed a Science Box, to help nurture the curiosity within him.  Best of all, it was something that Daddy could do alongside him! Quality Time and Holistic Enrichment all at the same time! 🙂
(Sponsored Review)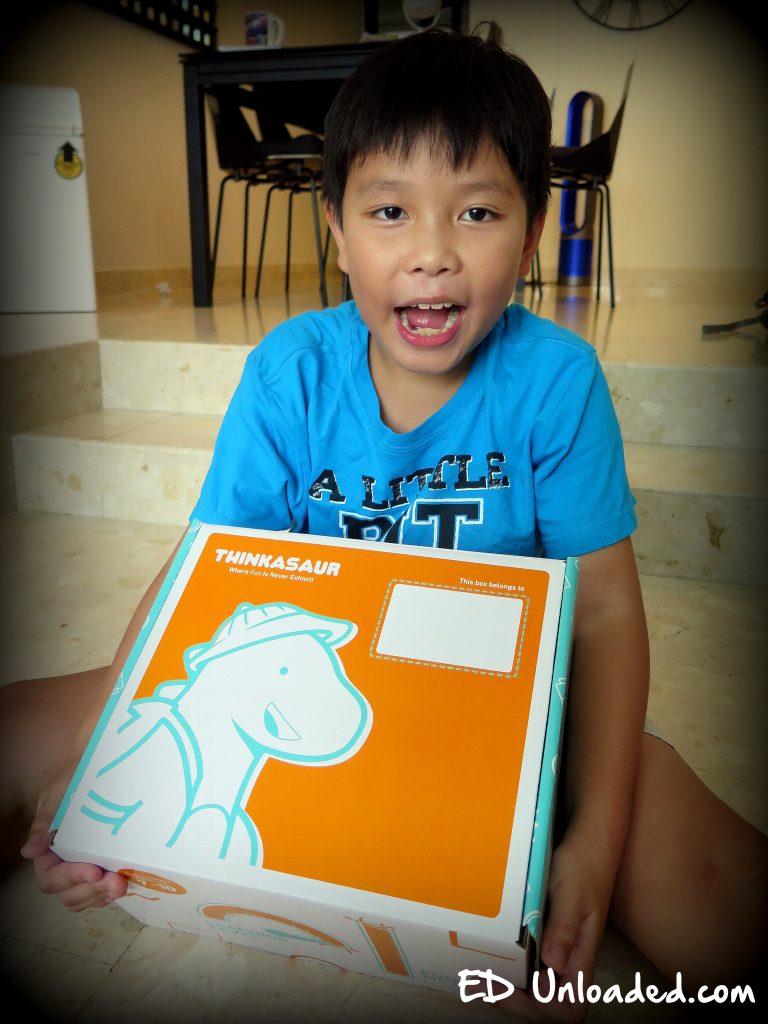 Recently, we were introduced to the creators of Thinkasaur, and we had an intimate look, at the science behind the box. The idea behind Thinkasaur emerged from the Science Centre Projects, we experienced as a kid. I believe many of us, remember getting those Science Centre Project cards, and working on those experiments at home, and later getting our Science teachers to vet and sign the cards. As the workload increased for the teachers, the cards were later discouraged and discontinued. However, one must admit, that it did stir an interest for Science among many of us.
The great thing about Thinkasaur, is that it brings science right to your doorstep. Each Science box comes with 3-4 fun experiments, and with all the materials to make it happen! With 12 themes a year, each child will be able to broaden his/her knowledge, without doing the same experiment twice!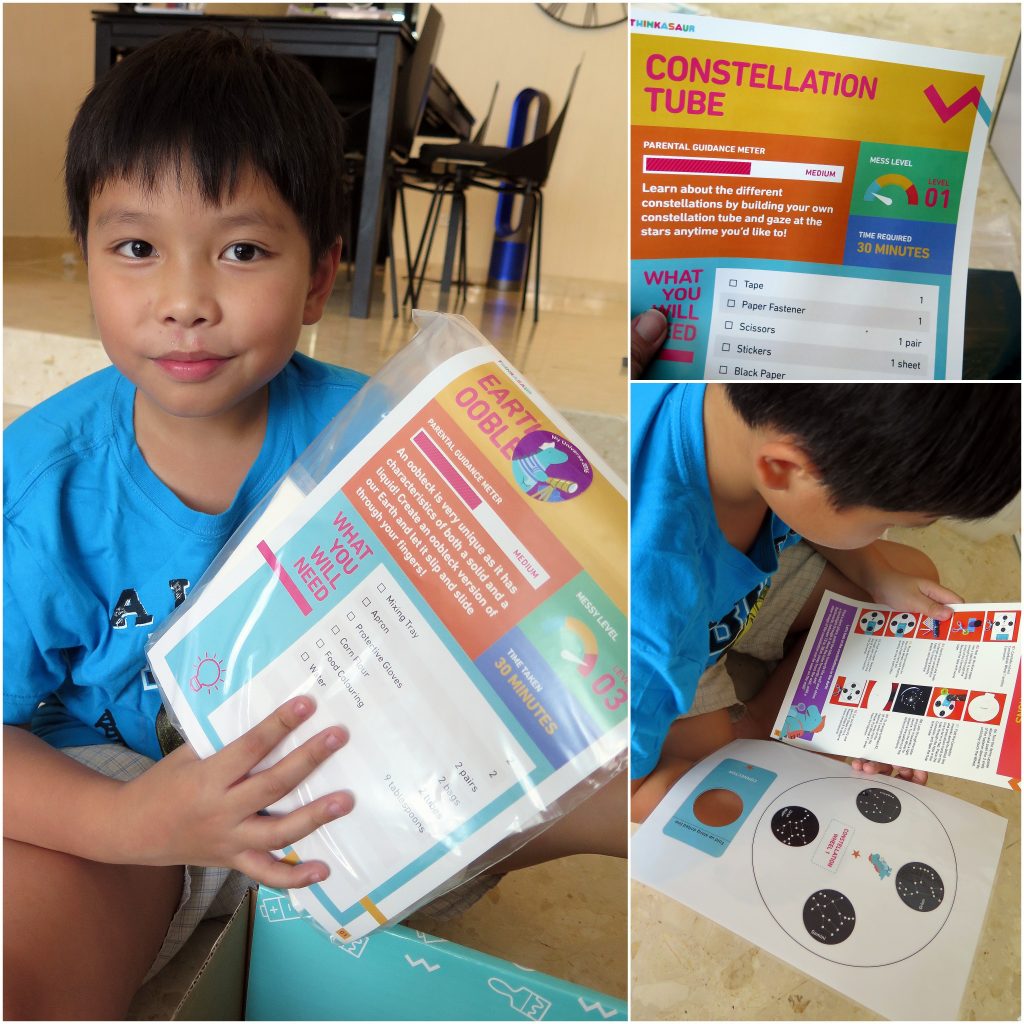 Upon unboxing our sample box, we discovered that we were tasked to discover the Stars and Space. Naturally, this topic was a "Hit" with my boy, and he was more than willing to get his hands dirty for this project. Each experiment is wrapped in its own ziplock, and there are detailed step-by-step pictorial experiments to guide one through the experiments.  With colourful big bold fonts and simple instructions, Nathan had no problems following the suggested steps to make the project happen.
We started off with the constellation wheel, as this was the simplest experiment in terms of level of difficulty. With sticky tape, decorative stickers, and a fixed template, we were good to go! Before long, we had the constellation wheel in place, and we were ready to explore the stars, as we looked through the tools we built. 

The good thing about the box, is that each Thinkasaur box, has got about 3-4 experiments! So after the constellation wheel, we had 3 more experiments to go. In this series, we had fun making space rocks, and other activities. The kids had great fun, making the experiments, and getting their hands dirty at the same time! Even though Thinkasaur supplied gloves, we were more than happy to use our bare hands, as we were conducting the experiments in the comfort of our homes.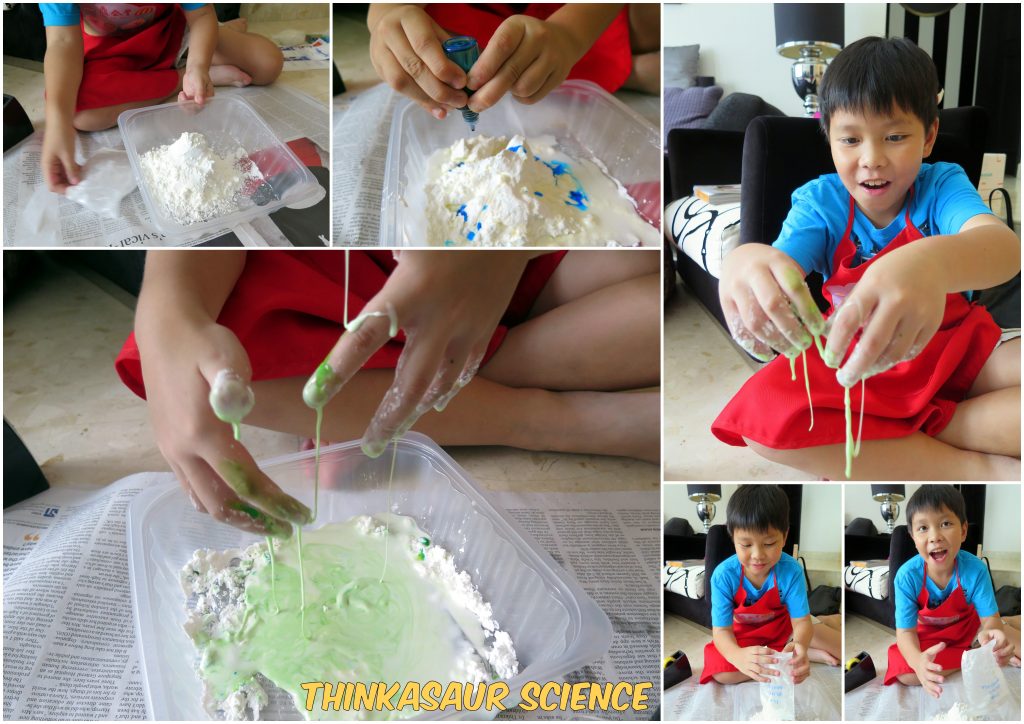 As you can see from the kid's faces, they enjoyed everyone of their experiments!  Best of all, they were experiments that Parents can do alongside them.
If you are unsure about the Thinkasaur boxes, you can opt for 1 box ($48), and get it delivered to your home. In this way, one can have first-hand knowledge about the Thinkasuar experience.

For the converts, one can subscribe to a year-long Thinkasaur subscription plan and get 12 Boxes at $40 ea.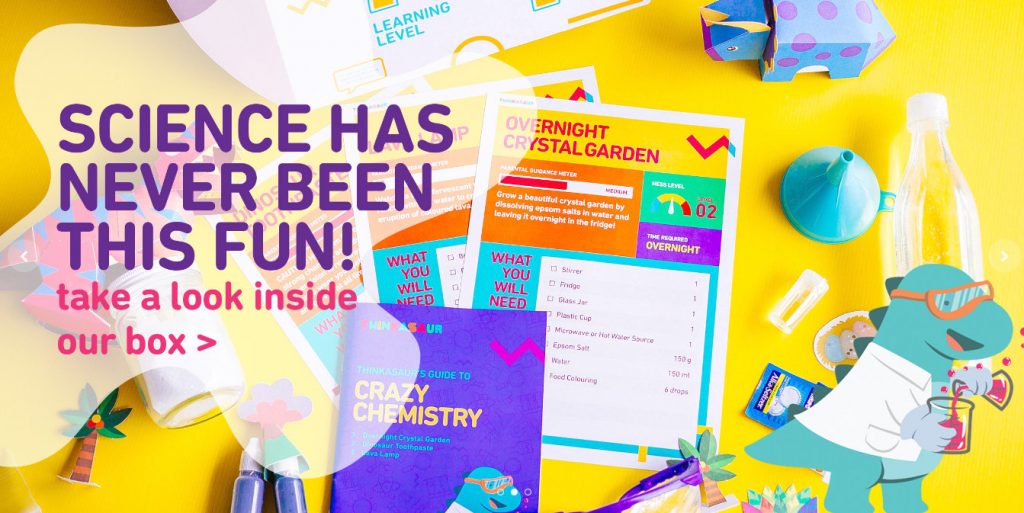 And there is a special for all ED Unloaded Readers:
All Readers will be entitled to a 10% discount for all Orders, when they quote "THKunloaded" upon checkout! 
(Code is valid from now till 30 September 2016, Limited to 1 use per customer, and limited to the first 1000 redemptions only). 
Click to find out more about Thinkasuar, and find out how Sceience never beomes extinct! 🙂