Singapore Wake Park (Giveaway Closed)
Wakeboarding is one of the most fun water sports that one can experience at East Coast.  The Singapore Wake Park is the only cable-Ski park facility in Singapore offering knee-boarding, wakeboarding, wakeskating and double-skis 'cable-style'. Opened in the day and in the night, the Singapore Wake Park has something for everyone! 🙂
We have chanced upon the Singapore Wake Park many times, when we had our dinner at the Bedok Lagoon Hawker Centre. Located just next to the famous food haunt, we have always envisioned about trying the sport one day.  With wakeboarding available for both kids and adults, the day has come sooner rather than later.
(Sponsored Giveaway)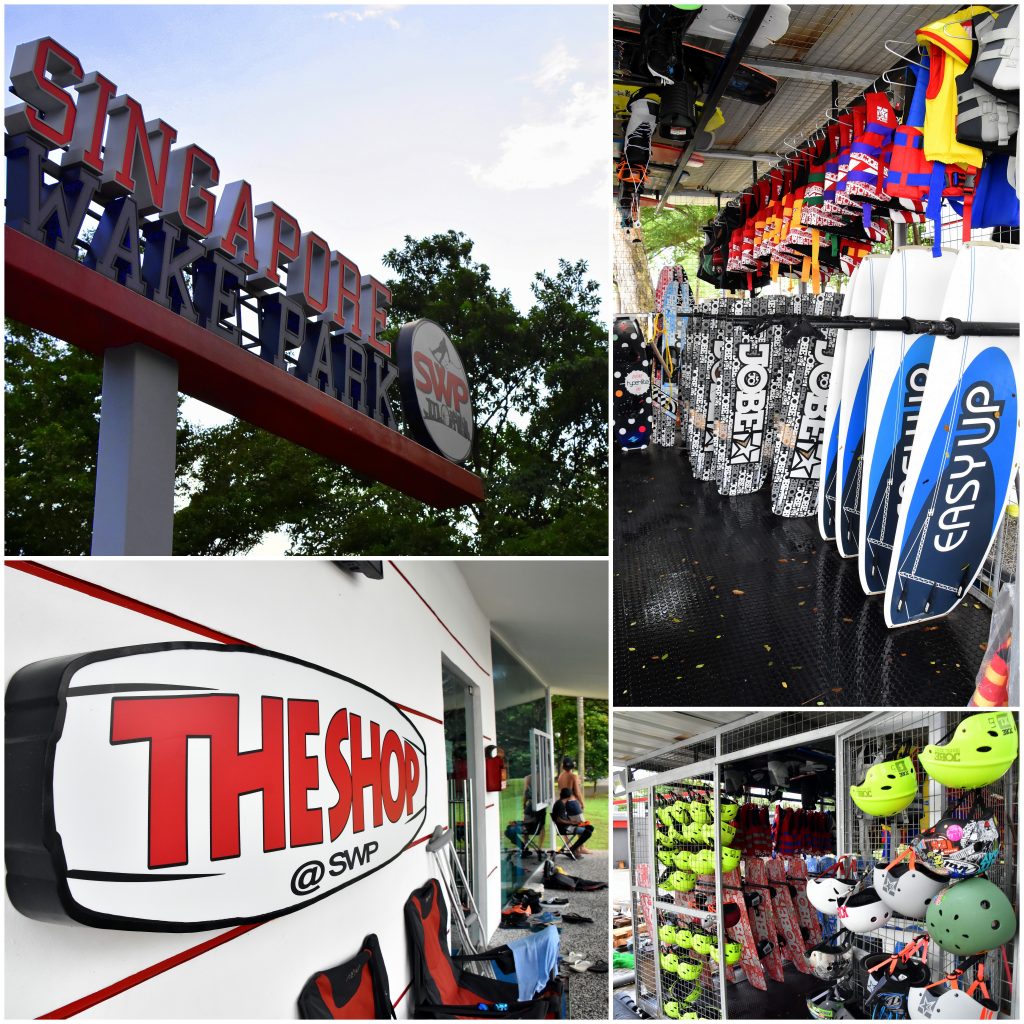 Despite the wet season in November, we managed to find a dry window to visit the Park. To ease the kids into Wakeboarding, I showed them pictures of what to expect at the Singapore Wake Park. To my pleasant surprise, they were game to try the sport for themselves!
As safety is a top concern for parents, visitors to the Singapore Wake Park will be glad to know that they have equipment to fit children and adults. Check out the kids in their children's helmet and colourful life vest. Nathan is pictured below, trying out the children's ski skating board to get the right sizing.  
Singapore Wake Park comes equipped with the System 2.0 for beginners. This allows a child or an adult to kneeboard or stand on the wakeboard unassisted. The system 2.0 caters for only one person at a time hence creating a safe learning environment. The adjustable speed of the cable makes learning how to stand on a wakeboard easier, and it also means gentle falls. It's perfect for young children and those just starting out on the wakeboard.
Together with an instructor assigned to us, to help us get used to the new sport. Under his patience guidance and introduction to the sport, we were more than game to  get into the water.
Check out Nathan pictured below all ready to experience his first attempt at kneeboarding!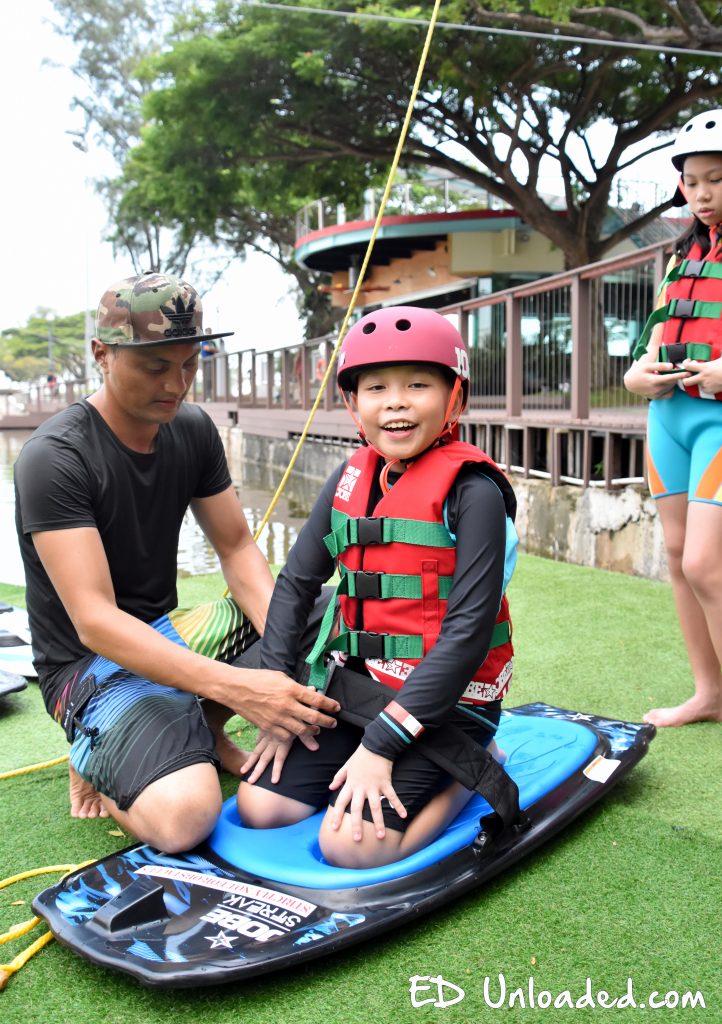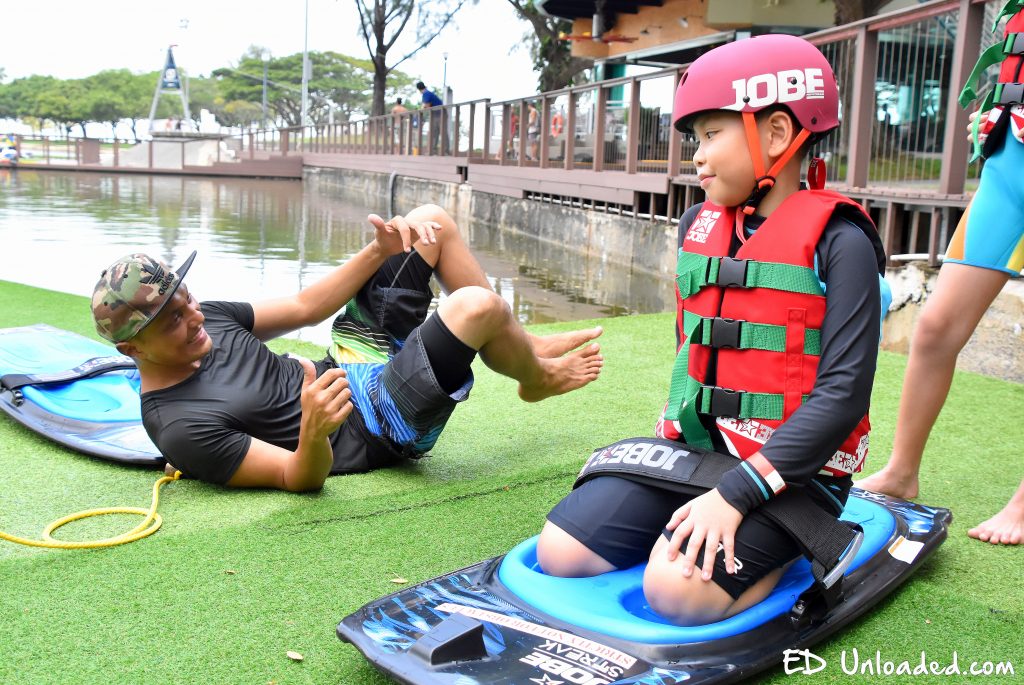 And below long, we were ready to go and experience the full thrill of Singapore Wake Park! 🙂 Check out our experience in Pictures: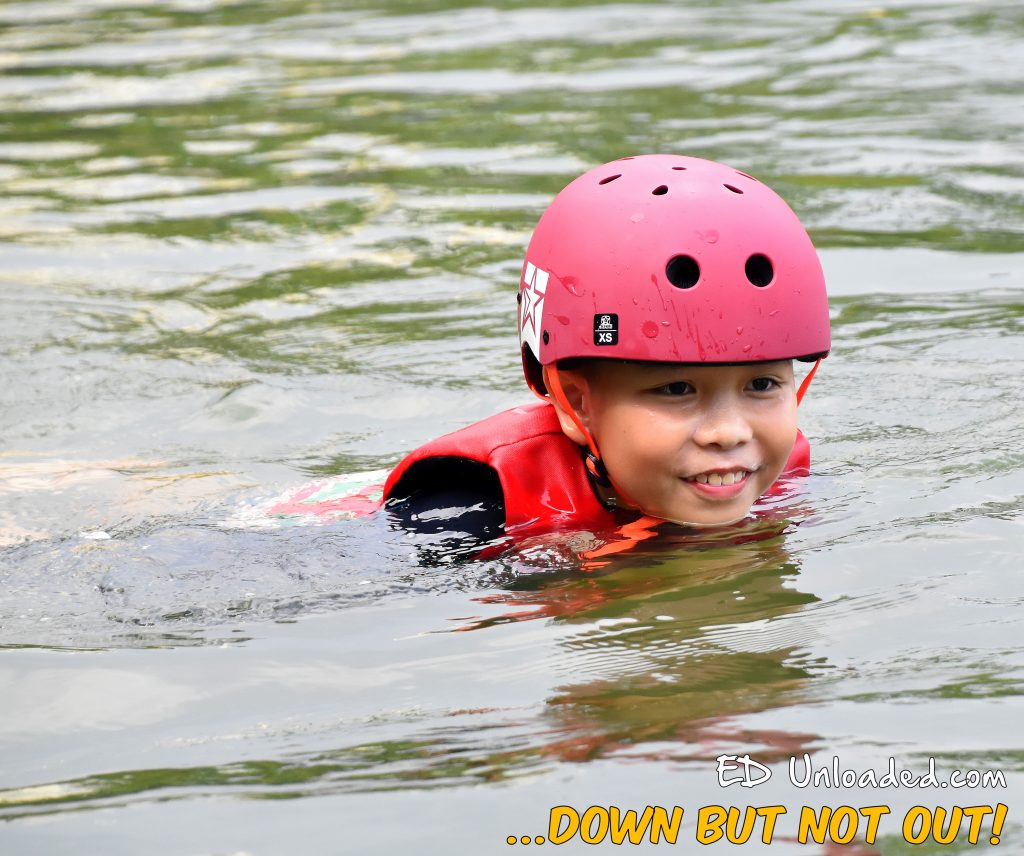 Needless to say, Nathan did not make it very far on the first attempt. But Daddy did not make it very far as well! 🙂 In fact, if you must know, the girls made it the furthest.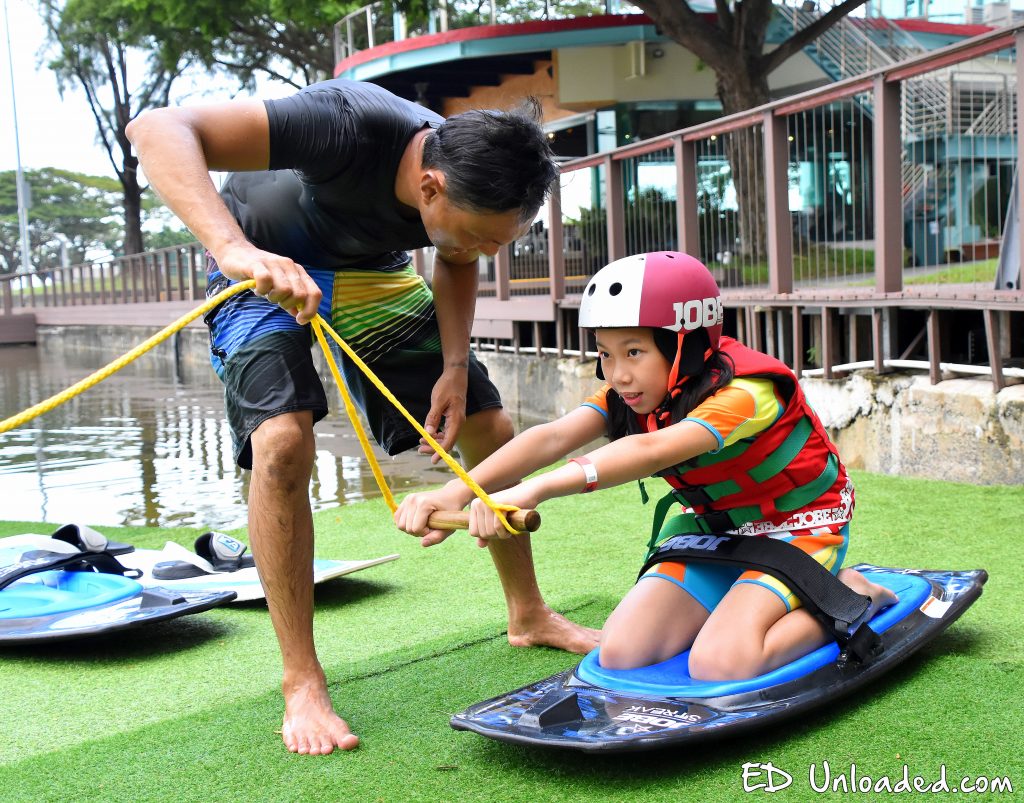 One of the great things about our outing at the Singapore Wake Park, is that the whole hour made us realise the importance of repetition. The kids had to learn to not give up and keep on trying again and again. After losing balance, we simply climbed back to shore and we were ready to do it again.
With each attempt, we got closer and closer, in our attempt to find the perfect ride!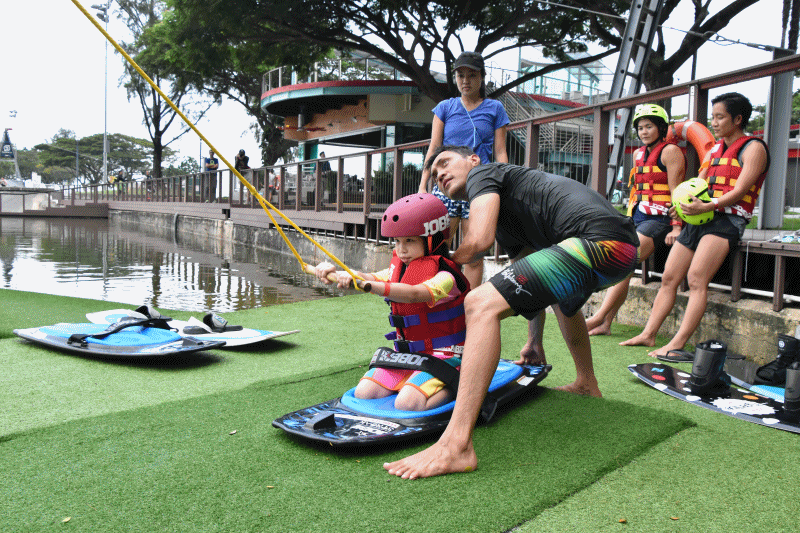 Verdict on Singapore Wake Park
We had a great time learning to wake board at the Singapore Wake Park.  I reckon that the best age for the kids to experience wakeboarding will be in Primary School. With each kid and adult wearing a life vest, one does not need to be a great swimmer but basic water confidence is essential.
Our youngest girl made it all to way to the end on her first ride. However, as she was not very confident in the water, she needed assistance to swim to the water buoys. She got a bit fearful after that and her adventure stopped there. However, the rest of the kids and me kept at it, trying to perfect our standing position.
Will we do Wakeboarding again? 
Yes! it was really fun! However, for the next 2 days, my body was aching, as I hung on too long to the cable after falling down.
Pricing for Wakeboarding
Normally it is $40 per hour on weekdays and $60 per hour on weekends. Click Singapore Wake Park for the full rates.
An hour is definitely more than enough for the kids, so one should be planning for a break, after an hour at wakeboarding.
And there is an Opening Promotion for all Wakeboarding enthusiasts! There is a special 2 for 1-weekday promotion, which means just $20 an hour (Valid till end of Nov).
Click to find out more about the Singapore Wake Park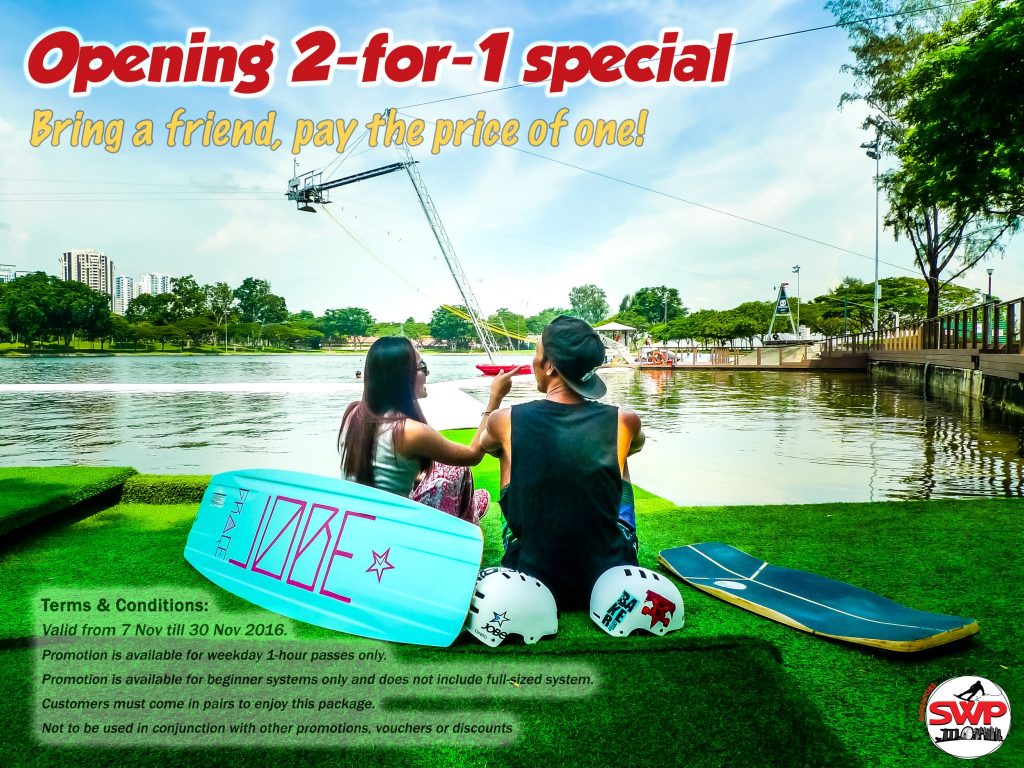 And Yes! We have a Giveaway for all our readers! 🙂
One Reader will walk away with 2 Weekday (1 hour) Passes to the Singapore Wake Park. 
All you need to do:
1. Comment on this blog post and tell us why you want to go to the Singapore Wake Park?
2. Join and LIKE the and  Ed Unloaded  and Singapore Wake Park Facebook page
3. Share this blog post on your Facebook Wall with the Caption "I want to go Wakeboarding at the Singapore Wake Park!" (Tag at least 2 friends) 
For those who are new to the process, just copy the Blog Page Address and Paste it on your FB Wall. (Do Remember to add the Caption, tag and make your share Public!)
The Giveaway ends on  4 December 2016 at 2359 hrs.
(Editor's decision on Winners are final, and Facebook accounts used solely for Giveaways will NOT be entertained. All incomplete entries will  also automatically be disqualified The management reserves all rights to amend or change the terms & conditions of this promotion without prior notice. Final decisions will be made by Ed Unloaded.com.)  
(Disclaimer: No monetary compensation was received for this post and prizes are provided by our sponsor. All opinions are 100% our own) 
__________________________________________________________________________________________________
And Yes! Our Winner is
MJ
Congratulations! We will be contacting you shortly about the collection of your prize. To the rest of our readers, do stay tuned for our next giveaway.