Mama Mia! The Smash Hit Musical
In 2001, we were in London for our honeymoon. We were so blessed to be given the opportunity to watch four musicals then. I remember the most memorable one was Mamma Mia.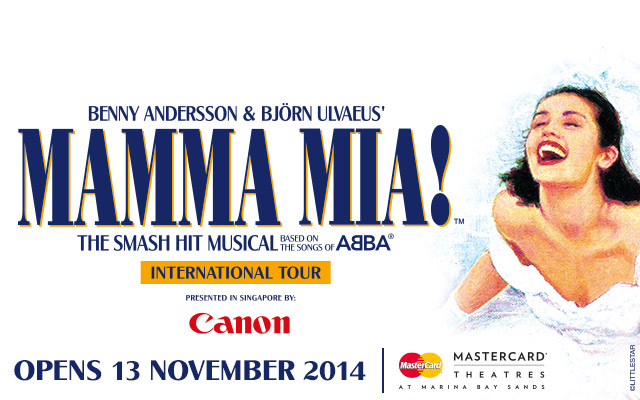 One main reason was we were tapping our feet throughout the musical and we were ALSO humming (softly) all the very familiar songs. I mean we could all hum the intro bars to each song! These songs were huge classic hits! Then came the deal clincher! The entire theatre stood up during the encore and danced along with the cast! It was fantastic!
So when we were invited to watch Mamma Mia on its opening night, we were elated! It would be wonderful to relive those songs again, and it would be interesting to see if the Singapore audience would be as spontaneous to stand and dance along!
The story behind Mamma Mia is simple. Sophie was going to get married the next day, and she has sent out wedding invitations to 3 strangers who may potentially be her dad. As the story unfolds, we realise it's not so much of a who-did-it (or who-is-the-father) story, but one of treasuring relationships and friendships.
Strangely, in my second time watching, I felt the focus was also on the very precious mother and daughter relationship. My wife says, maybe now that we are parents, we see it differently. There was a tug in my heart as the preparations for the wedding unfolded.
What really stole the show for me was when the mum, Donna sang The Winner Takes It All. It was beautiful as she carried her voice to show the betrayal she felt, the tears and hurts that she went through.
Another crowd favourite was Tanya & Rosie, Donna's close friends. They brought comic elements to the musical and it was raunchy at times, but all really quite funny!
In the end, during the encore, I was waiting to see if the Singapore audience would stand up to dance along. Well, the foreigners amongst us did. They were spontaneous to stand, wave and dance along. The more staid local crowd took a while to stand up and dance, but they did. Yes, they did! (although not all!) but still, the musical ended off on a high, with loud claps and dance. I must say, even the shy ones sitting down, were clapping along and tapping their feet (albeit quietly!)
Catch Mamma Mia at the Grand Theatres at Marina Bay Sands. It's on till 14 Dec Sunday! Details are follows:
Event Date
Thu, 13 Nov – Sun, 14 Dec 2014
Tue – Fri: 8pm
Sat: 2pm & 8pm
Sun 1pm & 6pm 
More information here: http://www.sistic.com.sg/events/mamma1214