Children's Themed parties are never cheap, and as the kids get older, we are always looking on how we can stretch our dollar! Parents are always looking to find out how they can throw a great children's party without breaking the bank. Introducing Laser Tag by Tag Team Inc. at East Coast Park! 🙂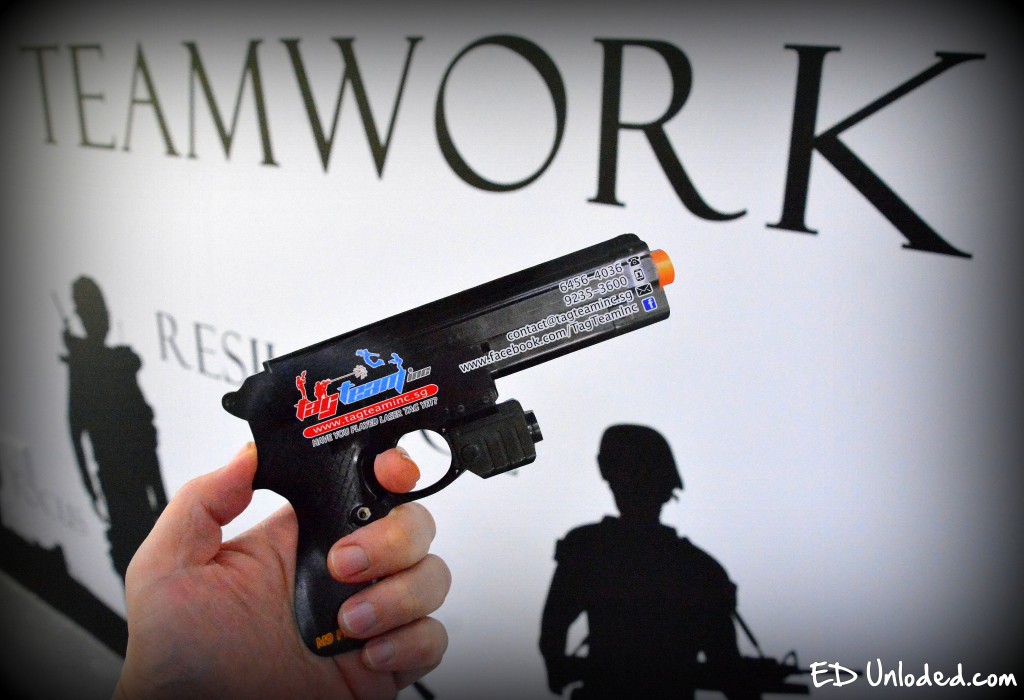 Get all the adrenalin pumping fun that comes with Laser tag at ECP Parkland Green! Situated just opposite Parkway Parade along East Coast Park, this playground is not just fun for kids, but it is ideal for adults as well There is just something about Boys and guns, and when we told Nathan that Tag Team was sponsoring our party, he was simply "Over the Moon!"
Imagine 20 kids running around a maze with laser assault rifles, and just letting their hair loose. Even his friends, who were as young as 5yo had no problems enjoying the event, as basically having fun is just second nature to all the kids.  And we had all of this, without the need to pay for a party room, or facing any restrictions on our catering 🙂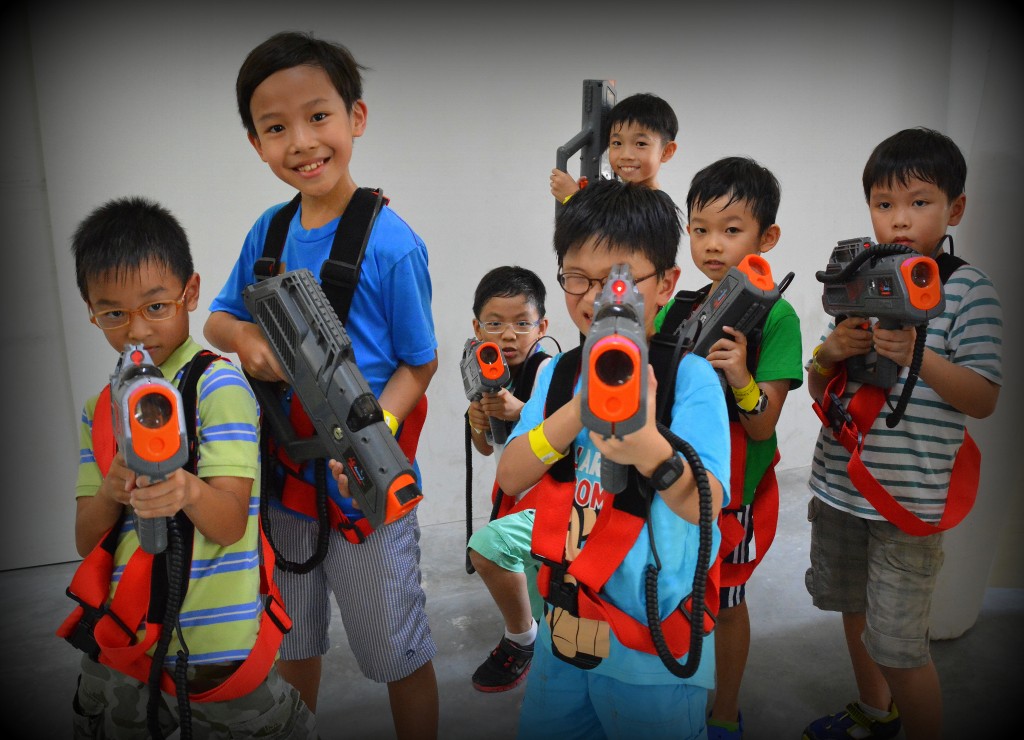 If you are wondering how the party is going to happen, let me give you a mission ops briefing for a laser tag party at Tag Team Inc.
First off, there is a safety briefing, where the kids are given a briefing about the boundaries and the rules of the game. The room pictured here is the Battle Zone. This is an Outdoor Activity area, which is slightly smaller than a basketball court.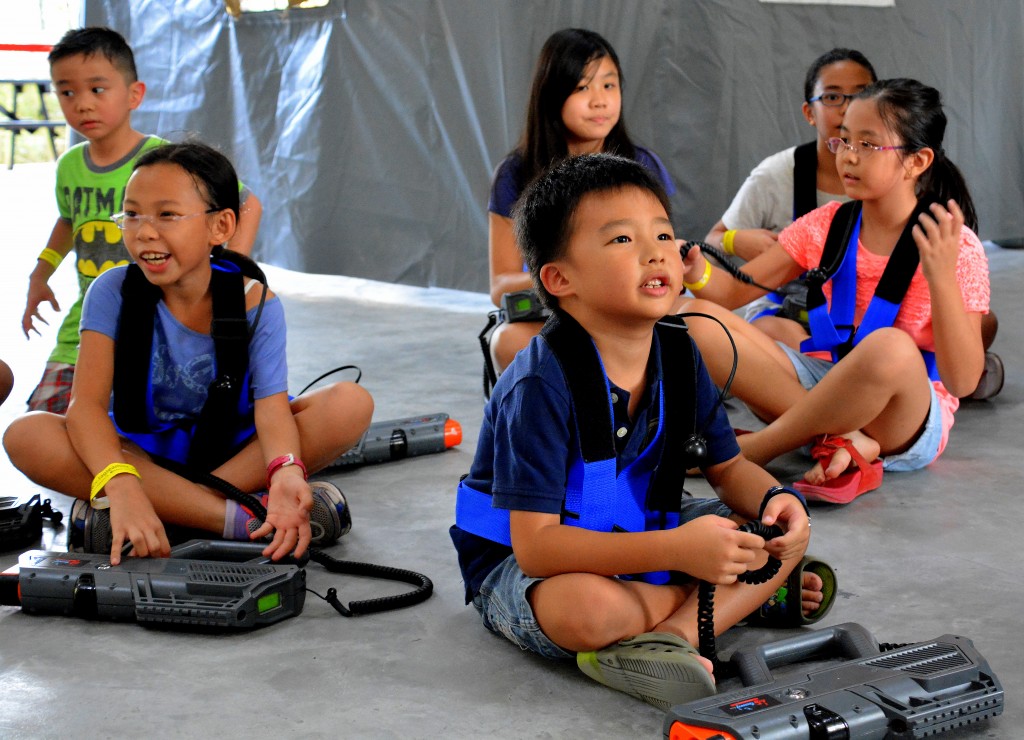 There is another room called the Mystery Room, which is air-conditioned and smaller. Although the Battle Zone is NOT air-conditioned, I would recommend kids from 7 years and up, to have their parties here. The reason being is that the Battle Zone has got bigger and better guns, and secondly, the older kids will love the extra space.
Game play is really simple! Just destroy the other team! If you run out of bullets and lives, then you head back to base and recharge.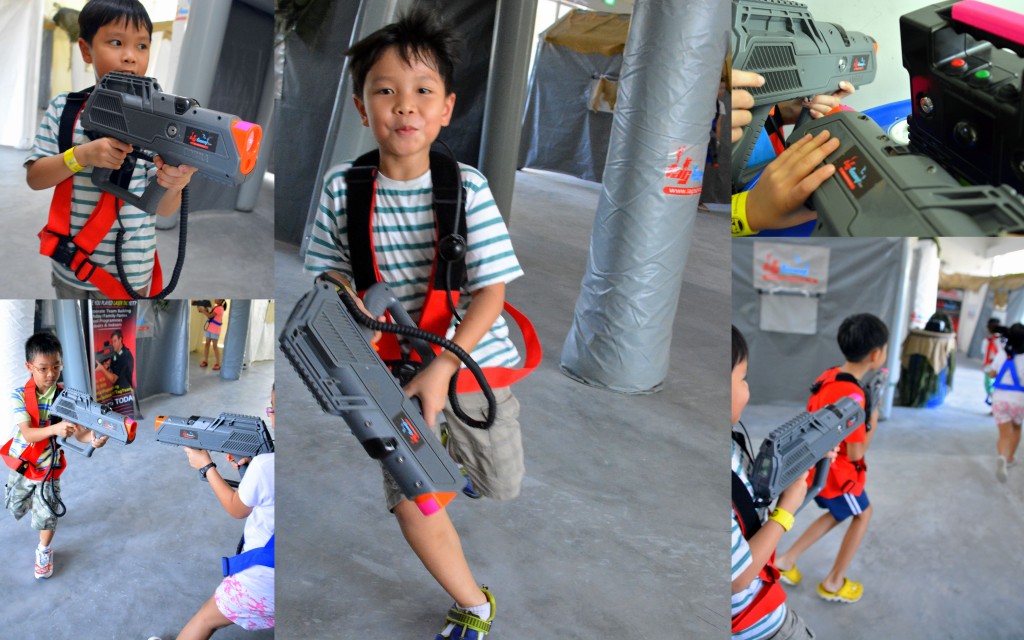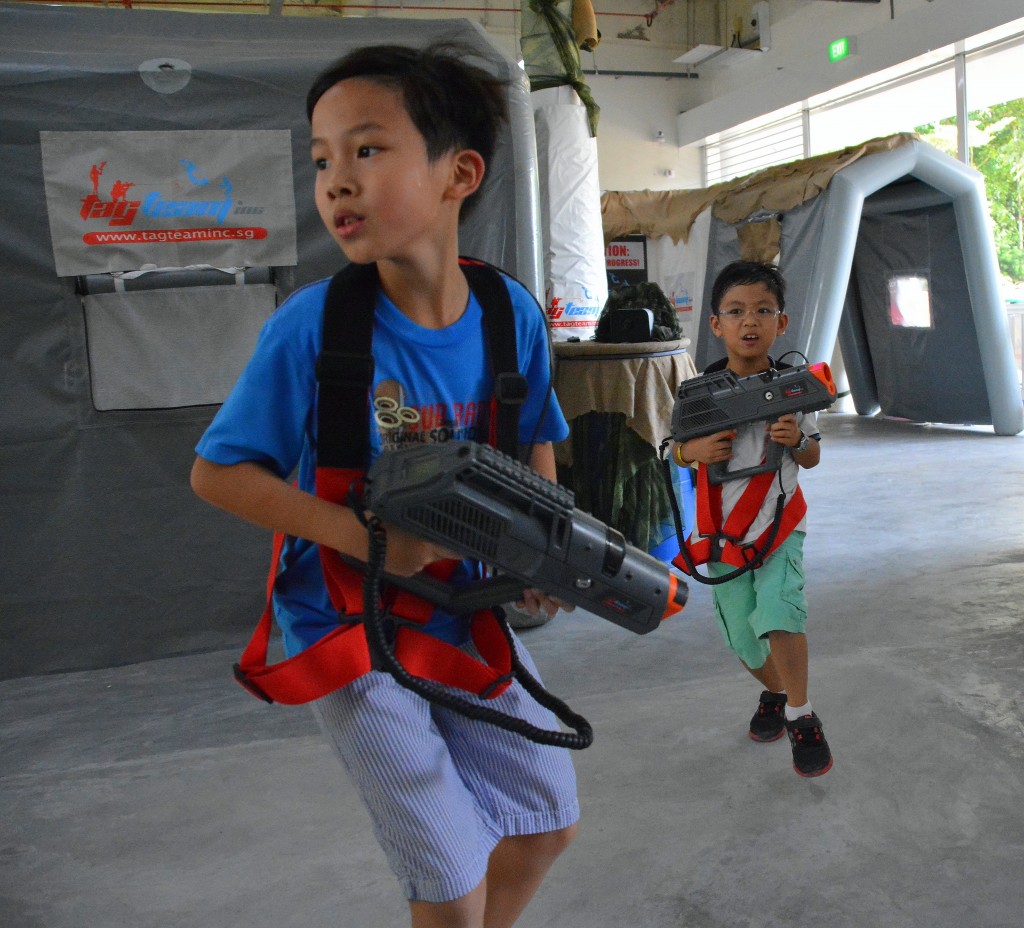 For Birthday parties, I would recommend a game time of about an hour. Remember our days when we were in National Service? 10 minutes of combat and my uniform would be drenched. So an hour of game play with 2-3 breaks, will do the same thing for the kids.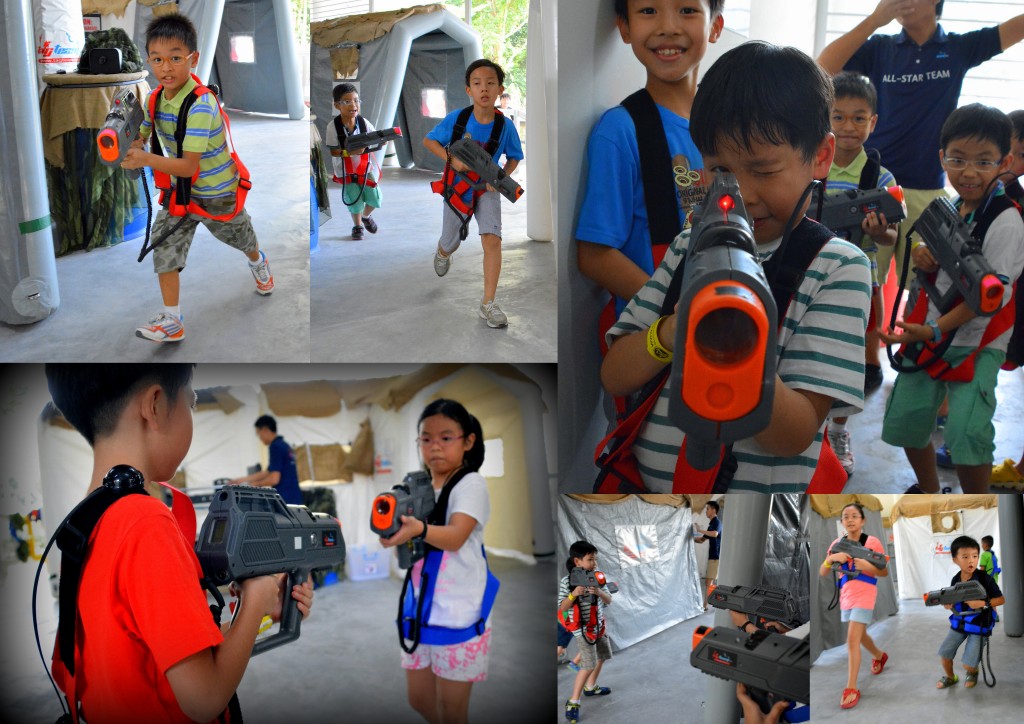 The computers linked to the guns will help the teams keep score, and each game has 2-3 Umpires to make sure that the kids are kept from bring too rowdy. Although the kids were "wet" after an hour, there were many smiles on all their faces!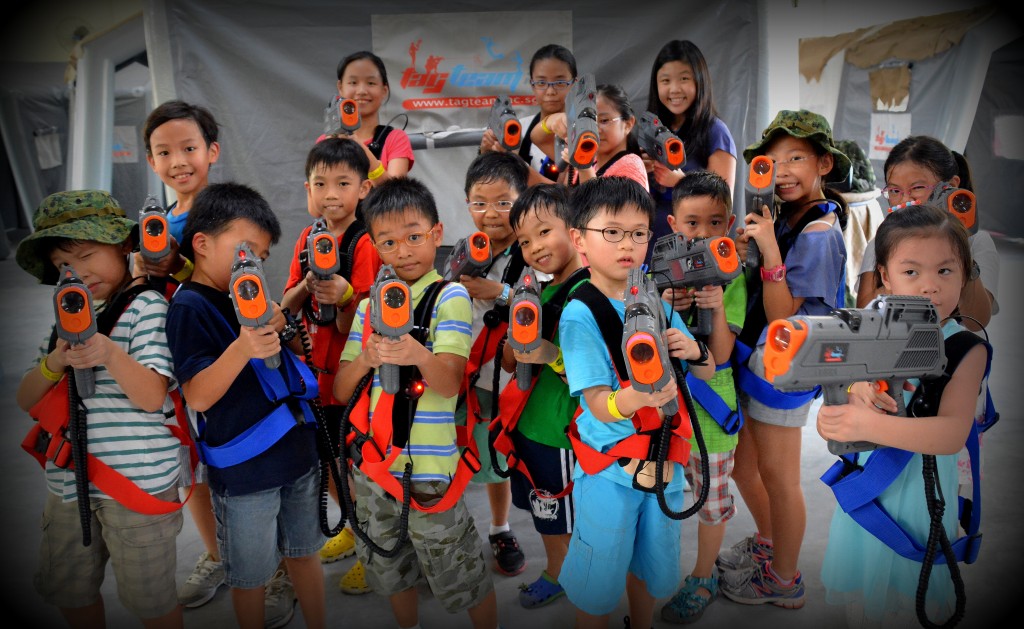 After the fun, it was time to feed the kids! We were able to serve the kids our own party food and have the cake cutting ceremony just outside the battle arena. With ample park benches reserved by Tag Team Inc., we had more than enough space to seat the whole party and take our photos! 🙂 For those parties that want to cater, there is ample corridor space for one to set up a buffet line as well.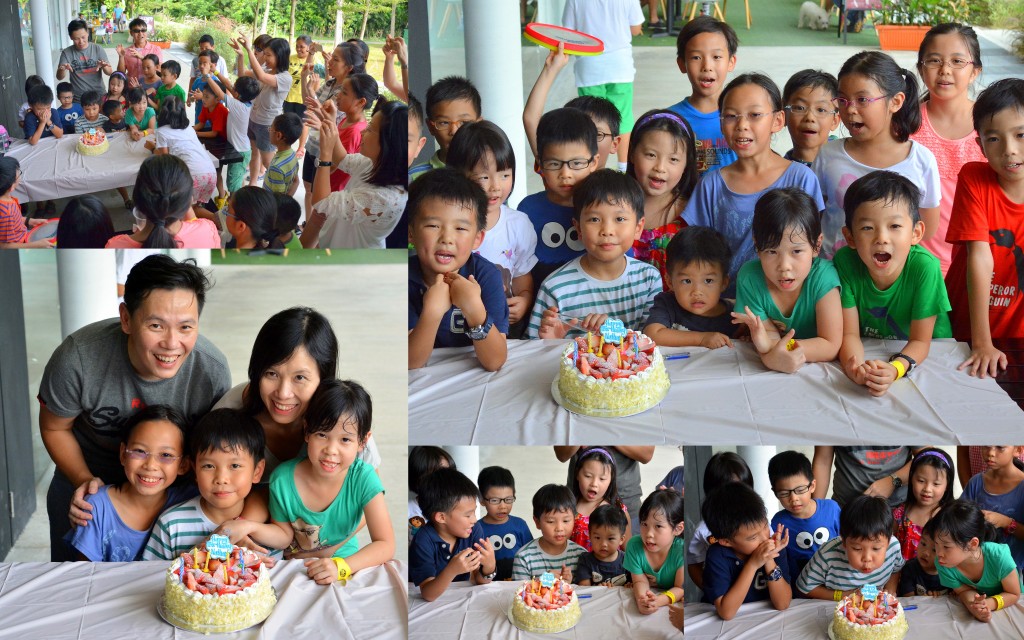 From the children's faces, you can see that the kids had lots of fun! In fact, a Laser Tag Party is a real hit with the boys, as many of Nathan's friends "could not wait" for the party, the moment his invites were sent out. To add on to the fun, there is an open field just outside the arena, and the kids maximized the space by playing soccer and "catching" later on.  The staff are Tag Team Inc. are also very friendly and helpful, as they were more than ready to help us, when one of our soccer balls got stuck in the tree! 🙂 Thumbs up to the crew! 🙂
Overall, the kids loved it, and they have been asking us to bring them back there again! Do book your party early, as on the weekends, tag team inc. is really packed. There was party after party, and we even met some of our friends who booked a session for corporate team building at the battle zone. The next time round, we are thinking of having Parents-Children session! Many thanks to Tag Team Inc. for sponsoring our party! 🙂
Tag Team Inc:
Address: BLK 920, East Coast Parkway, #01-03, Parkland Green, Singapore 449875
Email: [email protected]
Tel: 6348 2696, 9235 3600
Website: http://www.tagteaminc.sg/
Facebook: https://www.facebook.com/TAGTEAMINC