---
Christmas is just over, and we are currently trying to recover from the many services that we have attended, and the many parties as well.
The kids naturally love Christmas, and we have managed to restrain them from opening their presents immediately. We told them to wait till Christmas Day. 
It was like putting the kids on a "No Ice-Cream Diet" for a  few weeks, and when their day of salvation came, they were overjoyed!

Even though we came back at 11pm on Christmas Eve, they were ready to stay up and open their PRESENTS!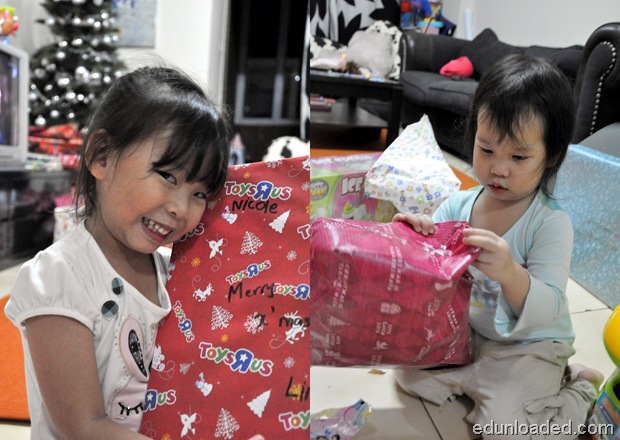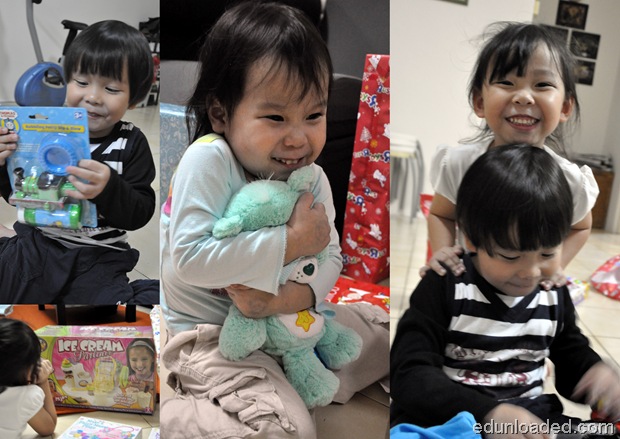 We are so thankful to all our family and friends who have sowed such WONDERFUL presents for the kids! A summary of what they received:
Jigsaw puzzles (various designs, degree of difficulty)
Design your own (mirrors, piggy banks, photo frames, jewellery)
Bags (for school, for church, for casual outing)
Clothes (formal, casual, semi-formal, smart casual)
Accessories (hair bands, hair clips, bracelets, necklaces, towels, underwear)
Books (board, varying reading difficulties)
Themed toys (Thomas, Toy Story, Barbie, Strawberry Shortcake, Princess, Cars, Hotwheels)
Miscellaneous (soft toys, stickers, building blocks, playdoh, helicopter, remote control cars, girly stuff, rough-play stuff)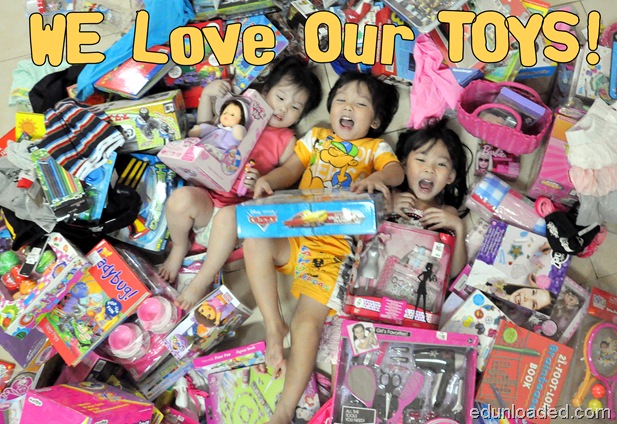 This is what daddy & mummy will be in for the next few weeks:
make ice-cream, both with the real thing and with play-doh
put little cars for carwash and watch them change colour
plait hair, curl hair, bun up hair
design dresses, skirts and blouses off a mannequin
fly a G.I Joe plane
wear 3D glasses to do some colouring
tattoo art all over
We bought, wrapped and labelled a total of 117 gifts, and we certainly received many many more times of that! Christmas is really a season for love and giving! Thank you everyone for your love!