Cosentino: the New David Copperfield (Giveaway)
One of my son's current ambitions is to be a magician and with Consentino: the New David Copperfield in town, our expectations are heightened! There is nothing like watching a Premier Illusionist and escapologist up close and this show promises to be a mind-blowing experience!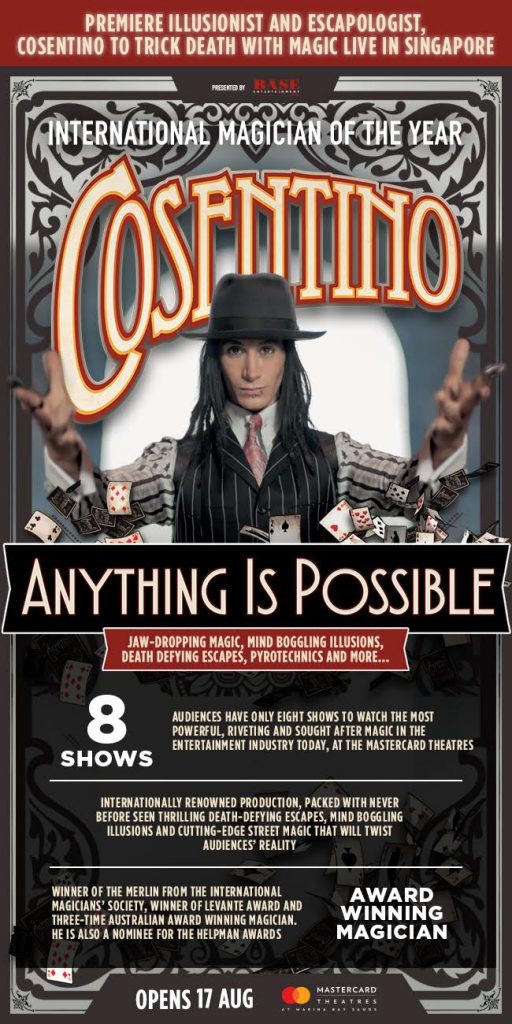 (Sponsored Giveaway)
As someone who is unfamiliar with the World of Magic, I had to google Cosentino to find out more about him. One highlight was his audition for Australia Got Talent 2011. He auditioned with an illusion routine and was immediately put through by the judges, earning praise such as "I love the modern twist on it" and "That is like Michael Jackson makes magic." In the preliminary finals, Cosentino stunned the judges and Australia with a daring escape act, in which he had to pick 9 locks while completely submerged in a tank of water suspended above the ground. The escape took 1 minute 45 seconds.
From then onwards, the continued to have his own shows and has won numerous awards such as the Merlin award, which is an equivalent to an Oscar in the Magic world.
Well! Enough said! I think it is best to watch Cosentino the Magician in action via this short clip:
We are definitely looking forward to catch Cosentino in action at Marina Bay Sands and his act will start on 17 August 2017.
COSENTINO: ANYTHING IS POSSIBLE SHOW TIMINGS: 
Event Date
Thu, 17 – Sun, 27 Aug 2017
Thu – Fri: 8pm
Sat: 2pm & 8pm
Sun: 1pm & 6.30pm
Ticket Pricing (Excludes Booking Fee)
VIP Reserve : S$145
A Reserve : S$125
B Reserve : S$95
C Reserve : S$75
D Reserve : S$45Limited Time Offer
Cool Tix (Students & NSFs) at S$35 nett ticket*
Silver Tix (Senior Citizens above 60 years old) at S$35 nett ticket*
And we have Good News for all Ed Unloaded Readers!
One Reader will get to walk away with 4 tickets to catch Cosentino: All Things are possible for FREE! (Tickets are B Reserve tickets and dates cannot be changed)
All one needs to do is to:
1. Comment on this blog post and tell us why you want to watch Cosentino: All things are possible?
2. Join and LIKE theEd Unloaded  and Base Entertainment Facebook page.
3. Share this blog post on your Facebook Wall with the Caption "Catch the Premier Magician Cosentino for FREE!"  (Tag at least 2 friends).
For those who are new to the process, just copy the Blog Page Address and Paste it on your FB Wall. (Do Remember to add the Caption, tag and make your share Public!)
The Giveaway ends 27 July 2017 at 2359 hrs.
(Editor's decision on Winners are final, and Facebook accounts used solely for Giveaways will NOT be entertained. All incomplete entries will also automatically be disqualified The management reserves all rights to amend or change the terms & conditions of this promotion without prior notice. Final decisions will be made by Ed Unloaded.com.)  
__________________________________________________________________________________________________
And the Winner is :
Lily
Congratulations! We will be contacting you shortly about the collection of your prize. To the rest of our Ed Unloaded.com readers, do stay tuned for our next givaway.