Prevent Eye Strain with BenQ
Everyone today owns a personal computer or a smartphone. On average, we spend at least 10 hours a day staring at screens of various sizes! With screen time on trains, in our offices and back at home, we need to take extra care of our eyes and prevent eye strain.  In the next few minutes, let us embark on a journey on how we can prevent eye strain with BenQ monitors.
Growing up, screen care and office ergonomics was the least of our considerations. However, with age catching up,  most of us have started paying attention to our postures and enhancing the ergonomics of our workplace environment. Our family takes the ergonomics issue really seriously, as my wife had a slip disc near her neck area, as she was spending too much time looking at her "screens".
Therefore, in order to get the right office ergonomics with your notebook, one actually needs to raise one's notebook or work with a good external monitor. Hence, I was really excited to check out BenQ's 27 inch Full HD HDR Video Monitor (EW277HDR) for myself.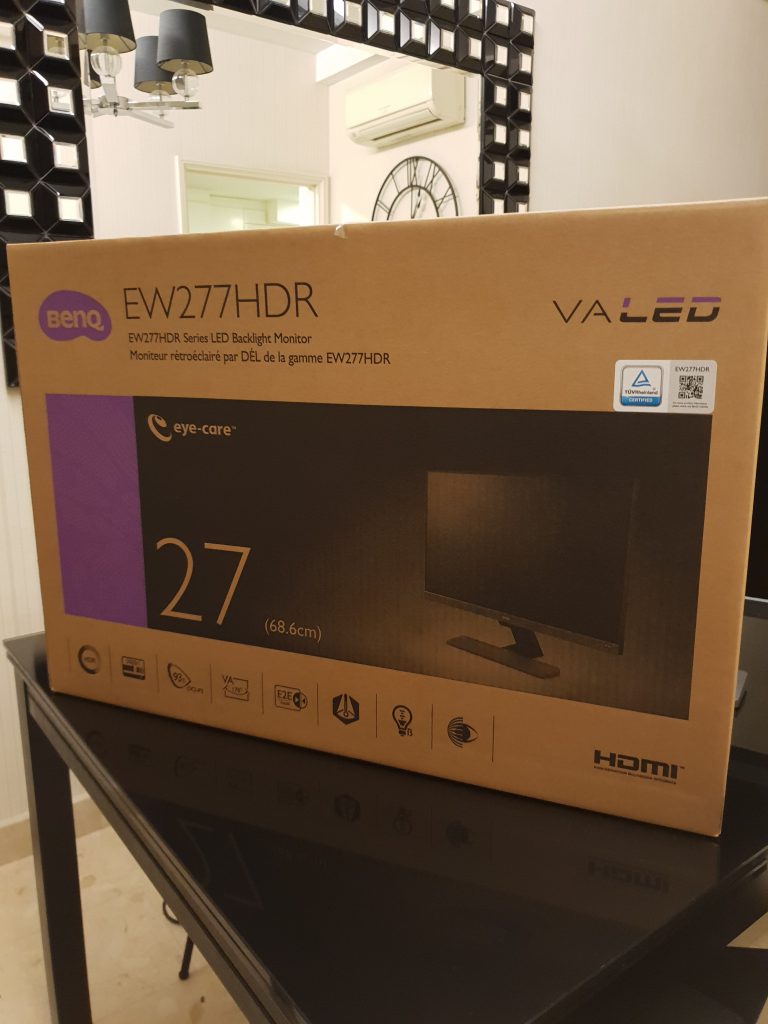 Standing slim at 27 inch, I was excited at unboxing my new piece of technology. With the nice wide screen, my kids initially thought we had a new TV set. I had to burst their bubble and tell them that it was not a television set, but it was something just as useful! This 27 inch was going to be their media centre when they watched their favorite YouTube videos and other online entertainment programs.
These days monitors are more sophisicated and rather than just providing colored visuals, as these monitors come with HDR.
What is HDR?
For parents like myself, who have not caught up  with the latest tech terms … HDR is a display technology that makes videos more life-like.  HDR monitors do not offer more pixels, but they offer higher quality pixels. This means that the dots that compose the pictures offer better contrast, greater brightness and have a wider color space than non HDR models. In summary, the pictures just look more real!
Just check out the pictures of Batman below:
The Non HDR monitor just shows a normal black armor for Batman. In the second picture, you will realize that the armor has more details. Same contrast can be seen in the second sample, as her face is brighter. HDR offers better quality pixels.
HDR offers greater contrast and brightness. Imagine the details that you will see, when you plug in your X-Box and other entertainment mediums.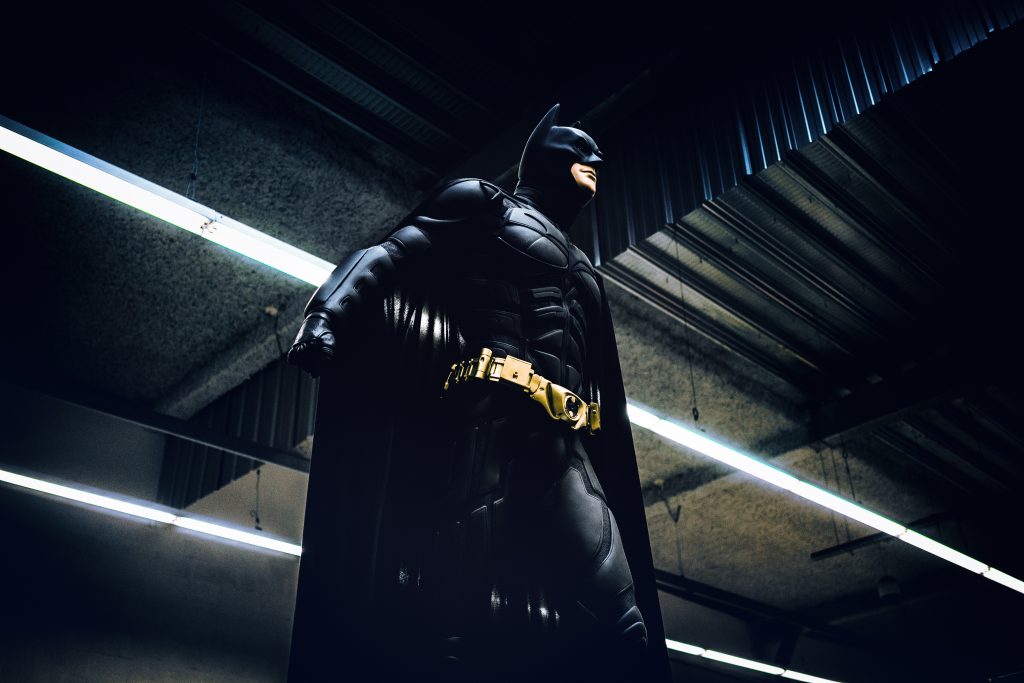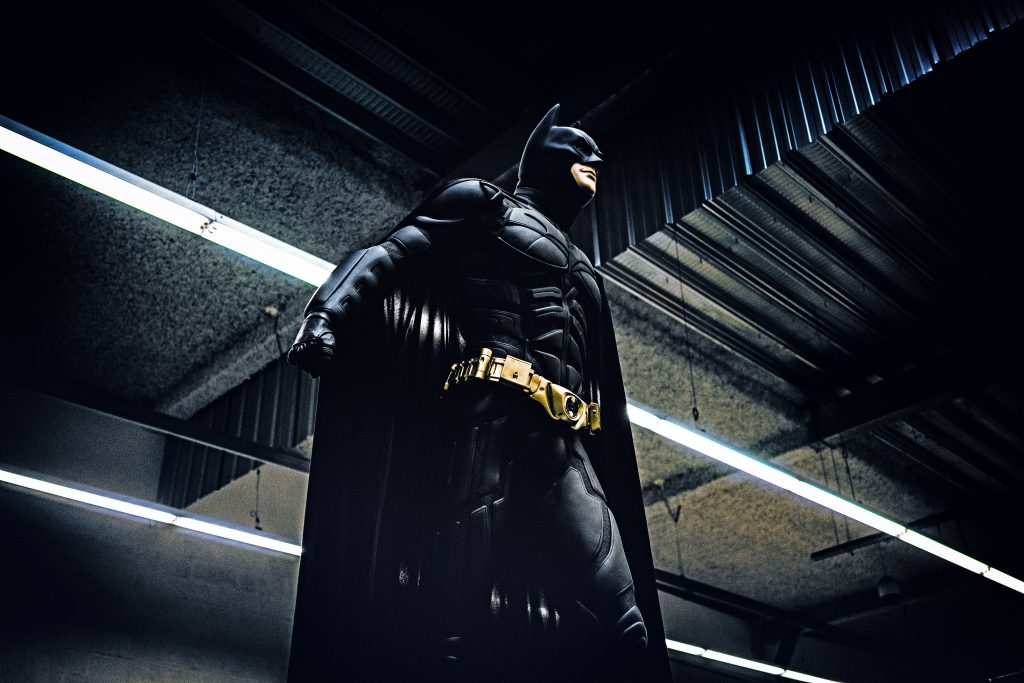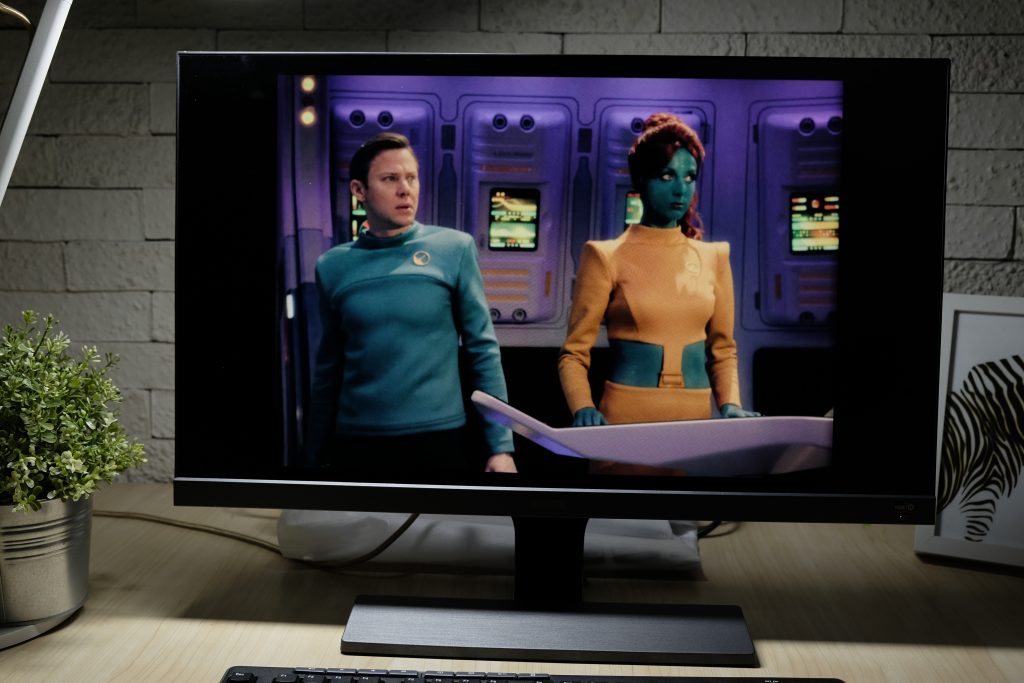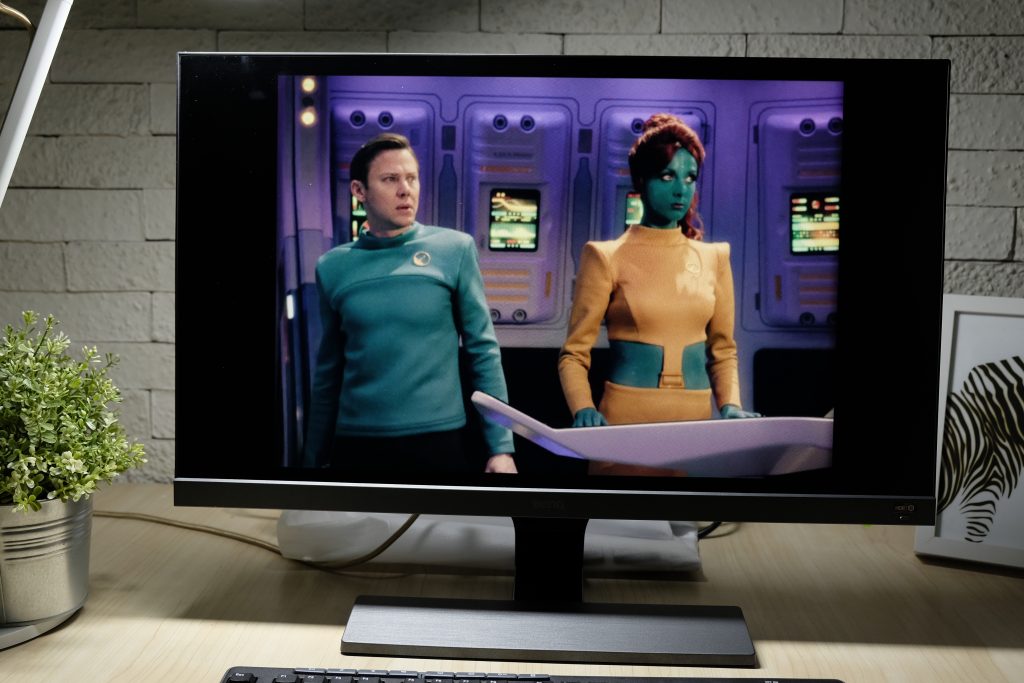 Prevent Eye Strain
The best feature about the  BenQ's 27inch HD HDR Video Monitor (EW277HDR) is that it has eye care features that look after the eye health of users.
Research has shown that blue light from computer screens can lead to digital eyestrain, which will lead to irritated eyes and difficulty focusing. Continued exposure over time will also cause damaged retinal cells and eventually age related mascular degeneration.  It is no wonder that the latest mobile devices come with blue light filter options.
Users of BenQ's HD HDR Video Monitor, can switch to the various blue light filter modes to lower eye fatigue . If you are always surfing the web, you can switch to web-surfing mode. For office minions like me who spend long hours on the screen, I switch my screen to office mode.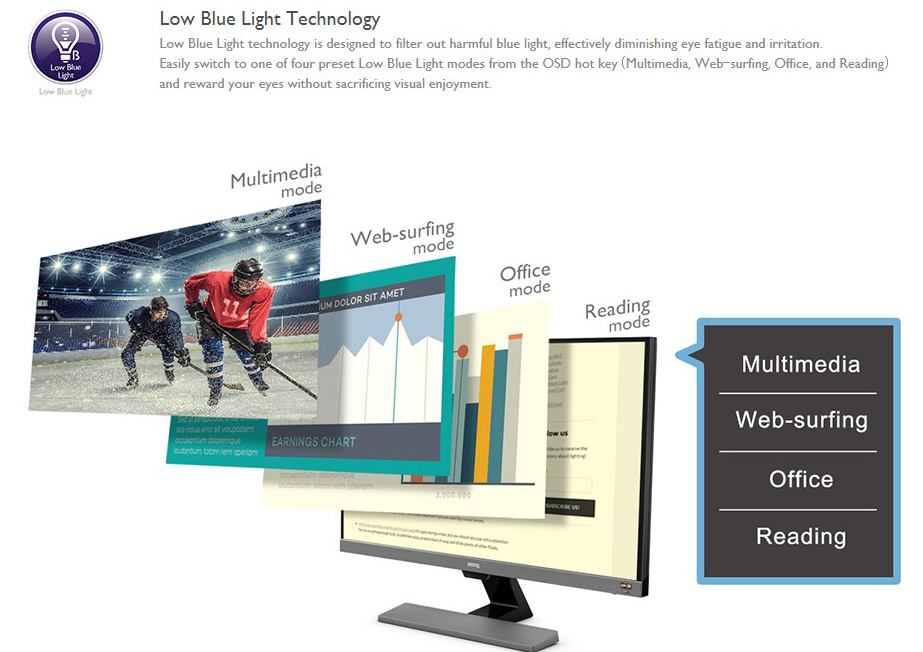 Being a Smart monitor with eye car intelligence, no one likes to fiddle with the controls after you have bought a product. The benefits of the Brightness Intelligence Plus Technology is that it detects the brightness around the environment and adjusts display settings.
This means that it automatically changes display settings at different times of the day with smoothing warm white for comfort and cool white for productivity.  Yes! There is no need to pick up a remote or press any buttons … everything happens automatically.
Summary of BenQ Experience
Lots of families just make do, working with their notebook monitors. However, we all know that notebooks provide the worst postures for users. Getting an external monitor is the best solution for any web or tech savvy family, as the long hours facing the screen does take its toil on one's bodies.
Together with HDR life-like images and Eye care technology, the BenQ's 27 inch Full HD HDR Video Monitor (EW277HDR)  is an easy decision for any family.  To add on, pricing at Lazada is at an affordable $329, with Benq pricing herself within the most household budgets.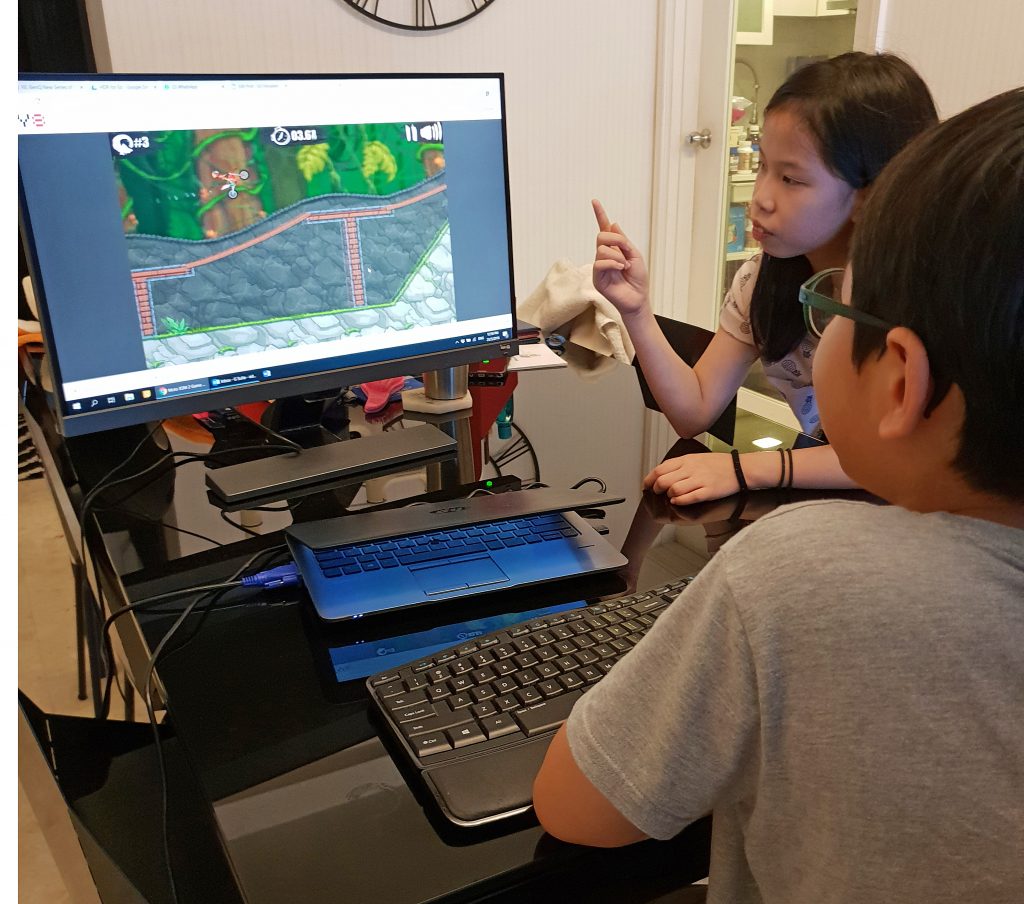 We have added the Benq HDR Monitor to our home set-up and we can't imagine life without one. Together with a external keyboard and mouse, we help ensure good posture and reduced eye-strain through Benq's monitor.
If you are looking to check out the Benq Montior for yourself, follow these links for details and pricings:
W277HDR product page @Lazada: https://goo.gl/4Tb4rT
EW277HDR info: https://goo.gl/Vo4i72