Get Milo with your Dolce Gusto
Coffee is such a rage these days, and whenever I visit my friends, there always seems to be Coffee Machine tucked in the corner of the kitchen.  However, pricing is always a concern for the budget conscious Singaporean, and nobody wants to pay over the top prices for their Coffee.
Introducing the NESCAFE Dolce Gusto machine made by Krups. This popular NESCAFE Machine is a fixture in many HDB flats and offices, and it is back with greater Gusto in 2014. With the addition of MILO to its repertoire, NESCAFE Dolce Gusto is truly a revolutionary multi-beverage system that also brews café style coffee, tea and hot chocolate specialities. Many coffee machines on the market are limited by the fact that they can make only coffee. However, the NESCAFE Dolce Gusto breaks all ceilings, by being a multi-beverage machine, that makes it a great addition for any family.
Just recently, we managed to get our hands on the NESCAFE Dolce Gusto, and we have been experiencing Milo and Coffee in the comfort of our own home!

The machine is really simple to operate, and my eldest girl has become the local coffee barista. She makes coffee and Milo for the whole household upon request.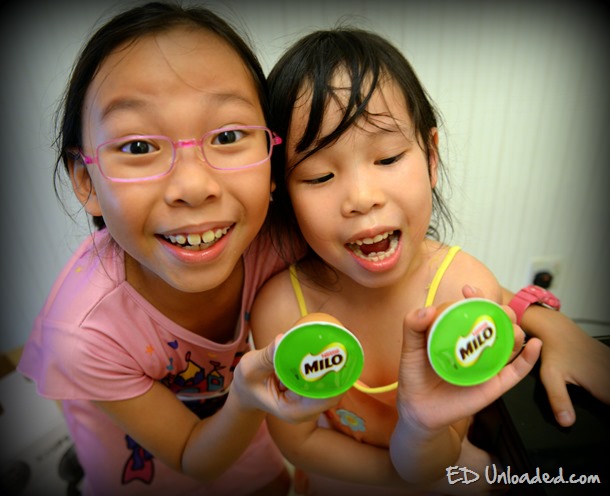 The kids love the Milo capsules that come with the machine, and this chocolate milk drink continues to score points with the family with its great taste. Coming with its natural milky froth, the kids love the thick "Chocolate" taste and the convenience of the machine. The kids always remark that the Milo by the Dolce Gusto machine seems to be better than the ones produced by our helper!

Daddy loves the stylish design of the machine which has clinched, not one but two awards – the 'Red Dot Design Award' and the 'Product Design' Award at the International Forum Design 2014. With its quirky contours and compact size, the award-winning MINI ME™ is packed with a larger-than-life functionality and character.
With its simple design, and operation, you don't need to be a rocket scientist to enjoy your coffee at home. This is the best kind of news for any Coffee Junkie who is a non technical geek!

The machine is now available at all Department Stores and major Supermarkets. Find out more at Dolce Gusto.