Redpan – Asian Dining with a twist
Looking to try something new? The people at the popular bistro Grub recently launched a new project with DP architects at Marina Square! If you are looking to try some Asian Fusion food in the Marina Bay area, head on down to redpan, to sample some Bold Asian Flavors for yourself!
I must say that we received a pleasant surprise, when we were invited to sample redpan for ourselves. Traditionally, the PR companies send us a normal email, to invite us for such events. However, we were definitely elated by what we saw in our mailbox! Check out the personalized invite, from the creative architects at DP.
(Media Invite)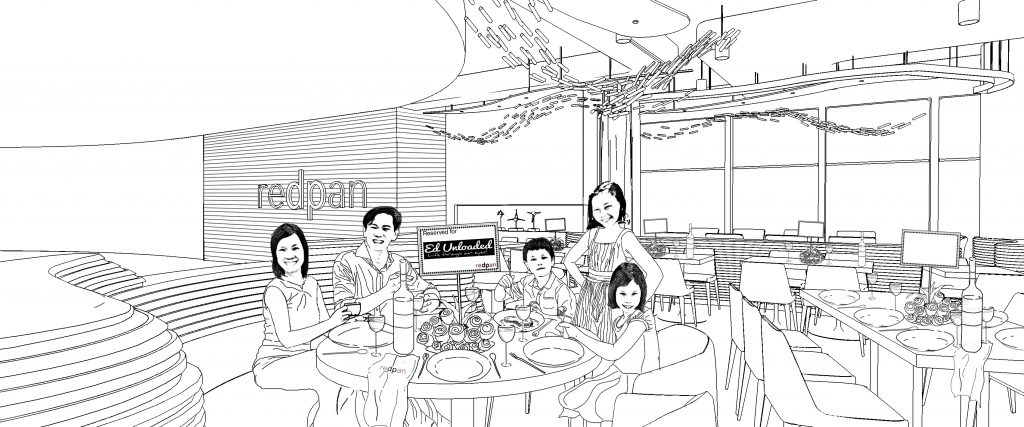 Yes! The characters look familiar right! That is the whole tribe, kindly sketched out, by the artistically creative folks from DP architects. Needless to say, we were quick to accept their invite, and sample this new restaurant for ourselves! 🙂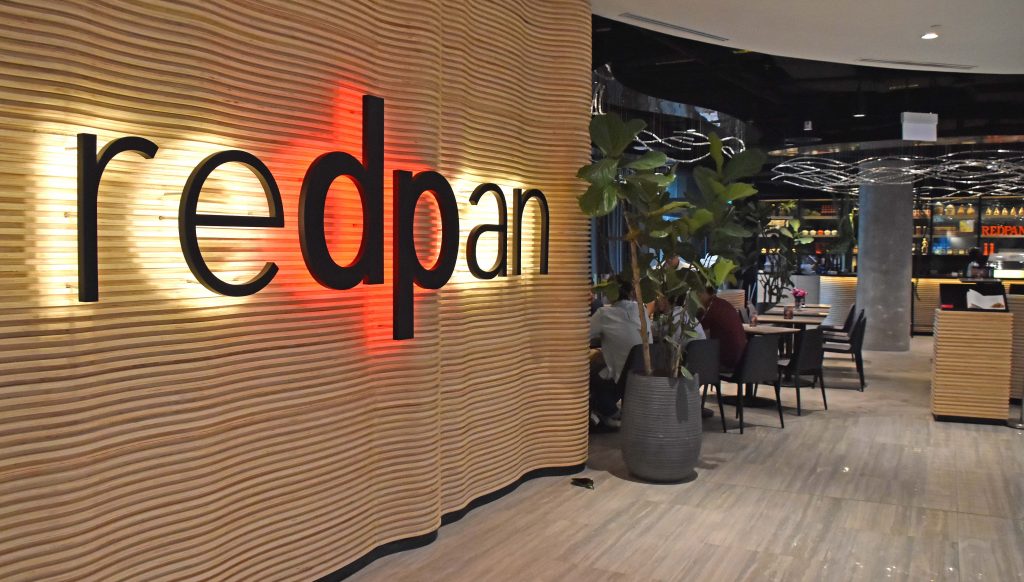 Located at the new extension of Marina Squae, redpan is a champion of local fun dining, serving creative interpretations of modern dishes with a spotlight on local ingredients and familiar flavors. Offering quality food at reasonable prices, expect to find something different, when you step into the premises!
Well, we stepped in and were pleasantly surprised by the bold local flavors that were presented together with the classic western dishes! 🙂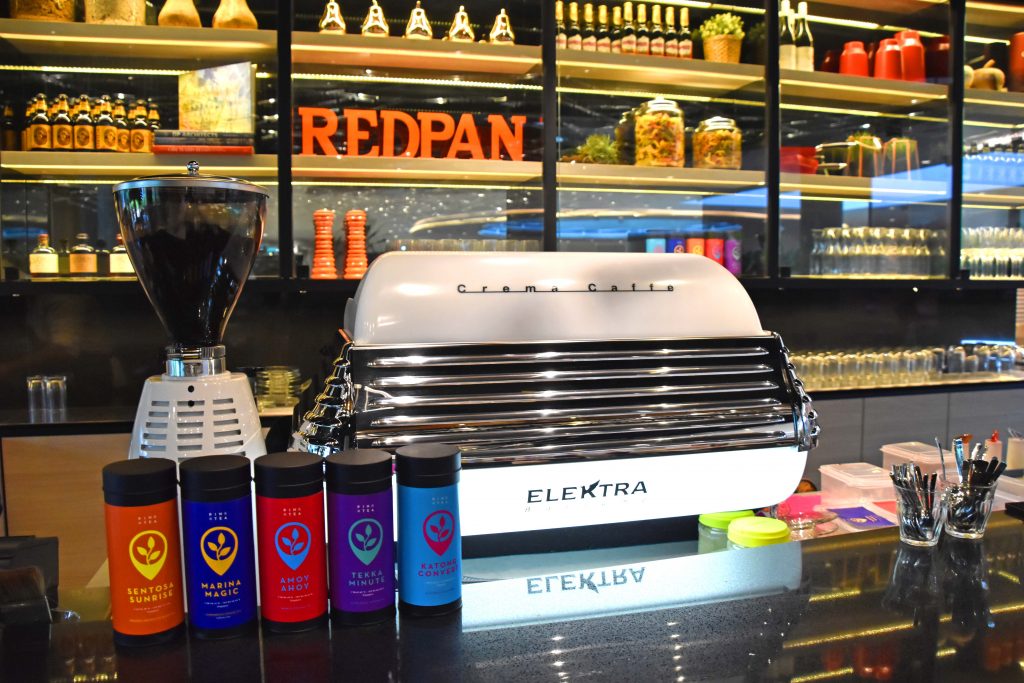 For starters, we were introduced to Lup Cheong Mac & Cheese ($14 – bottom top right). My wife who loves this local Chinese sausage, enjoyed this dish, as it was her favorite comfort food tossed in a cheesy bechamel. If you prefer soup, another unique dish would be the Truffle Mushroom soup ($8 – Pictured left).
Personally, I preferred the Pork Pops ($9 – bottom right). What will I liken Pork Pops to? Hmm…If you like Spam fries, you will like Pork Pops! Just imagine fried marinated Pork Belly with a side of Mango sauce. Pork Pops offer the same deep fried sin as spam, but just healthier than luncheon meat. After a few pops, I had to keep myself away from this dish, as it is probably heavy on the calories….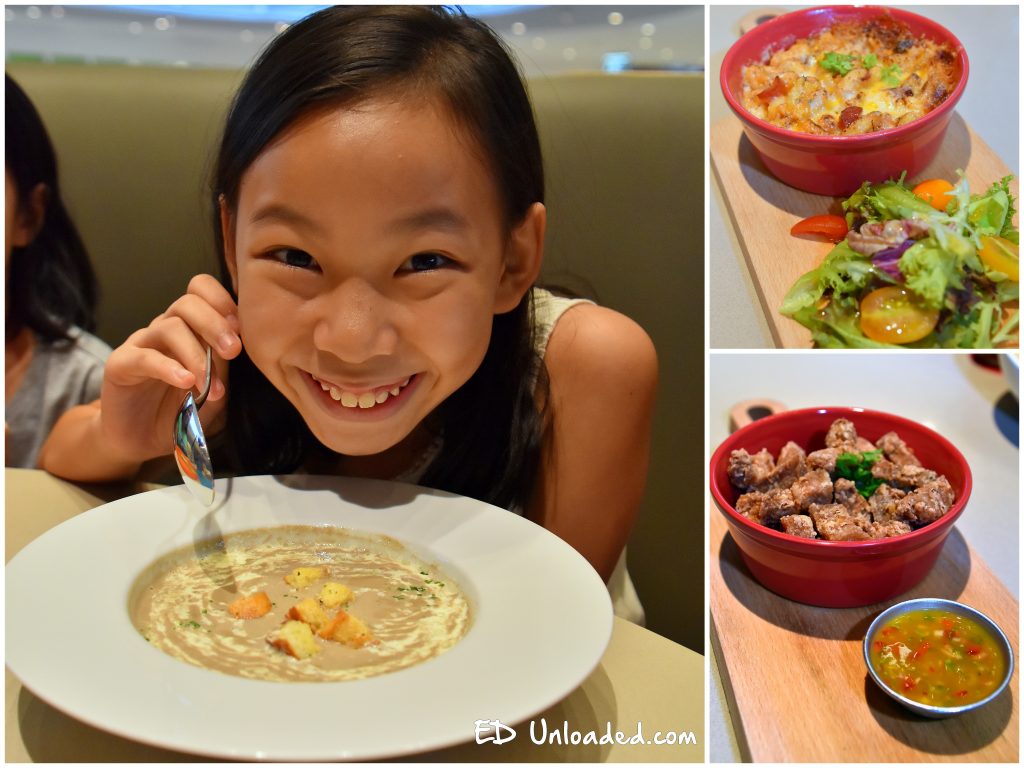 As the kids were around, we had to try the traditional french fries which came with very creative seasonings. Pictured below is the char siew chilli fries ($7), and after that, we have the truffle floss fries ($8). Both dishes bring with it, a unique Asian twist to the very American French Fry.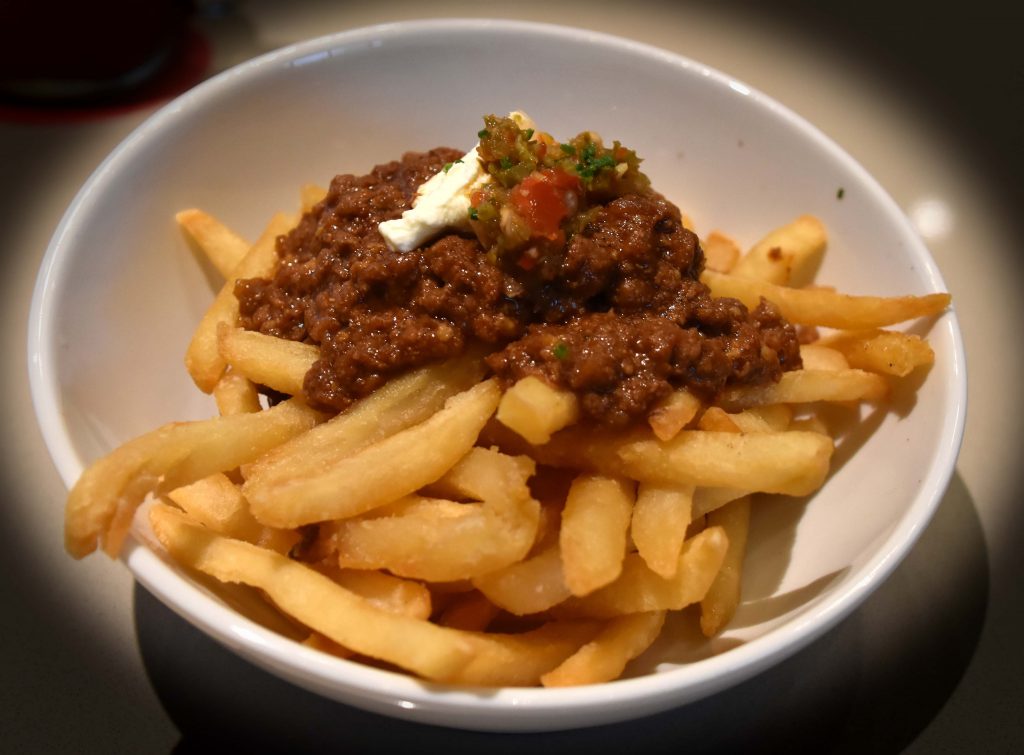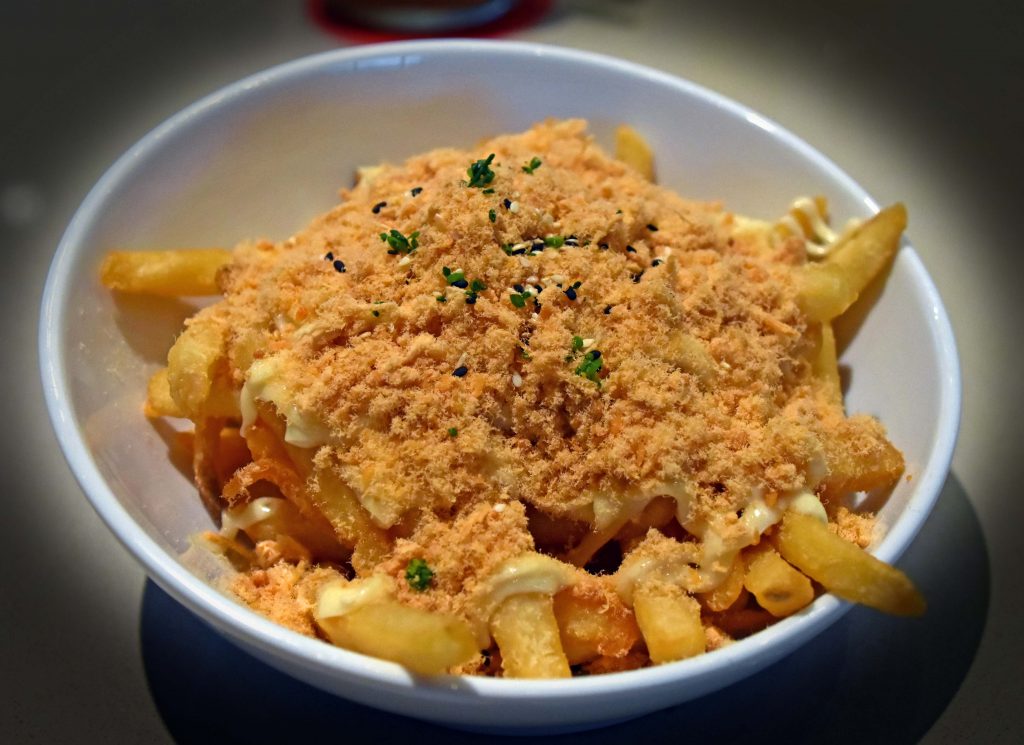 Another highlight for me was the Classic Cheeseburger ($16). Offering 200gm of 100% premium beef patty, you can taste the difference the moment you sample the meat. It's not surprising as my hosts told me, that they did not buy the patty off the shelve. They actually make their own beef patties, from a premium slab of meat. Really very juicy, and a mark contrast to other burgers I have eaten.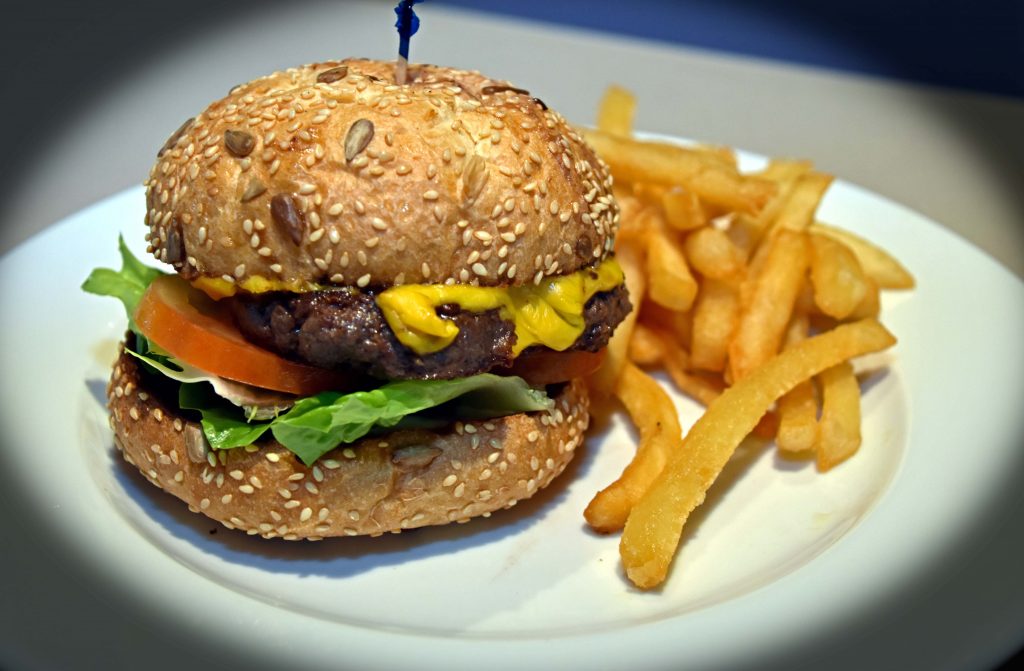 One of the mains that we sampled was the Steak and Chinchalok ($22). 250gm of grilled sirloin steak with spicy Chinchalok, pickled onions and smashed potatoes. The meat was good, and certainly something different with the Chinchalok.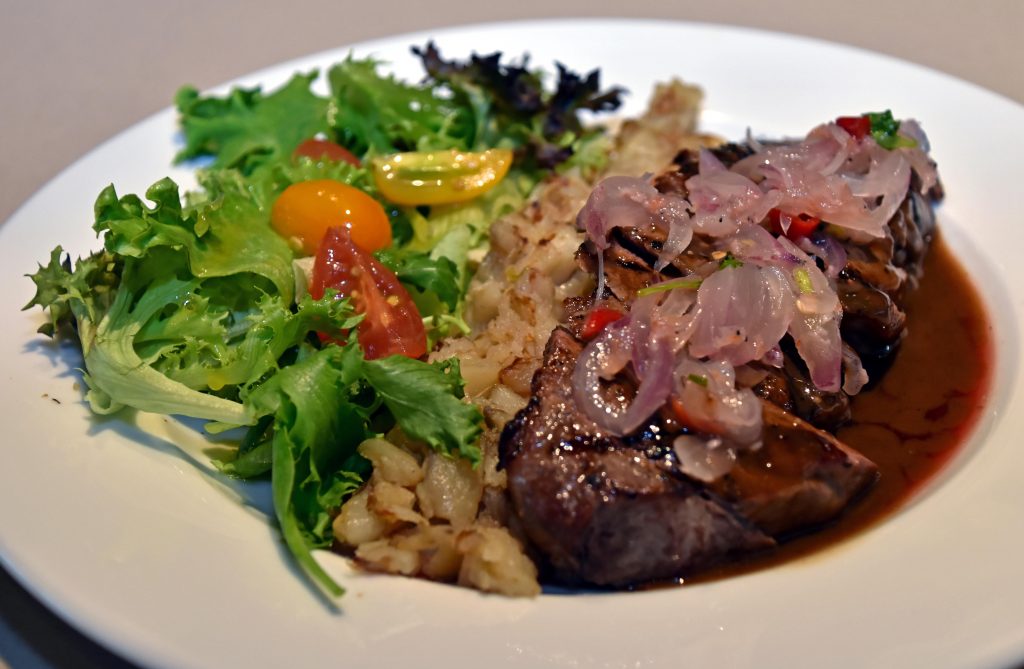 Both Nathan and myself loved the Prawn and Hae Bee Hiam Pasta ($16 – pictured on the left).  Featuring a home-made spicy shrimp paste and pasta, this mildly hot combination, was mesmerizing on one's taste buds. It was definitely my favorite dish for the afternoon.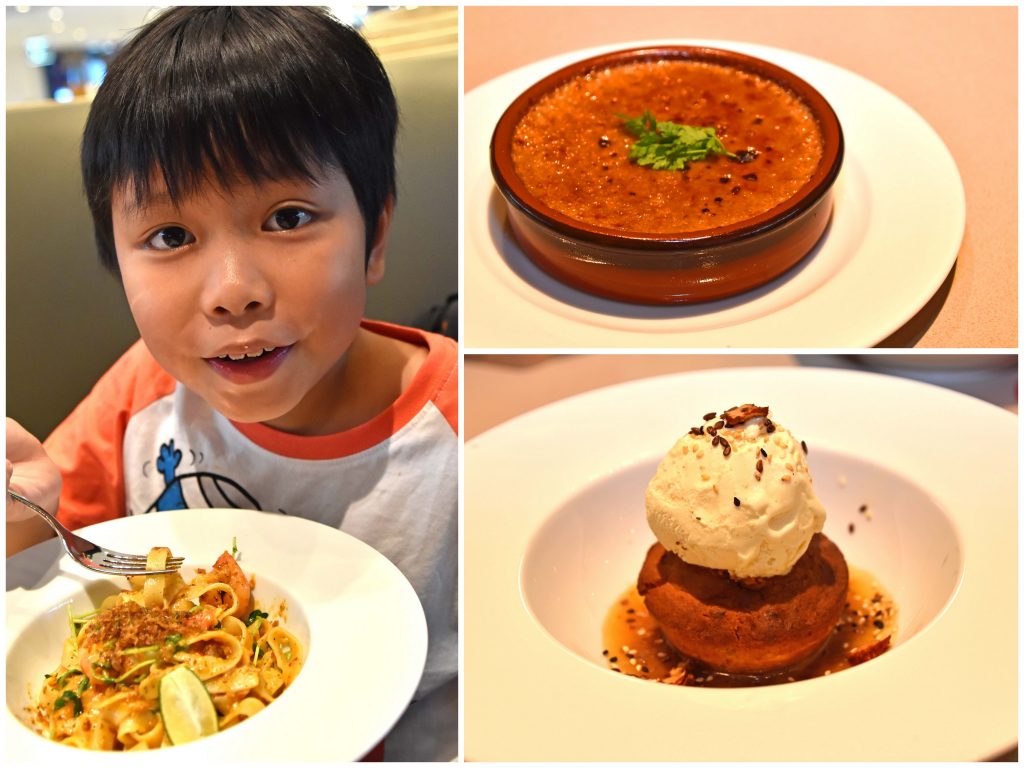 For Dessert, we tried the Teh Halia Creme Brulee ($7 – Top right), and the Red Date Butter Cake ($8 – Bottom Right). My personal preference goes to the Red Date Butter Cake, as it comes with a scoop of Vanilla Ice cream, and also because I don't drink Teh Halia, whenever I am at the Hawker.
Overall, redpan is certainly different and offers something special for local taste buds. Service is also prompt, and my friends, who have been there,  have all given good reports about redpan!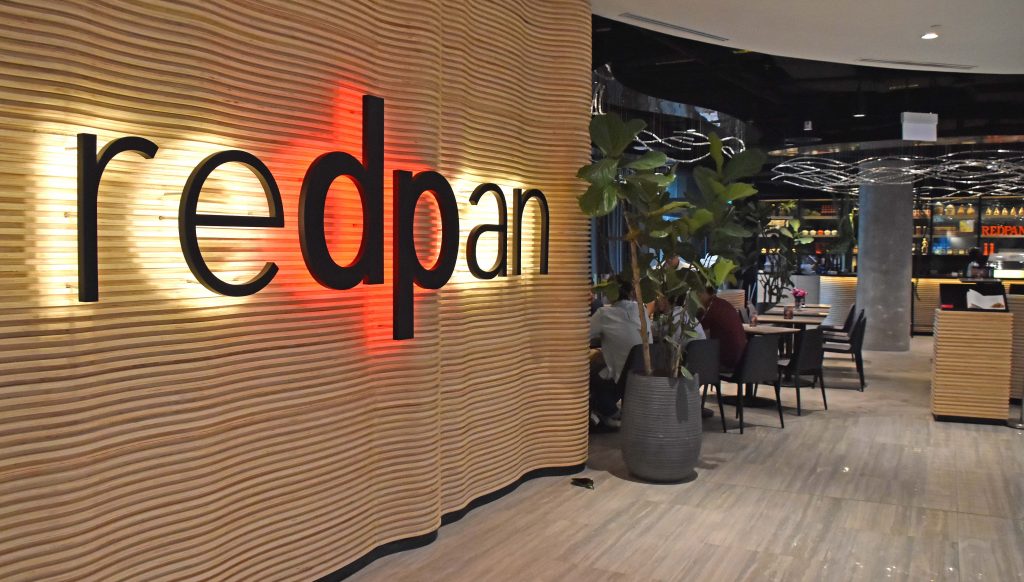 Details: 
Redpan
6 Raffles Boulevard, Marina Square #02-03/04 Singapore 039593 (City Hall MRT)
Tel: +65 6255 5850
Opening Hours: 9am – 10pm (Mon – Fri), 11am – 10pm (Sat, Sun, PH)
https://www.facebook.com/redpansg