I am a Grab Hitch Driver!
Has anyone thought of being a Grab Hitch Driver? Yes! The Social carpooling service which enables drivers to give passengers a lift and help cover their petrol costs at the same time. All one needs is a private car and a willingness to share a ride with strangers going in the same direction.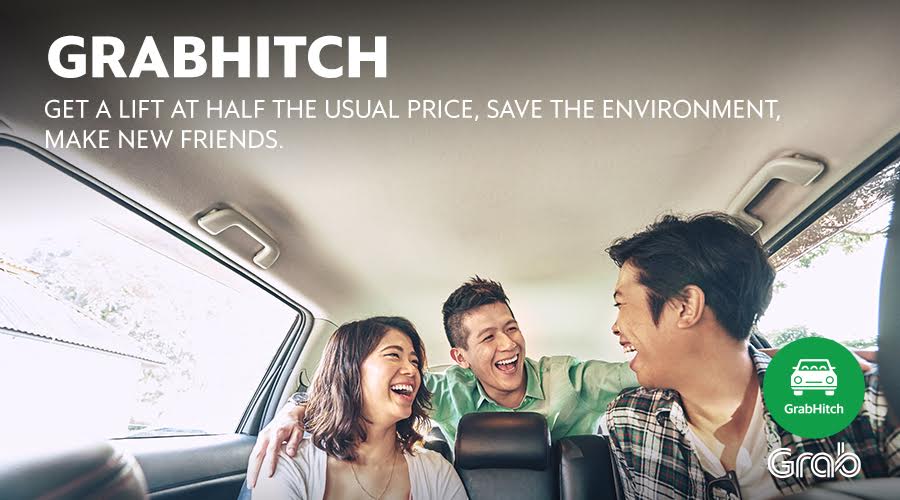 Giving strangers a Hitch has been quite a hit among some of my friends and recently they got me giving Grab Hitch rides as well. Well, it has been about a month since my first Grab Hitch ride and if you are wondering about my experience … here it is:
Downloading my Grab Hitch App
I got my friend to give me a recommendation code to be a driver before I downloaded the app. (This is important, as it means extra cash for you and your friend).
The Grab Hitch App is easy enough to use and all you need to do is to take a photo of your driver's license and wait for 1-2 days for them to approve you as a driver. Other than that, the only other issue is getting used to the Grab App. I would not say that it is the most friendly driver app, as when you want to refine your searches, the Grab Driver App disappoints in many areas.
How was my Grab Hitch Experience?
I was super nervous on my first ride. Having spent most of my years being a passenger, I have never been in the driver's seat before and it is definitely a different experience.
My wife who also wanted to do the occasional hitch accompanied me for the ride, as there is safety in numbers! Haha! I was actually happy to have company for my maiden voyage.
So…we had to choose our first passenger (victim) … and naturally we chose a female passenger. Definitely less intimidating! 🙂 As we did our first ride in Shenton way to a destination along our route.  The passenger was advertising a rate of $6 and we accepted it.
As we reached the pick-up point, we were really nervous and I spent a lot of time fiddling with the app. I was definitely not used to it and upon reaching the destination, I just clicked "I am here".
I waited for my passenger to come down and I had my first revelation about Social Media … Profile pictures are definitely deceptive! My passenger did not look like what she did in her advertised profile. The profile picture definitely made her look much better! 🙂 Haha! The perils of the Social Media world.
After she got in … we exchanged our brief greetings and we drove her to her destination. We did not talk much during the ride and basically that was it!
It was definitely a different experience and the monetary incentive of getting someone to help with the operational expenses of car ownership, made us decide that it was worth a second experience. Well…we did go back! And currently I have done 37 rides.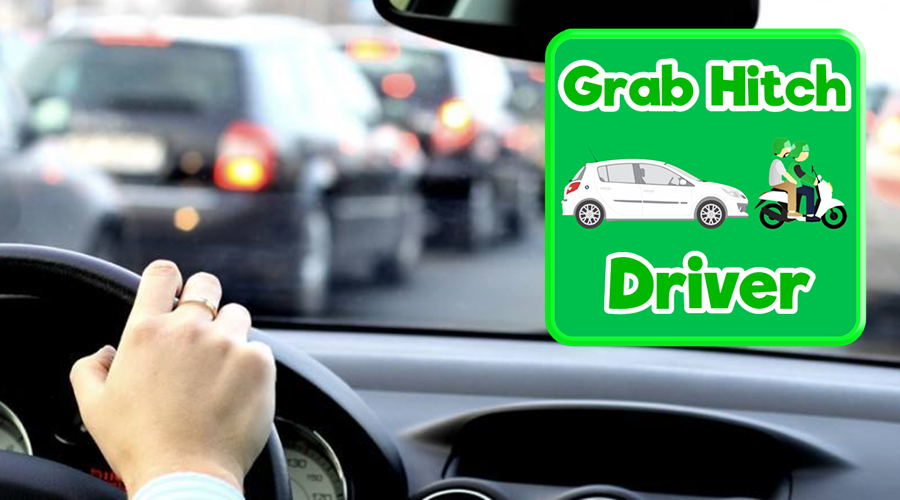 How are the Monetary Perks of being a Grab Hitch Driver? 
You are not going to earn a decent living being a Grab Hitch Driver. If you are thinking about making better money, you will need to convert to being a Grab Driver. It is not so difficult these days, as even private cars can be used for Grab.
Grab Hitch fares run from $5 to $15. (Grab drivers get on average 1.5 or twice these amounts per ride). That means the shortest ride will incur a fare of $5 and the longest ride from the West to the East will incur a fare of $15. This is of great value for passengers, as going to the Airport will only cost $15. Taking a normal cab usually will cost double that amount or more, depending on location.
If you drive Grab Hitch regularly (You are allowed 2 trips a day), you can definitely make enough to cover your parking and petrol. Choose passengers that are along your route, so that you don't have to make a big detour and waste unnecessary petrol. Stack passengers to really maximize your route, as you can stack up to 4 passengers along one route.
Stacking riders can get quite complicated, so sometimes I just pick solo riders that offer a decent fare. If they only only $5, I usually just give it a pass, as I would rather have my own personal space to my next destination. Usually I aim to pick riders who offer double digit fares.
Best Grab Hitch Driving Experience?
As I am only doing Grab Hitch as a social service and not a full-time Grab Driver, I do enjoy the passenger coming up to the front seat and engaging me in a conversation. The fun thing about being a Grab Hitch driver, is that I get to learn thing from passengers and exchange life experiences with them.
If passengers demonstrate through body language that they are the quiet ones, I also give them their own personal space, as I have been a passenger myself. Usually, they will also ask permission to sit at the back, as they will give a practical excuse.
Are there Passengers that you avoid? 
Those that pay in cash! I don't carry change with me and my friends have had bad experiences with passengers who pay in cash. If they decide to run off without paying any money, the fares are also too small to warrant a chase.
To avoid all possibility of haggling over change or any other scenarios, I only pick up "Grab Pay" passengers.
Female Solo Passengers are usually not good passengers as well. Usually they are afraid that Male drivers have some "evil" intentions, as there were some bad experiences reported online. They are therefore reserved and quiet. With a tendency to treat the Grab Hitch driver as a driver, the driving experience is therefore usually quite boring. As you can tell, I would prefer to engage in conversation (That is my personal preference).
Safe for Women to be a Grab Hitch Driver? 
Sure! Singapore is generally safe and i have lots of female friends who do it. You can choose your own passengers and you can choose only members of the same sex, if you want to play it safe. My wife does the occasional Grab Hitch, when she travels long distances.
Financially, I know if a mum who found a regular passenger that commutes along her morning route. That means that she can cover her petrol costs, as she drives her son to school. Quite a good arrangement! 🙂
Will you still continue to do Grab Hitch? 
Why not? The rides do offer to help pay for my parking and petrol, and I really don't mind meeting new people along the way.
Therefore, whenever I am not in a rush and driving a distance, I will just to pick up someone along the way. One must also re-adjust ones' timings, as driving hitch means that you will take a longer time to reach your destination.