Top 5 things to do in Penang for families!
Penang is always a "Hot Spot" for Singaporean Families! Budget Air gets one there within one and a half hours, and with the depreciating Malaysian Ringgit, Malaysia is becoming a great holiday destination for Singaporean families. With neighboring George Town being a UNESCO World Heritage site, Penang has many other things to offer families, here is a quick check list of our Top 5 things to do in Penang for Families!
Penang Street Food
The No.1 thing to do in Penang is to eat! Forget about what your nutritionist and dietitian ordered, as you are officially on a holiday. This means that you need to eat the Street food in its full glory. Penang Street Food offers lots of Pig lard and MSG, so don't worry about the contents of every dish, just eat!
On our visit to Penang, we rented a car, and we went from hawker to hawker to sample the street food. Most Penang hawkers produce great food, so just walk into any hawker, and you are guaranteed a great meal. If you are a foodie, here are some of the more famous recommendations from locals. Do keep on reading the post, to find our food recommendations for Penang.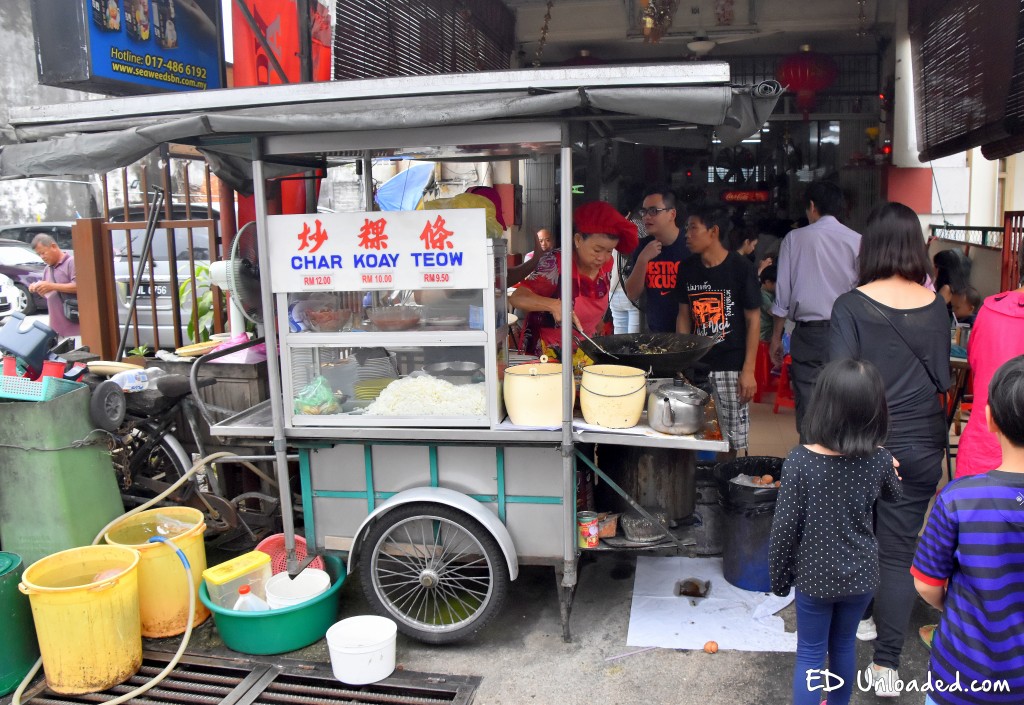 Pictured here is the Famous Red Hat Penang Char Kway Teow along Lorong Salamat. This hawker is such a "Hot Spot" for locals and tourists, that within the same shop, there are lots of vendors selling various other local goodies like fried oysters and rojak. The advantage of travelling in a big group, is that we were able to sample a bit of everything, and we have concluded that the only thing worth the calories here is the Char Kway Teow. If you love your Char Kway Teow, this stall is worth the visit! 🙂
Kafe Heng Huat
108 Lorong Selamat,  10400 George Town, Pulau Pinang, Malaysia
Operating Hours:
11 am to 4.30 pm (closed on Tuesdays)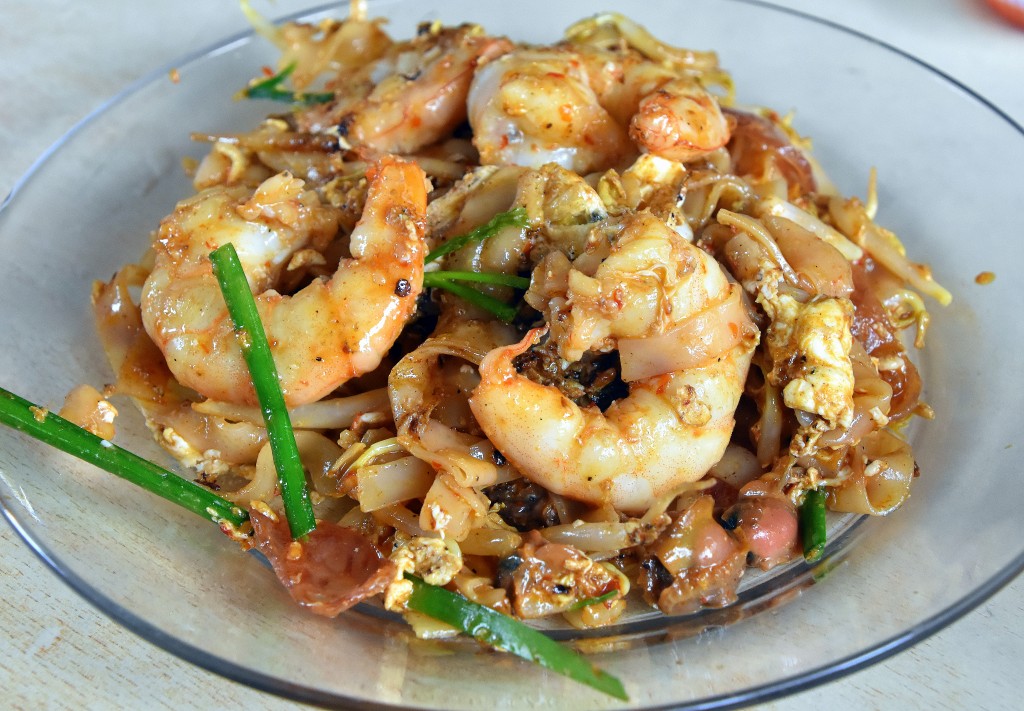 If you love your Noodles, Yeap Noodles seems to rank very highly on Tripadvisor. We followed the advice from Tripadvisor and we visit the shop. Located along Chulia Street (near the Street food area), the noodles are home made. There are a total of eight types of flavored noodles available, namely Original, Soy Sauce flavored noodles, Spinach flavored noodles, Carrot flavored noodles, Peppermint flavored noodles, Oat flavored noodles, Chili flavored noodles and Seaweed flavored noodles.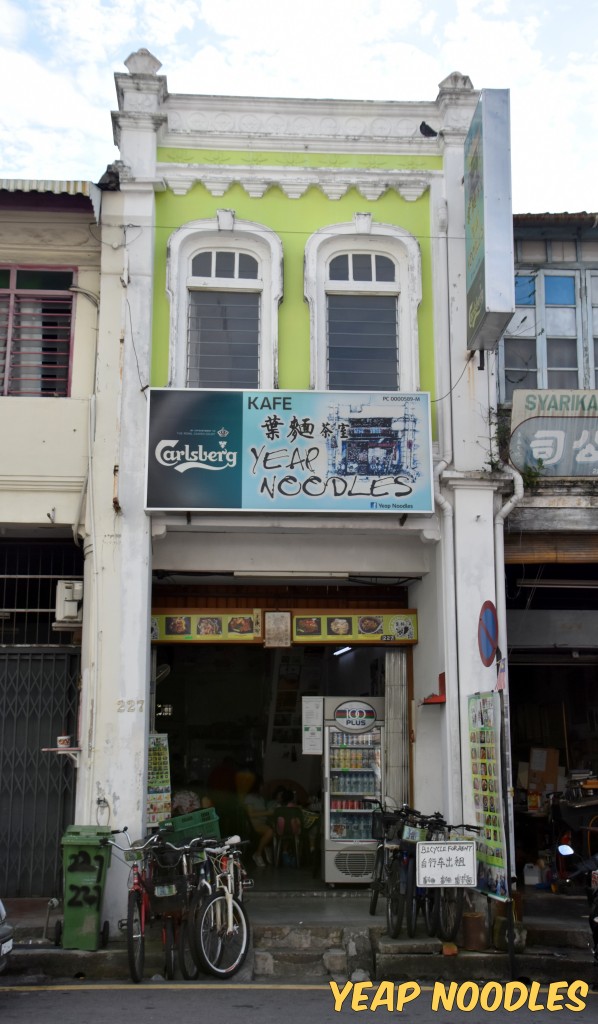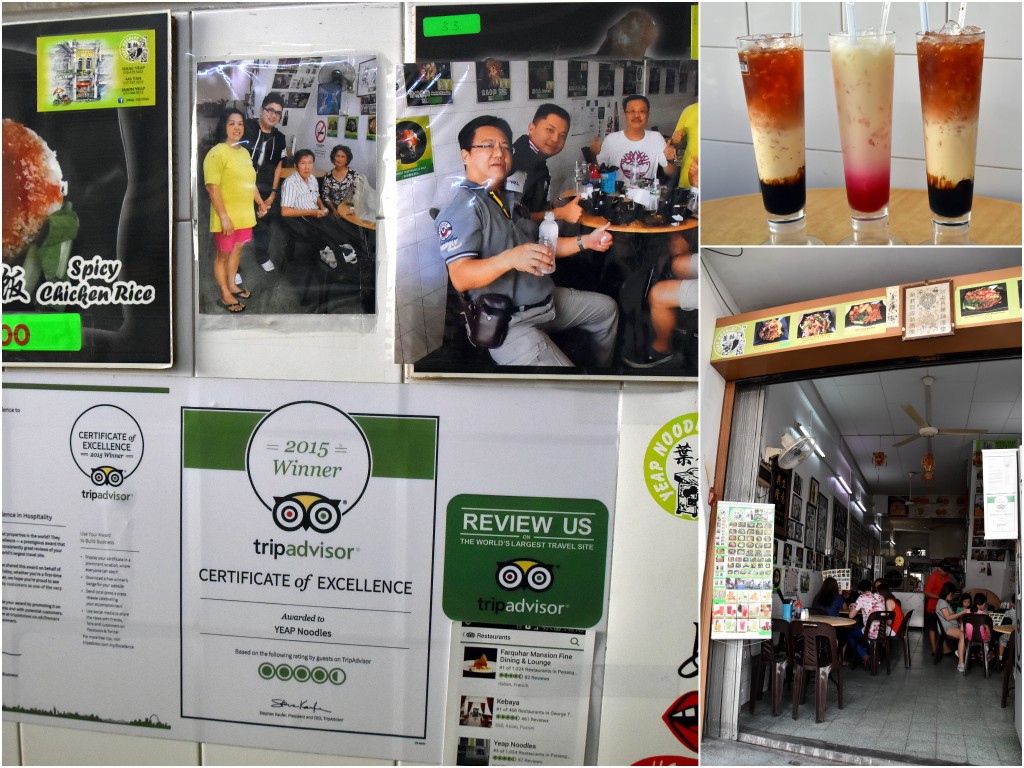 Personally I eat a lot of noodles, and we were looking forward to our visit to Yeap Noodles. The green spinach noodles on the right was full of the fresh green vegetable taste, and it was a hit with my wife. However, other than that, the soup based dishes fared better than the fried dishes, and I would rank this place as "Average", when compared to all the rest of the good food in Penang.

Yeap Noodles ?? @ Chulia Street, Penang
227, Chulia Street, 10200, Penang, Malaysia
Operation hours: 9:00am – 10:00pm 
For Foodies who love soup, one of the must things to try in Penang is Bak Kut Teh. Taste is very much different from what you get in Singapore. Prices are good for Singaporeans, and if you love Bak Kut Teh, the great thing is that the soup is refillable.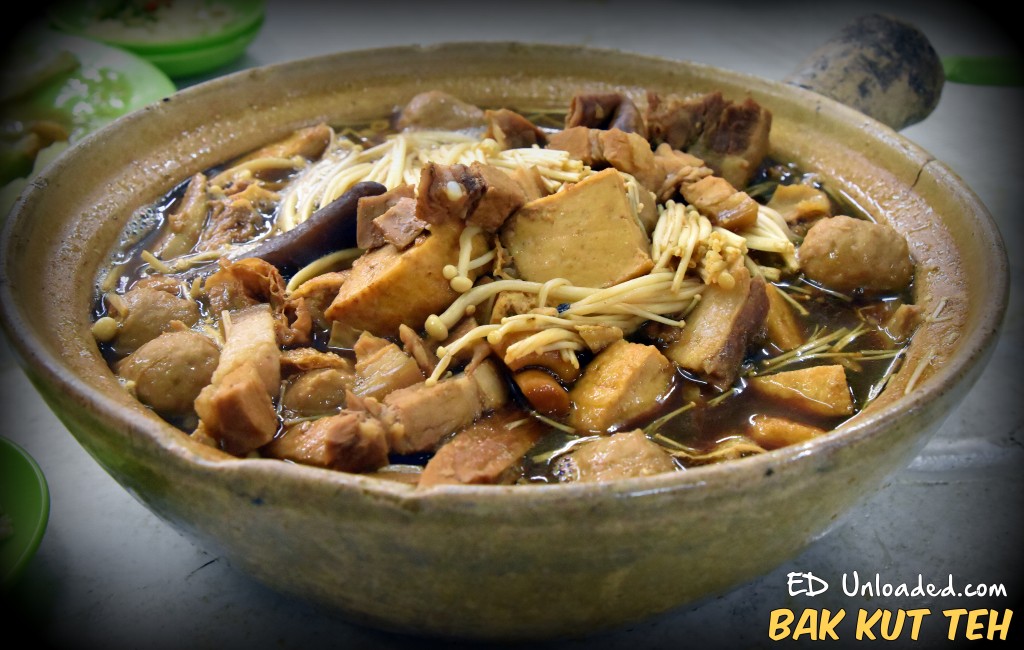 Walking along Lebuh Cintra, we discovered one of our favorite porridges in Penang. Yee Sung Kai Chok produces some of the best fish and chicken porridge that we tasted on this trip to Penang. The stall opens from evening to late, and we will definitely be back here for chicken and porridge the next time, we are back in Penang.
Yee Sung Kai Chok @ Sin Sun Vood Coffee Shop 
Lebuh Cintra, 10100, Georgetown, Penang
Operation hours: 6:00pm – 9:30pm (Closed on Sunday)
–
For readers who loves dessert, one of the Must go to places is the famous Penang Chendol. Situated just by the roadside, the coffee shop behind it, sells all the famous local fare as well. As the place is always crowded, one can opt to eat by the roadside, so as to minimize waiting time.
Penang Road Famous Teochew Chendul
Address: 27 & 29 Lebuh Keng Kwee, 10100 Georgetown, Penang, Malaysia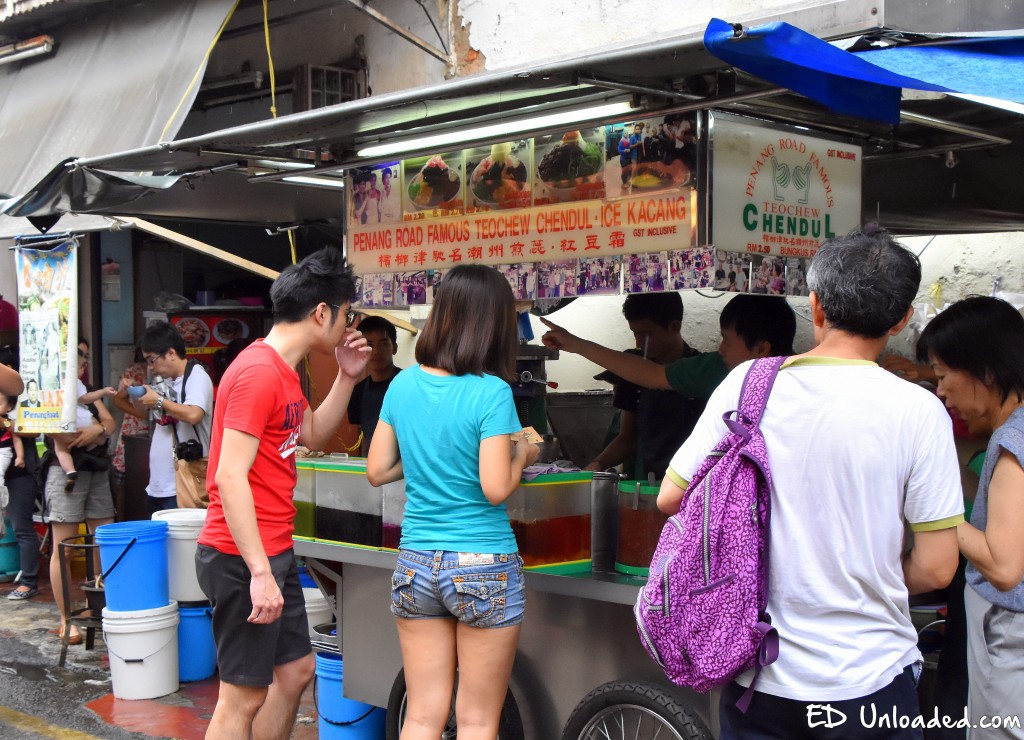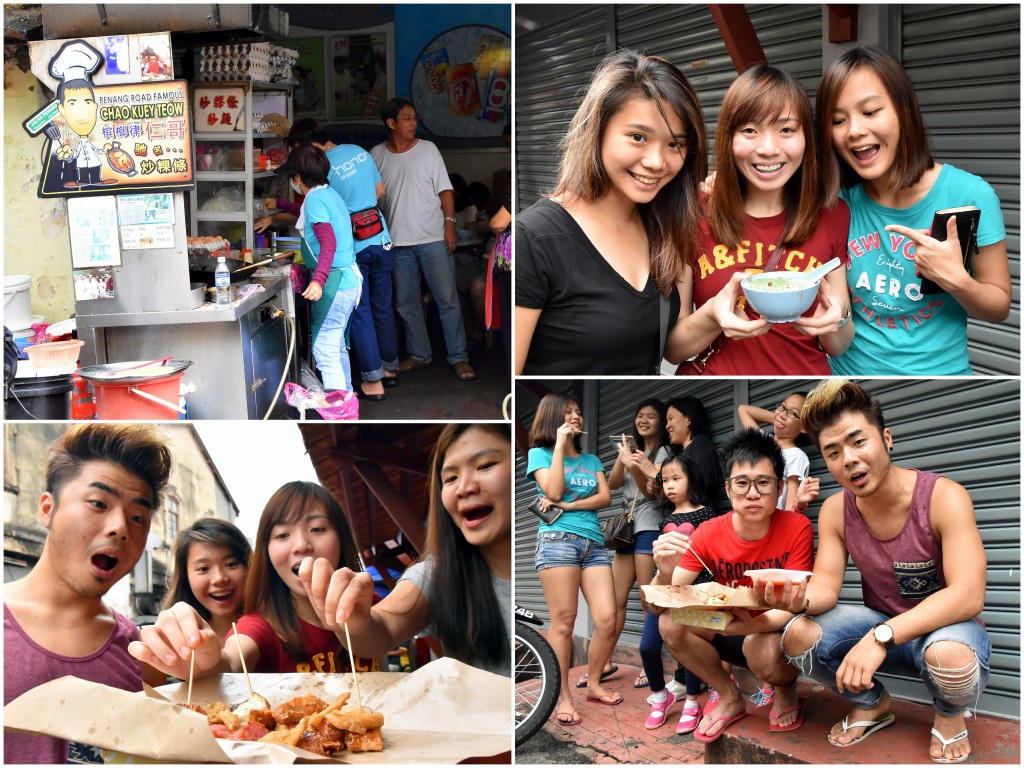 My kids love Ice Cream, and they love the Dragon Ice Ball. Located along Lebuh Cannon, one can get a ice ball, with their favorite ice cream, located right in the center.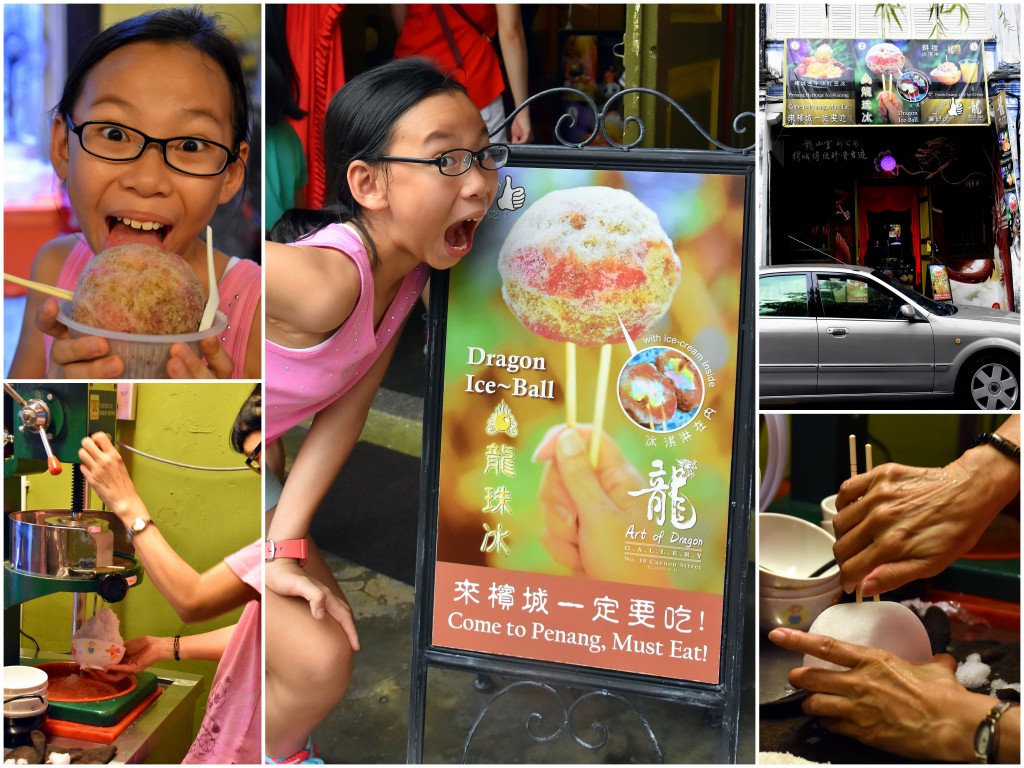 2. Street Art
There are many artists who have contributed  to the artscape in Georgetown. One of them is the talent Lithuanian Ernest Zacharevic. Commissioned in 2012 by the Penang Municipal Council to create "Mirrors George Town", the wall paintings represent characters and scenes that celebrate the energy and playfulness of life in the inner city. There are a total of 9 Murals done by the Lithuanian artist, and here is a map to find you find those done by the Lithuanian Artist. The rest of the art pieces are done by other artists.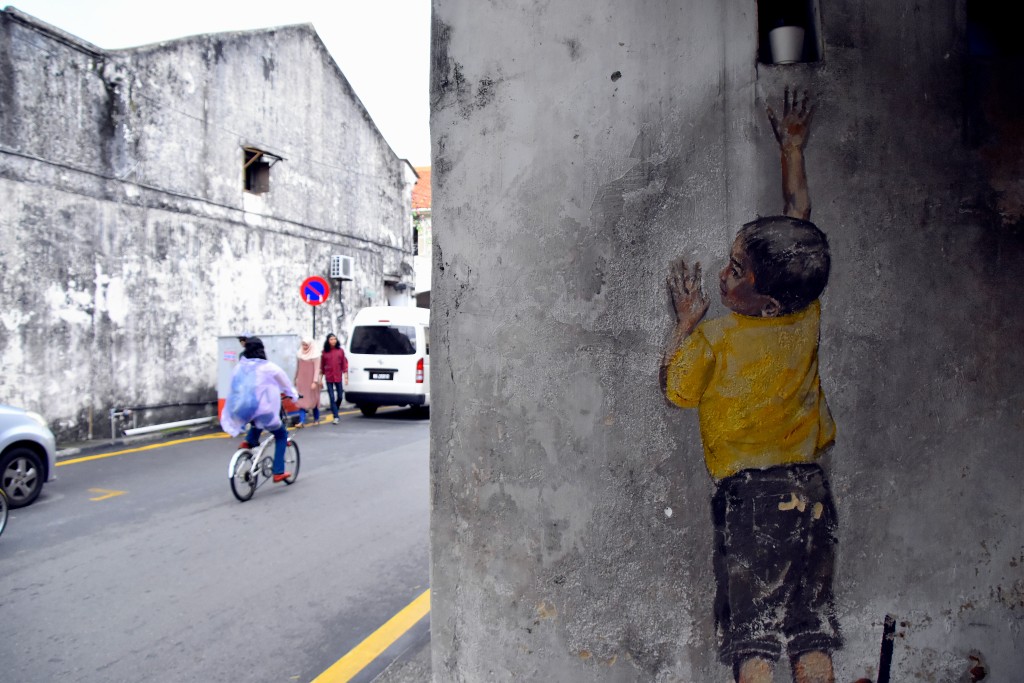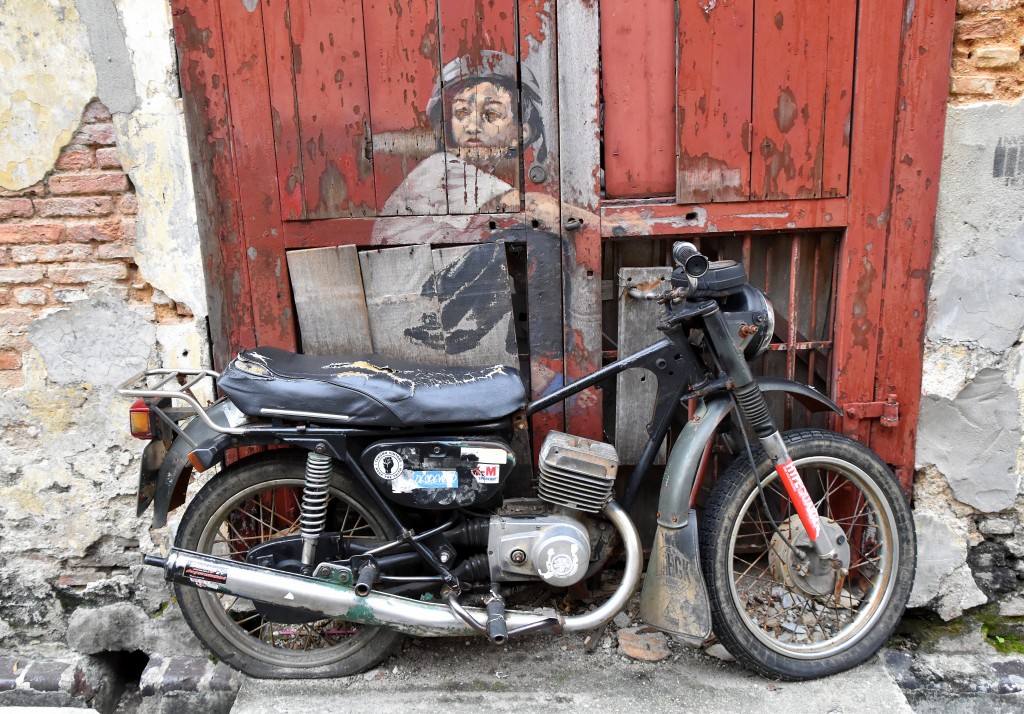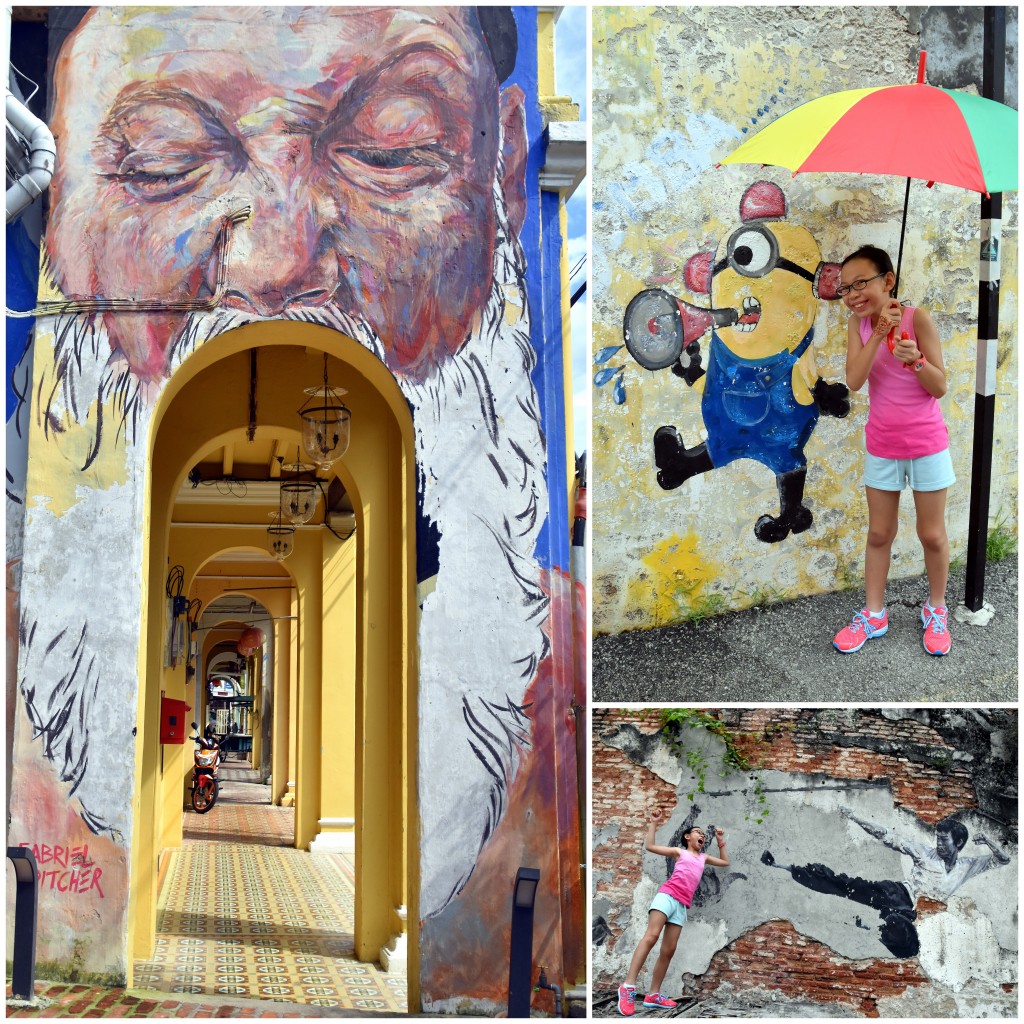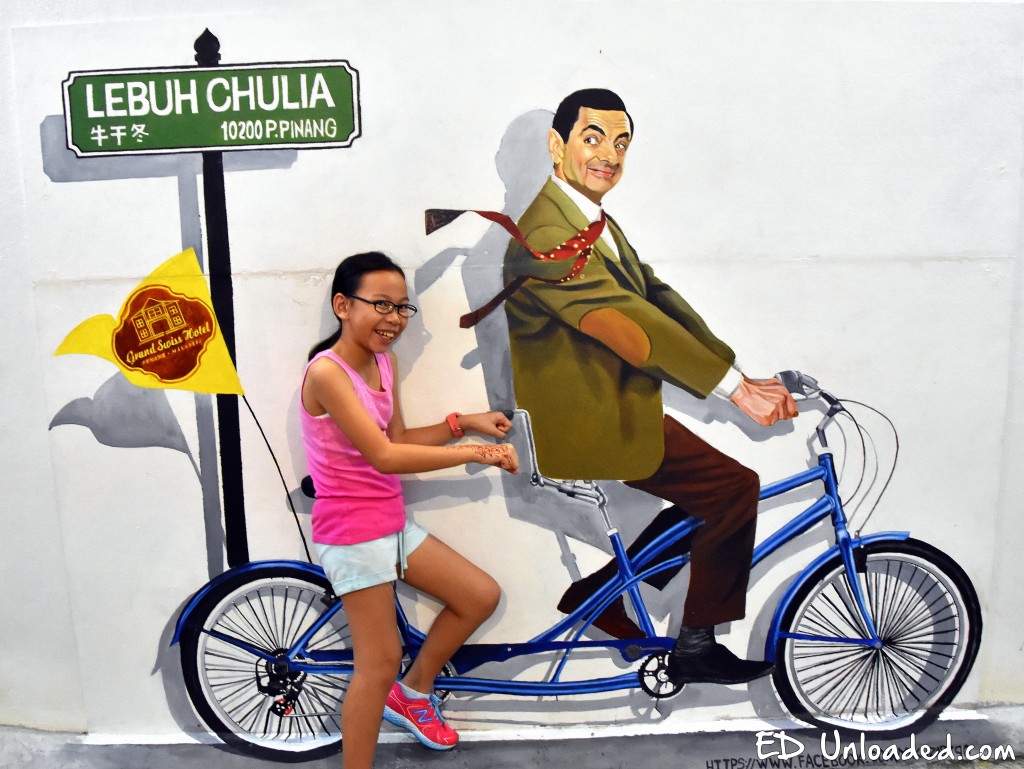 3. Heritage Buildings
George Town has been a recipient of the UNESCO Cultural World Heritage Site since 2008. Encompassing a collection of historic buildings in various styles, the city is a buffet of history and Asian Culture preserved at its historic best.
Walking along the streets, one does find many photo-worthy moments, as one can find halls, markets and shops untouched by time.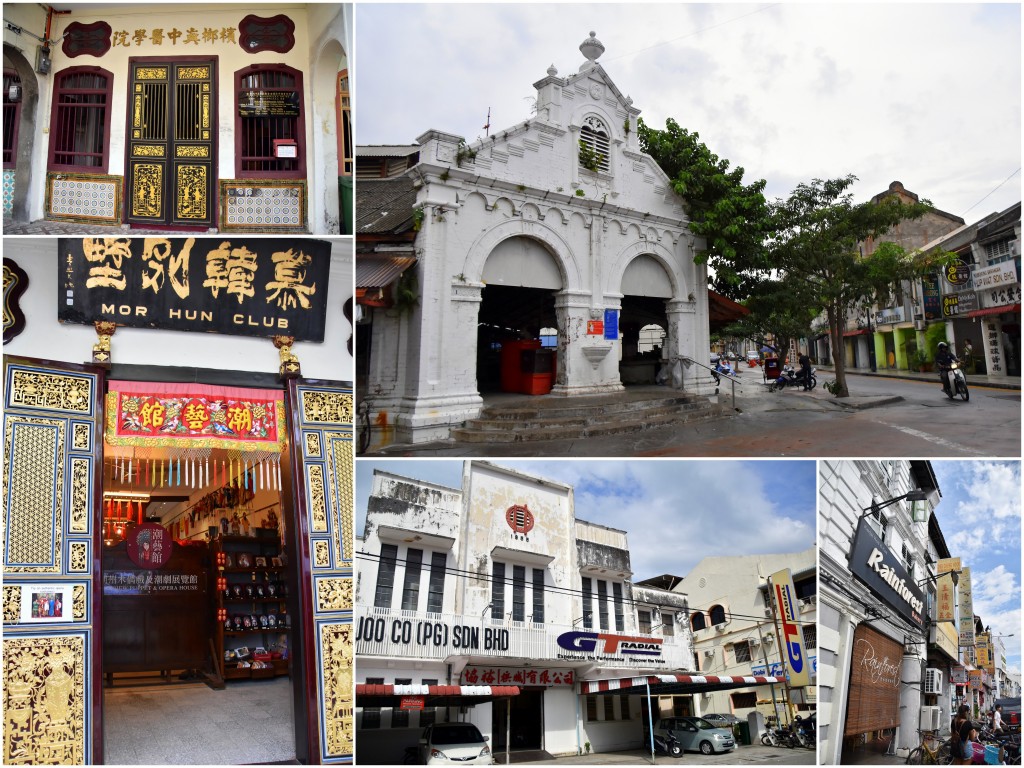 4. Penang Escape Theme Park
Called Penang Escape Theme Park, this park runs from 9am to 6pm, and is closed only on Mondays. This park offers something for the cowardly and for the Bravehearts in the family. With obstacles starting from knee height,  to heights up to 4-5 storeys high, this park is challenging for the whole family.
The great thing about the course, is that they promote participants stage by stage, and visitors get to choose how much they want to push themselves.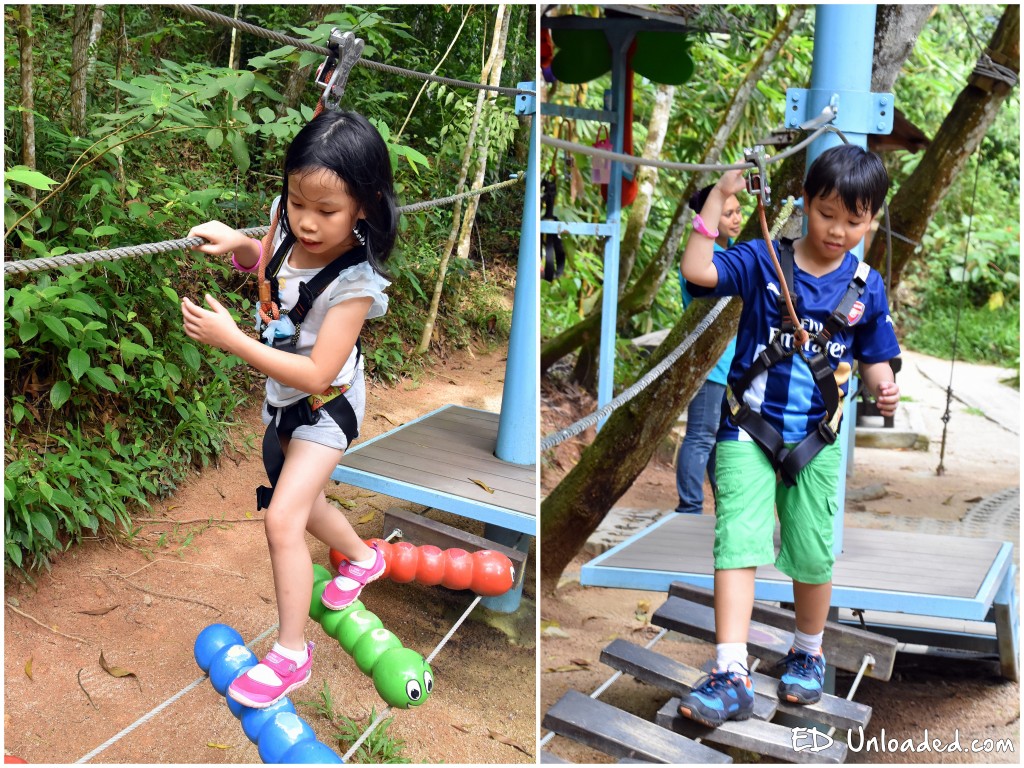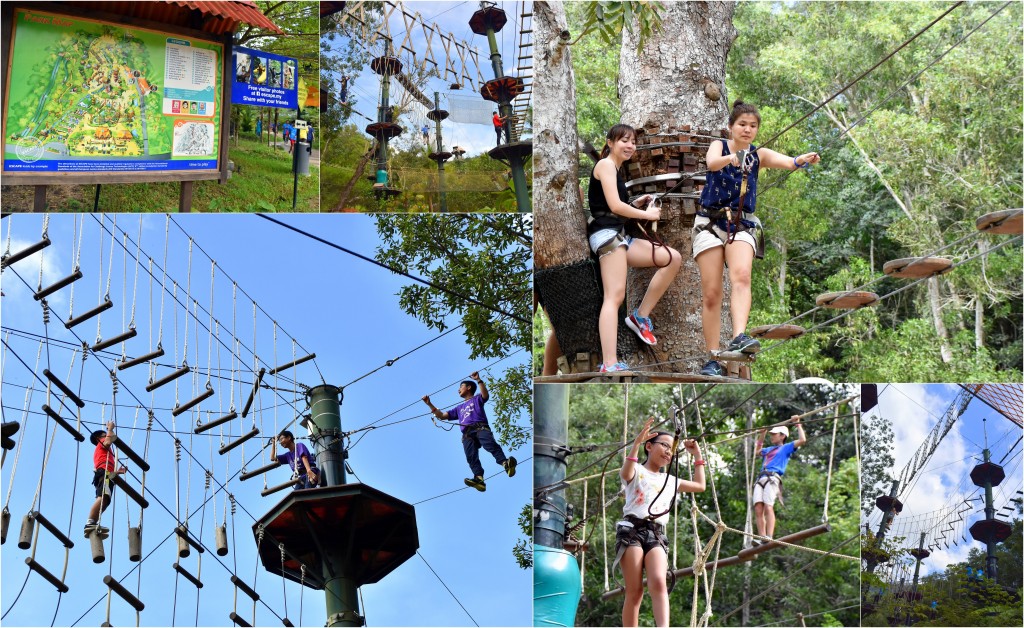 One of the courses that the whole family enjoyed was the sleigh ride. Although the tough part, is pulling your tyre up a steep incline, the slope is steep enough to provide enough spills and tumbles for the whole family to enjoy. As the pictures reveal, we had lots of fun going down the straight steep slope and the alternative route, which provide turns and dips along its course.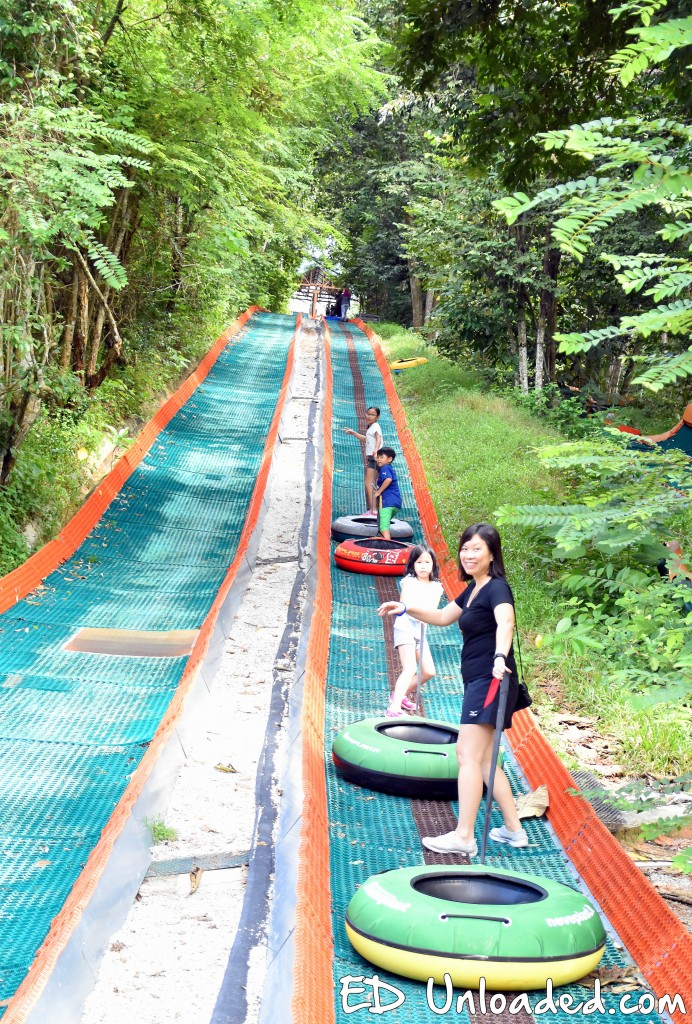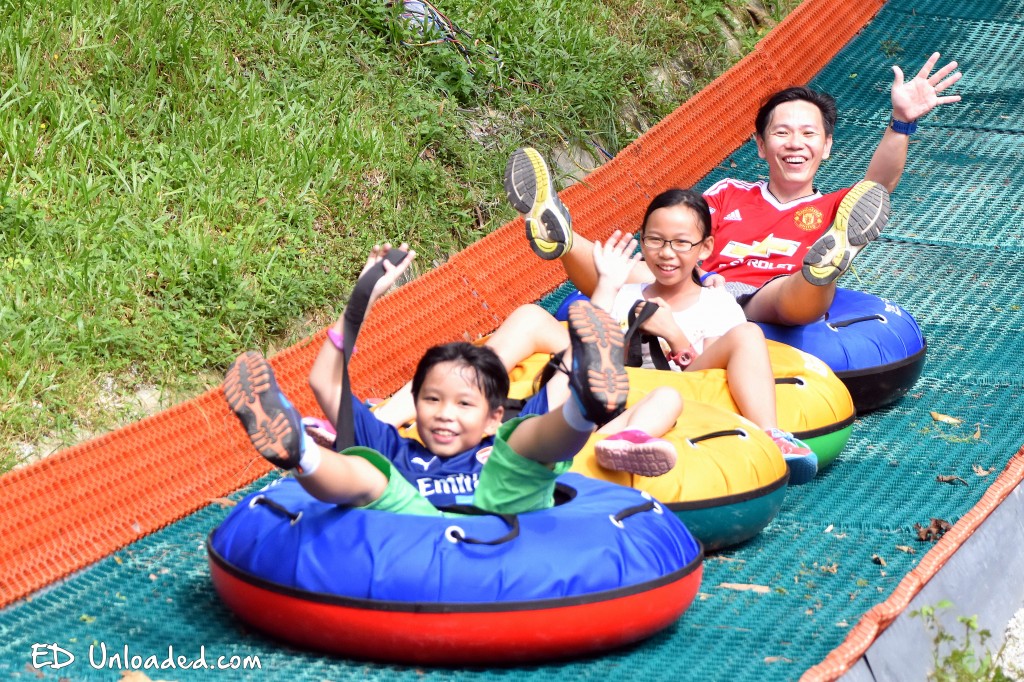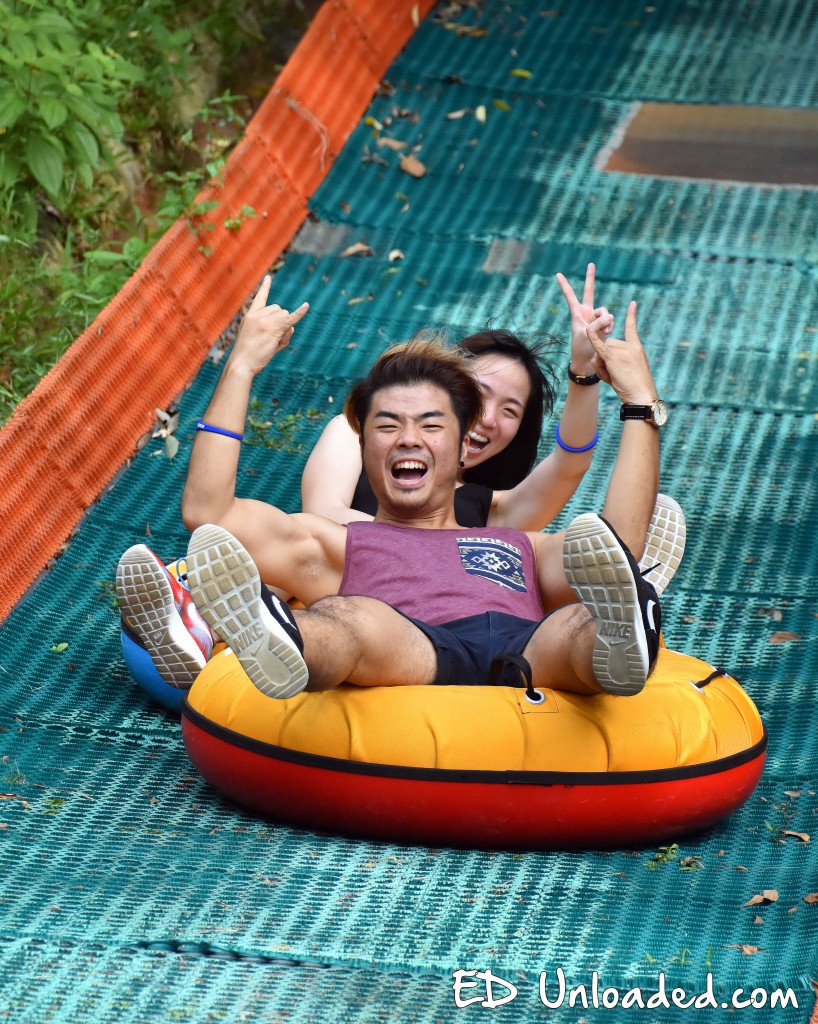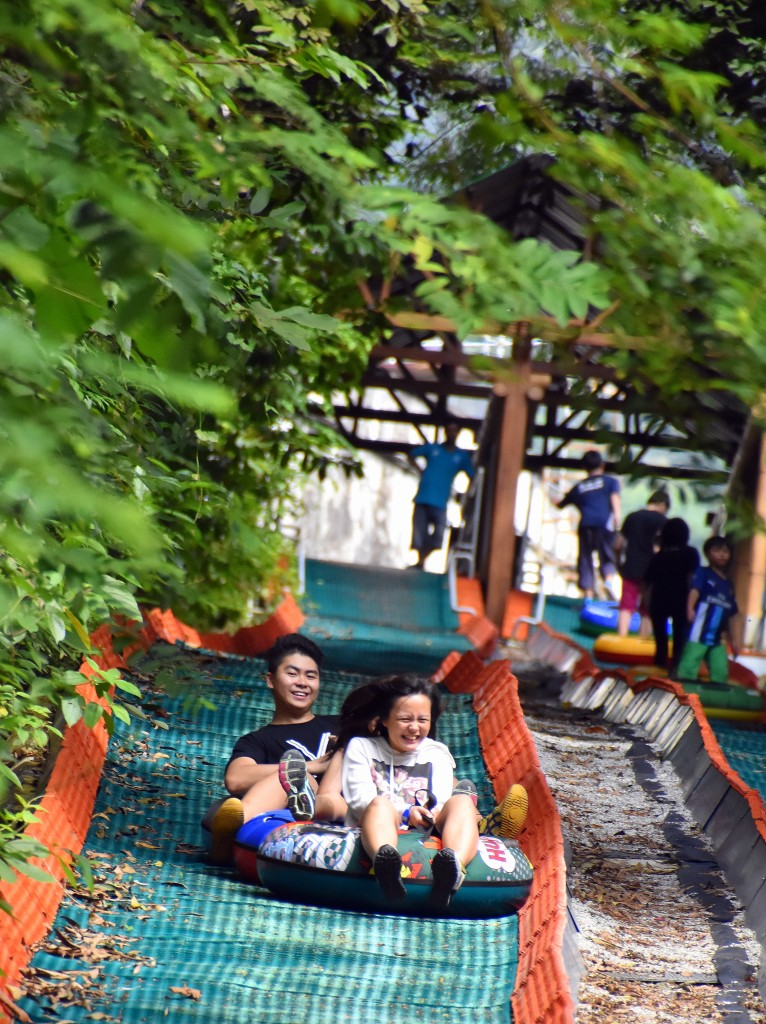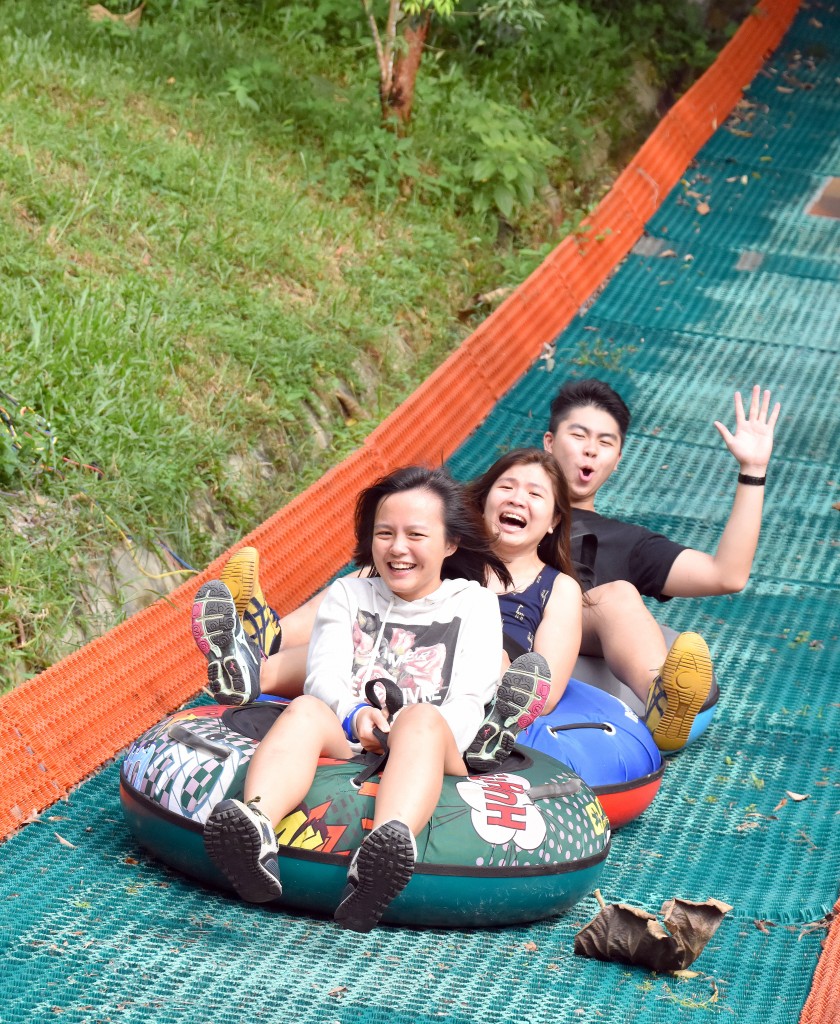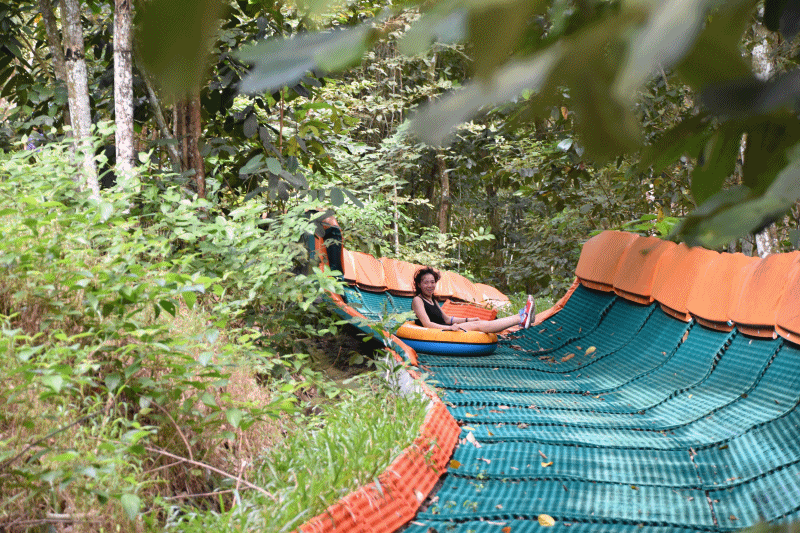 Although I am not terribly fond of heights, I was glad to bring my kids to the Escape theme park. We found great joy, seeing our oldest girl conquering all the obstacles, and there were many more obstacles for the younger kids as well.  For example, Nathan and Nadine were given a torch light and had the chance to explore a dark room in a little house. They had to crawl and search through tunnels to find a way out of a dark room. Meanwhile, Daddy and Mummy were looking at the TV screens and observing all their moves, as they made their adventure around the dark room.  If one does want to try out all the obstacles, one might need to set aside a full day for everything. However, if you are squeezed for time, one might just need to allocated a good 4 hours, in the afternoon, to experience a good majority of the obstacles.
If one does not like the outdoors, the air-conditioned indoor slopes at Adventure Zone Penang (Located within Golden Sands Resort) are also quite scary.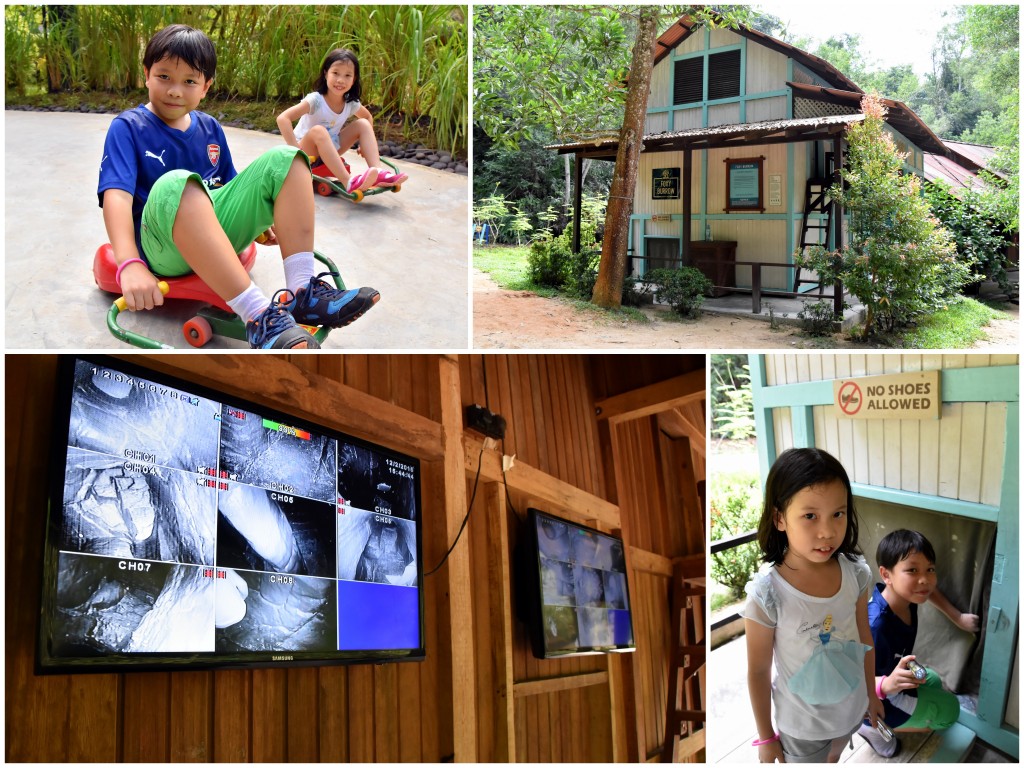 5) Night Markets
One of the best things to do at night in Penang is to explore the Batu Ferringhi Night Market. Located along the Stretch of high end Hotels, one can be prepared to find food and other retail outlets along this stretch.
The Market comes to life from 6pm onwards, and closes at about 11pm. Opening hours are dependent on traffic flow, and one must be prepared to bargain to get a good price at the market. If one is tired of walking, there are also massage parlors, food centres and pubs, to help you wind down the night.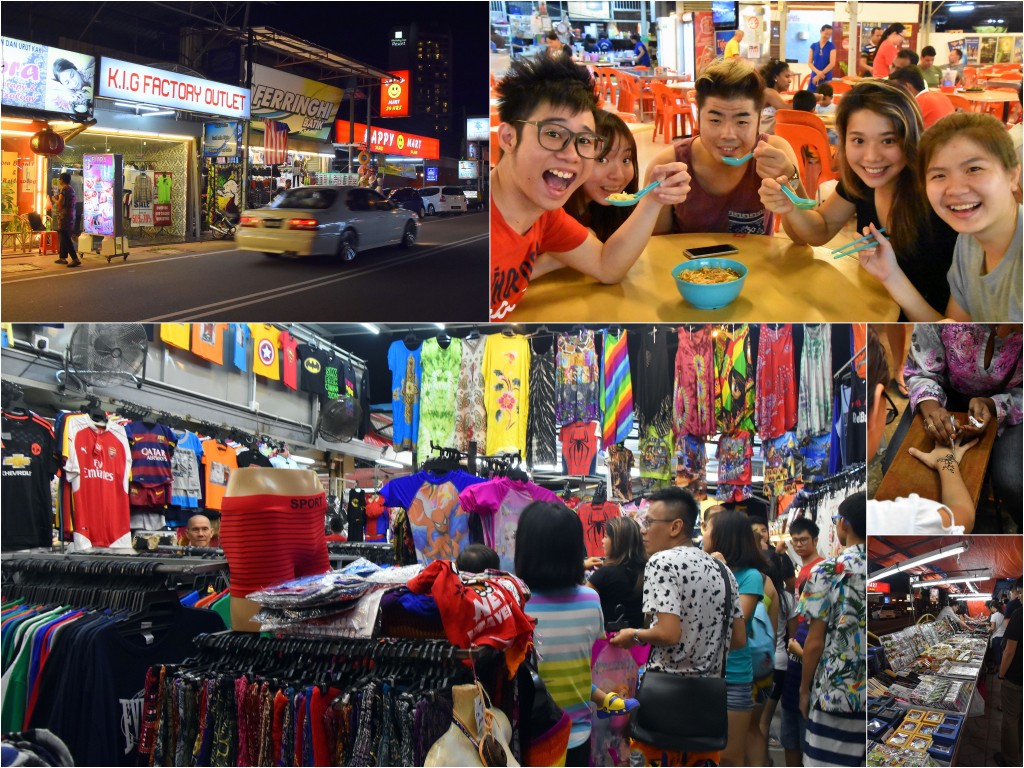 As one can see, Penang offers great value for the family, and we would definitely recommend Penang to families who want to have great fun, but on a tight budget.
Photos in this post are taken with our Sponsored Nikon D5500.