Tiddler and other terrific tales (Giveaway)
Theatre and Storytelling is one of the most effective ways to help kids build language skills and imagination in the most relaxed setting. ABA Productions and the Award Winning Scamp Theatre (UK) will be in town this May to present "Tiddler and other terrific Tales". Built to entertain, this production is for kids aged 3 and up, and one that our children is looking forward to.
(Sponsored Giveaway)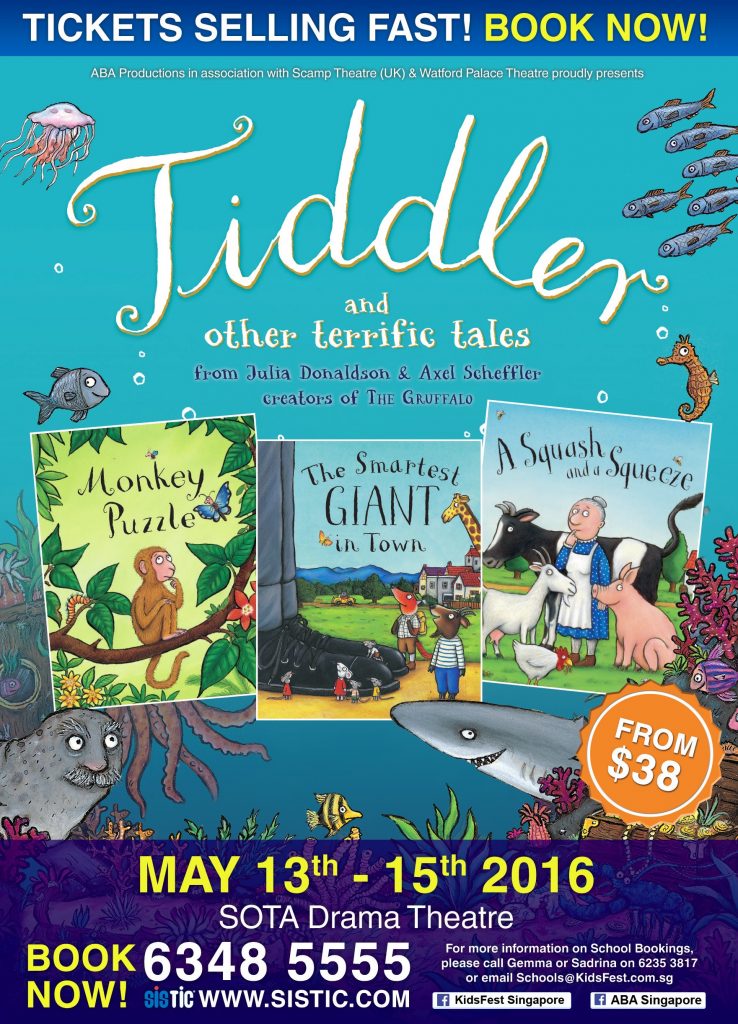 Tiddler and Other Terrific Tales Synopsis: 
Under the sea, out on the farm and into the jungle, these terrific tales are woven together with live music, puppetry and a whole host of colourful characters from Julia Donaldson and Axel Scheffler's best-loved titles: Tiddler, Monkey Puzzle, The Smartest Giant in Town and A Squash and a Squeeze.  Funky moves, toe tapping tunes and giggles are guaranteed!
Is Tiddler telling the truth?
Will Monkey find his Mummy?
Will George The Giant make lots of friends?
Can the old lady really squash and squeeze all those animals in?
This delightful production is brought to you by the award-winning Scamp Theatre (Stick Man – Live on Stage! Private Peaceful, Friend or Foe) and adapted from the bestselling books by Children's Laureate, Julia Donaldson and illustrated by Axel Scheffler (creators of The Gruffalo).
"I love how Scamp scamper through my stories, transporting them from page to stage so faithfully and innovatively." Julia Donaldson, author and Children's Laureate.
To take a sneak peek at Tiddler and other terrific tales, check out the video below: 
Scamp Theatre's TIDDLER & OTHER TERRIFIC TALES from Scamp Theatre on Vimeo.
Tiddler and Other Stories will be playing at the SOTA drama theatre from May 13-15 (Fri-Sun) with tickets starting from $38 onwards. (tickets can be purchased at the usual SISTIC outlets.) 
And Yes! We have a Giveaway for our Readers!
We are giving away 4 tickets to "Tiddler and other Terrific Tales" on 13 May, 5pm (Please note dates and timiings are non-exchangeable, and everyone must have a ticket for entry. This include infants in arms.)
All you need to do is to:
1. Comment on this blog post, and tell us why you would like to bring your kids to watch "Tiddler and other Terrific Tales"?
2. Join and LIKE the ABA Theatre  and  Ed Unloaded Facebook page
3. Share and Tag this blog post on your Facebook Wall with the Caption "Win Family Tickets to watch Tiddler and other terrific tales! " (Tag at least 1 friend).
For those who are new to the process, just copy the Blog Page Address and Paste it on your FB Wall. (Do Remember to add the Caption and make your share Public!)
The Giveaway ends on  25 April, 2016 at 2359 hrs.
(Editor's decision on Winners are final, and Facebook accounts used solely for Giveaways will NOT be entertained. All incomplete entries will  also automatically be disqualified The management reserves all rights to amend or change the terms & conditions of this promotion without prior notice. Final decisions will be made by Ed Unloaded.com.)  
(Disclaimer: Prizes are sponsored by ABA Productions Singapore, but all opinions are 100% our own.) 
__________________________________________________________________________________________________
And the Winner for this Giveaway has been chosen!
Congratulations to:
Wong Chock Fang
We will be contacting you shortly about the collection of the prizes. To the rest of our readers, do stay tuned for the next giveaway!