Last week, I had the pleasure of attending a Seminar series on "The Essentials of Skin Care".  Sponsored by Physiogel and hosted by a panel of dermatological experts, I heard about everyday skin issues such as sensitive skin, dandruff prevention, suncare and children's eczema at GV Vivo City.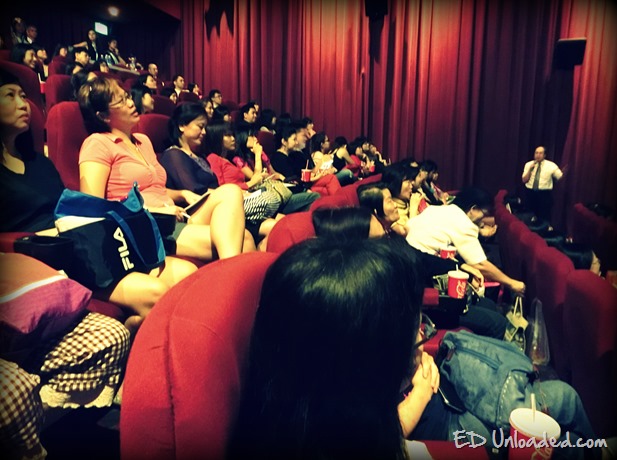 This was not our first experience with Physiogel, as our PD prescribed Physiogel to Nicole a two years ago, when she suffered from sensitive skin. In fact, sensitive skin is not than uncommon, as 1 in 5 people suffer from dehydrated or itchy skin. Due to the dry air found in air-conditioning, harsh cleaning agents or prolonged exposure to heat, many kids have dry and peeling skin. After applying the cream, Nicole's skin condition disappeared, and when I brought some Physiogel creams home, she was first to say, that "This is a very good cream!"
The talk by the experts was also interesting. I learnt that for children's eczema and sensitive skin conditions, it is challenging to treat as we are built with a  genetic love to scratch! However, scratching does make the condition worse, and that is why creams must be applied. Physiogel's Hypoallergenic Cream  is perfect for kids with eczema. As it is natural with no colourants, perfumes or preservatives, the cream helps revitalise skin and provides protection against eczema triggers.
Here are some other interesting facts that I picked up from the talk:
Solving Dandruff Problems
Many people think that Dandruff occurs when the scalp is dry. On the contrary, you need to wash your hair everyday, as dandruff is caused by an oily scalp. Yes! It is just like acne! So daily washing is encouraged, and if "head and shoulders" does not solve the problem, you have to buy special medicated shampoo from the pharmacy.
Do my kids need to apply Sun Block?
Yes! And not just at the beach but even on an ordinary not sunny day out at Orchard Road. 80% of UV radiation penetrates through clouds, and so you can even get a tan on a cloudy day! If you have problems getting a tan like myself, you will be glad to know that when the skin tans, it is actually the skin crying out for help! Sun creams up to SPF 30 offers enough protection, as higher SPF numbers only offer marginal protection. I am definitely getting my children started on the Stiefel Sunblock lotions.
Acne Problems?
Growing up as a teenager, I used to have lots of acne problems. In fact, some of my friends suffered severely from it. It would be good to see a Dermatologist for an analysis, as some doctors will prescribe antibiotics, which contain steroids. It does help with the condition, but it may not be beneficial for us in the long run. Of course a good cleanser is important. Physiogel's Cleanser is soap free and it soothes and softens the skin while maintaining the pH balance. The best part? The cleanser is very gentle and is suitable for all skin types!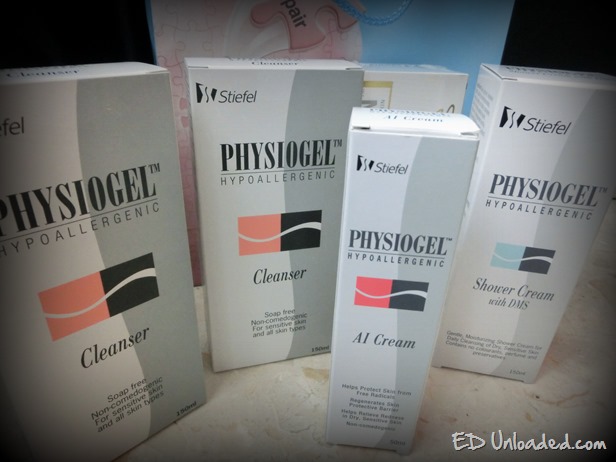 Physiogel Giveaway
Good news for readers who want to get hold of some Physiogel products! Physiogel offers products such as a hypoallergenic moisturizing cream or cleansers, which are designed for use on sensitive skin. It contains no perfumes, dyes or preservatives, and can be used even for babies!
In conjunction with the launch of Physiogel's new cleanser, we are giving away 3 bottles of Physiogel Cleansers to 3 lucky winners!
All you need to do is:
1. Comment on this blog and tell us why you like Physiogel
2. Join and LIKE the ED Unloaded Facebook Page (if you have not done so).
3. Share this blog page on your Facebook Wall (For those new to this process, you can do this by sharing the link from the ED Unloaded Facebook Page, and pasting it on your FB Wall. Do help me by TAGGING me as well, so that I know that you have done it.)
(Closing Date 12 May 2013)
*Winners will be notified by email, and they will need to collect their prizes at a specified collection point. No delivery of prizes are offered, and non-collection of prizes will result in them being forfeited. This contest is open only to residents in Singapore.
____________________________________________________
Giveaway Winners are out!
The Winners of the Physiogel Giveaway are:
1. Jolin
2. Cate Lee
3. Valerie
Congratulations!
An email has been sent to you with the collection details. Do look out for our next Giveaway!