Children's Theatre: Jewels in the Tale
Sponsored 
Children's theatre  is a great way for kids to learn about speech and drama. Through stories, imagination is encouraged, as they are introduced to the Arts in a fun way. iTheatre is back this August with another production, that will stimulate the senses of our children. Catch "Jewels in the tale" at the Alliance Francise theatre, for an engaging production that will captivate the hearts of all our little ones.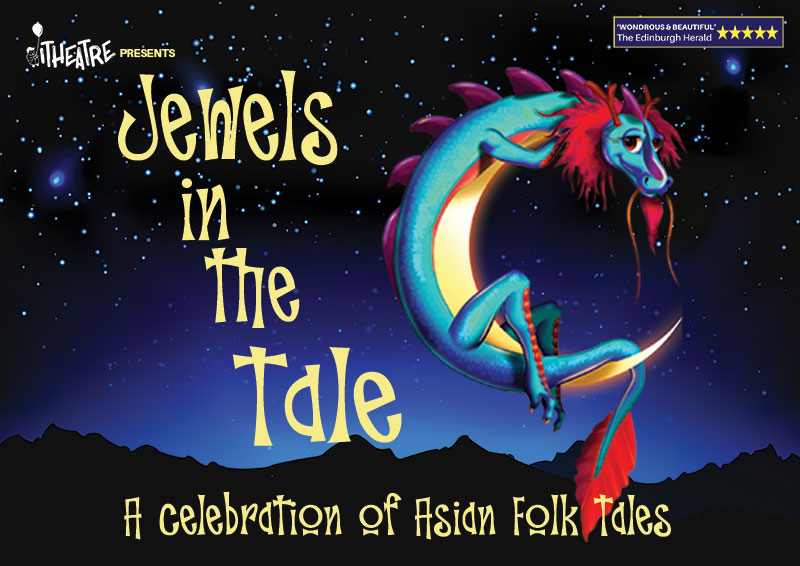 Recommended for all ages 4 and above
Jewels in the tale is a production  that features tales from all over South East Asia. The production brings together stories such as The Crane's Gratitude from Japan, Tenali Raman and the Three Thieves from India, and The Four Dragons, from China, amongst others.
Each tale is told in a different style of elements of Japanese Noh, Classical Indian Dance. With energetic physical theatre, masks and puppetry, color and music, this drama will enthrall and entertain both young and old alike,
If you are tired of "Tablet Time" or just shopping at the mall, this is a production that will provide your family with some fruitful family time.
Jewels in the tale will be running from 17-30 August, and from 10-12 September.
To find out more about this production, do visit iTheatre. 
And for all our Readers, we have a special GIVEAWAY! 
We are giving  4 Complimentary tickets to 1 WINNER for the show on Sat 22 August 230 pm. (Note: Theatre date and time, cannot be changed)
To be a Winner, all you need to do is to:
1. Comment on this blog post, and tell us what you love to watch Jewels in the tale?
2. Join and LIKE the Mums the Word Facebook Page and ED Unloaded Facebook Page
3. Share this blog post on your Facebook Wall with the Caption  "FREE Tickets to watch Children's Theatre"
For those who are new to the process, just copy the link below and Paste it on your FB Wall. (Do Remember to add the Caption and tag me, so that I know that you are participating in the giveaway.)
http://edunloaded.com/giveaways/childrens-theatre-jewels-in-the-tale/
The Giveaway ends on July 10, 2015 at 2359 hrs.
(Editor's decision on Winners are final, and Facebook accounts used solely for Giveaways will NOT be entertained. All incomplete entries will also automatically be disqualified.)  
__________________________________________________________________________________________________The Results are finally out:
Congrats! And the Winner is:
Leong Sook Lin Rosalind
We will be emailing you shortly about the collection of your prize. To the rest of our readers, do stay tuned for our next Giveaway.