Children's I Theatre: The Gingerbread Man (Giveaway)
Sponsored Giveaway
The exams are coming to an end, and many Parents are thinking of how to occupy their time. How about getting their senses activated by watching children's theatre. iTheatre offers kids a chance to enjoy drama made for children, and with the evergreen story of "The Gingerbread Man", the kids will be in for a great time.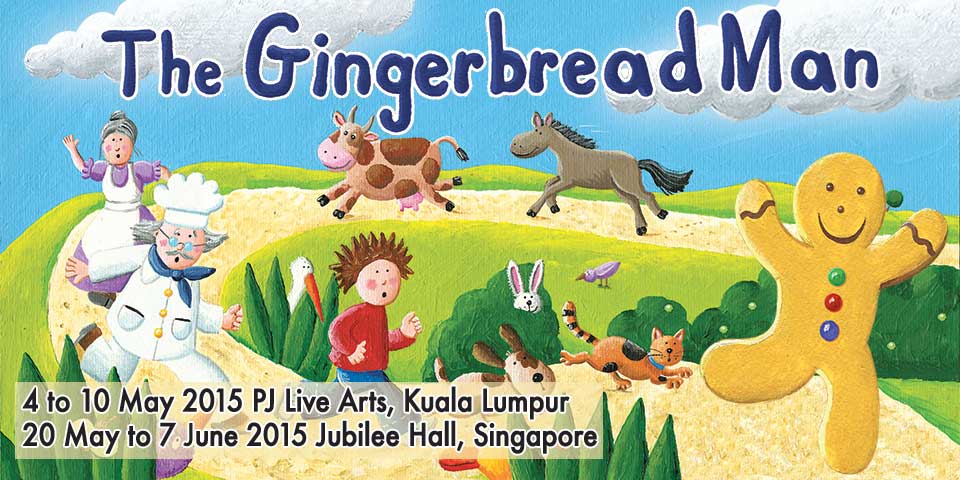 If you can't remember the story, here is a synopsis of "The Gingerbread Man":
Synopsis:
Once upon a time there was a Little Old Woman and a Little Old Man. One day, they decided to make a gingerbread man to sweeten their day. But the Little Old man was REALLY not good at following instructions… What a recipe for disaster!
I Theatre celebrates on a sweet note with an improved and reinvented version of their sold-out family musical – The Gingerbread Man. Enjoy this sweet spread of wonderfully catchy songs, rainbow-sprinkled with a colourful collection of crazy puppet and live-action characters, frosted with some valuable lessons to learn, and interesting thinking points for young and old alike.
This tasty tale – the one you know so well – is presented especially for ages 3 to 93.
Returning because of audience demand, you'll want to catch The Gingerbread man before he escapes yet again!
The production will be running from 20 May to 7 June, 2015 at the Jubilee Hall, Raffles Hotel. Suitable for kids from 3 to 13 years old, and tickets ($32) can be bought at SISTIC.
And there is Good News for All Parents out there!
I Theatre is sponsoring the Giveaway and there are giving away 2 sets of 4 Tickets for the show on 23 May at 230pm. (Do take note that the day and time of the production cannot be changed)
_____________________________________________________________________________________________________
To be 1 of the 2 Winners, all you need to do is to:
All you need to do is:
1. Comment on this blog post, and tell us why you want you want to watch the Gingerbread Man?
2. Join and LIKE the ED Unloaded Facebook Page and Mums the Word FB Page.
3.  Share this blog post on your Facebook Wall with the Caption "Watch Gingerbread Man with your family for FREE!"
For those who are new to the process, just copy the link below and Paste it on your FB Wall. (Do Remember to add the Caption and tag me, so that I know that you are participating in the giveaway.)
http://edunloaded.com/giveaways/childrens-itheatre-the-gingerbread-man-giveaway/
The Giveaway ends on May 17, 2015 at 2359 hrs.
(Editor's decision on Winners are final, and Facebook accounts used solely for Giveaways will NOT be entertained. All incomplete entries will also automatically be disqualified. The management reserves all rights to amend or change the terms & conditions of this promotion without prior notice) 
_________________________________________________________________________________________________
And the Winners are:
1) Rachel Neo
2) Tan Tzehui
We will be contacting you shortly about the collection of your prizes. Congrats once again! And to the rest of our readers, do stay tuned for our next Giveaway!