Aviva Superfundae (Giveaway)
The June holidays are coming soon! This is the time where the kids come out to play, and parents are left wondering where to best bring them for some good family bonding, fun and sun. Fret no more, for what better way to kick start the holidays with the Aviva Superfundae 2016! A Fun carnival catered for the family with lots of activities for the whole tribe! 🙂
(Sponsored Giveaway)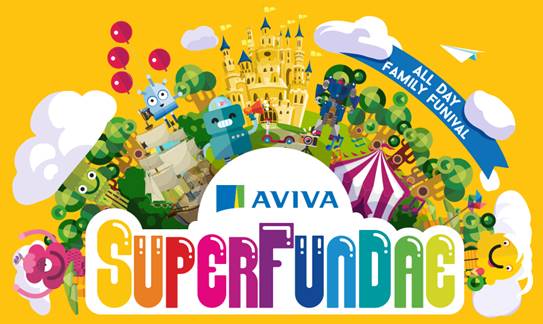 The carnival will be held at The Meadow, Gardens by the Bay on 4 June 2016, where more than 30 non-stop games and activities await you across five thematically-designed fun zones – Circus Centre, Speedy Zone, Dream Castle, Pirate Island, and Jungle World. These games and activities are designed to stimulate the child through interaction with one another, promote creativity through hands-on arts and crafts, and also sharpen their psychomotor skills through outdoor adventure.
Here are some highlights that your family can look forward to at the Aviva Superfundae 2016:
1) The Mega Candy Cannon – I mean, just imagine a giant cannon blasting free candies hourly! Can you imagine how excited your child will be, being surrounded by candies falling from the sky, and picking as many as they want to their heart's delight? And this is not some cheap sugared treat, these are free Haribo gummies!
2) Craycrayspray Water Play – There's something about water play that makes it irresistible to both children and adults. Be prepared to get wet and wild as you battle it out with your Nerf Super Soakers!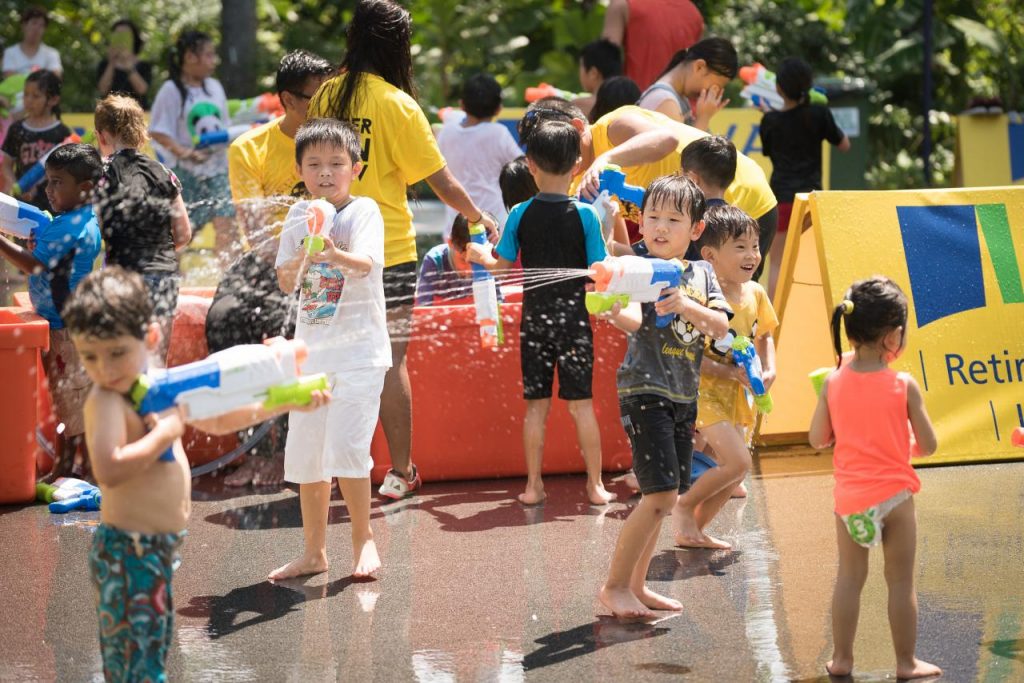 3) Jump 'N' Grab – Get a good exercise (or just tire the kids out) by jumping on a 14 feet trampoline, and grabbing yummy goodies hung from above!
4) Movie Under The Stars – End the day with a cool cup of beer or juice in hand, relaxing in the meadows under the stars, watching your favourite family movie…
In this day and age, it's so tempting to distracted by the busyness of life and by our many electronic mobile devices. I really like that the organisers planned for this event because they wanted to remind families that it is important to "slow down and enjoy time with our children."
Priced at $19.90 each, the one-price-for-all tickets are now on sale through all SISTIC outlets and official SISTIC website. Each Aviva Superfundae all-day-play ticket comes with:
An awesome Superfundae pack for children up to 12-years-old, while
adults will get a free beer or juice!
Free entry to all activities and materials used (if any)
Free ice-cream all day long
Access to Johnson's Baby Nursing Room for mums and babies
Access to Johnson's Baby Diaper Changing Room
Free use of Johnson's Baby Toddler Play Room
That's not all. Kids below three years old will enjoy free entry, and bundle deals are up for grabs:
Happier Bundle for purchase of 5 to 8 tickets – 15% off ticket price
Happiest Bundle for purchase of 9 tickets and above – 20% off ticket price
10% off ticket price for PAssion card holders
There's something fun for everyone, so get your tickets today!
Good news! If you are an Ed Unloaded reader and would like purchase tickets for the Aviva Superfundae 2016, you can get a 20% discount on the tickets when you quote ASFDedunloaded. (Click to go to the Aviva Ticket Site) 
__________________________________________________________________________________________________
And for those ED Unloaded readers, who want to take their chances in our special draw, we are also giving away 2 Sets of 4 tickets to "Aviva Superfundae 2016" on 4 June.
All you need to do is to:
1. Comment on this blog post, and tell us why you would like to bring your kids to the "Aviva Superfundae 2016".
2. Join and LIKE the Aviva Superfundae and Ed Unloaded Facebook page
3. Share and Tag this blog post on your Facebook Wall with the Caption "Win Family Tickets to the Aviva Superfundae 2016" (Tag at least 1 friend).
For those who are new to the process, just copy the Blog Page Address and Paste it on your FB Wall. (Do Remember to add the Caption and make your share Public!)
The Giveaway ends on 16 May, 2016 at 2359 hrs.
(Editor's decision on Winners are final, and Facebook accounts used solely for Giveaways will NOT be entertained. All incomplete entries will also automatically be disqualified. The management reserves all rights to amend or change the terms & conditions of this promotion without prior notice. Final decisions will be made by Ed Unloaded.com.)
(Disclaimer: Prizes are sponsored by Aviva Superfundae 2016, but all opinions are 100% our own.)
__________________________________________________________________________________________________
And the Winners are:
Evelyn Hu
Jeslyn Genevieve
Congratulations! We will be writing to you shortly about the collection of your prize. To the rest of our readers, do stay tuned for our next giveaway.