5 Reasons to Visit the All-New Go Go Bambini! (Giveaway)
As the boys grow to be more active with lots of energy to burn (they just hit the one and half year mark!), I am constantly looking for play destinations which are spacious, safe for them to run around and comfortable for the whole family. My family was specially invited to visit the all-new Go Go Bambini located at Dempsey Road and it fit the bill in more ways than one. 
(Sponsored GIveaway)
If you are looking for a self-contained playground, which is set to entertain both kids and adults, Go Go Bambini might just be the place for your family.
Here are the Top 5 Reasons, why you should visit Go Go Bambini:
1)    Bright, spacious and really clean
Now owned by the founders of renowned preschool Pink Tower Montessori, Go Go Bambini underwent a full 2-month overhaul to uplift its premises. Equipped with high ceilings, lots of glass windows to let light in and Scandinavian style wood elements, the whole place feels open and spacious.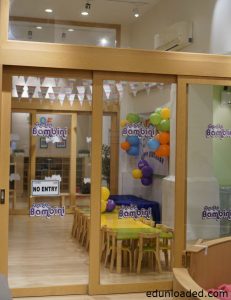 Your children are in safe hands, as the new owners have over 10 years of experience in operating a preschool, This means that they know a thing or two about maintaining a high level of hygiene and cleanliness within the play gym. The play area actually feels spick and span, unlike some other play gyms I have been to in the past, which were messy, cluttered and grimy. Thumbs up to Go Go Bambini, for excelling in this area! 🙂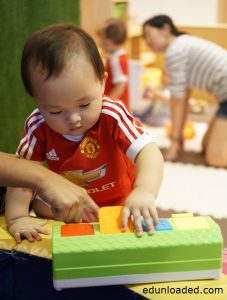 2)    Fun-filled play spaces
Can you imagine a playground with a 4 storey slide, a flying fix and a mini rock climbing wall? If you have kids, who are 4 years and older, you can be rest assured, that they will enjoy Go Go Bambini.
Although my 2 yo boys are still young, and currently not into slides and crawling through tunnels, they were not left out! I really appreciated that Go Go Bambini has specially set aside areas, for the younger tots who are less than 3 years old. The ball pit and floor piano are 2 pieces of equipment, which they loved exploring!  The ball pit was a big hit with my boys, as they could finally "make a mess" by scattering the balls all around them, without Mummy nagging them. Lol!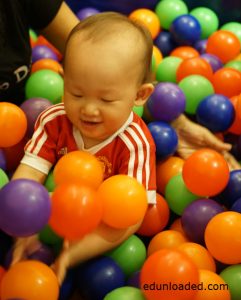 My only gripe is a bit more enforcement was needed to ensure the older kids stayed away from the toddler areas as they could get quite rowdy. Of course, at the end of the day, parental supervision is still key.
3)    Sumptuous food at the in-house café

After all the action, it was nice to take a break at the cosy in-house cafe, especially for the adults! Yes! I did mention that the adults would be entertained, and food is always a hit with all Singaporeans. Frankly, I did not have high expectations for the cafe,but I was pleasantly surprised! 
The winglets I ordered, were nicely plated and actually tasted quite yummy! The smoothies and freshly squeezed juices were so refreshing, that we ordered a second round! We heard the pizzas are their house specialty and would love to try them when we come back again.

For parents with older kids, it is entirely possible to spend a nice relaxing afternoon chilling at the cafe over a flat white, catching up on social media with the free Wi-Fi, while still keeping an eye on the kids as they have a ball of a time. Can you tell I am kind of hoping that such a time will come soon for me?!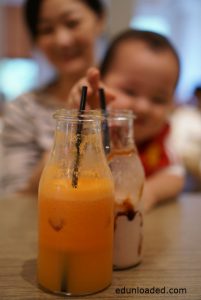 4)    Free storytelling sessions

Besides the slides, expect free storytelling sessions every Wednesday afternoons covering children's well-loved classics like "The Giving Tree", "The Very Hungry Caterpillar" and ending off with a related art & craft activity. Instead of having iPad time, storytelling and handy craft sessions allow the kids, to have their imagination and hands stimulated! There are upcoming plans to add an additional storytelling sessions which will cover Mandarin stories. I am definitely looking forward to that! 🙂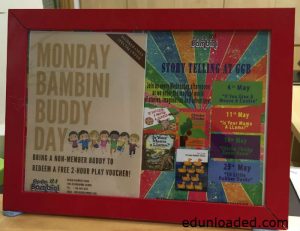 5)     Free colouring activities
Should the kids need to catch their breath from all the active play, they can simply engage in free colouring activities found in the party rooms. I really love the thought the owners put into creating an all-round experience for the children!

A Note from Ed Unloaded:  We are so glad to have Go Go Bambini back in Operation. My kids grew up playing in this playground, and I am sure that lots of young kids, will continue to enjoy this playground. Great thing about Go Go Bambini, is that is located in Dempsey!  This means that there are lots of restaurants, and good food around. Parents therefore have lot of options, when to comes to chilling!
__________________________________________________________________________________________________
And wait, there is exciting News for all our Readers!
We are giving away FREE Annual Passes to Go GO Bambini.  For this Giveaway, we are choosing 3 Winners! 
2 Winners will walk away with 1 FREE Annual membership each (which comes with 3 free passes & special member admission rates), and the last reader, will walk away with 3 Free Passes to Go Go Bambini.  
To qualify, all you need to do is to:
1. Comment on this blog post, and tell us why you would like to bring your kids to "Go GO Bambini".
2. Join and LIKE the Go Go Bambini and Ed Unloaded Facebook page
3. Share and Tag this blog post on your Facebook Wall with the Caption "Win FREE Annual Passes to Go Go Bambini" (Tag at least 1 friend).
For those who are new to the process, just copy the Blog Page Address and Paste it on your FB Wall. (Do Remember to add the Caption and make your share Public!)
The Giveaway ends on 18 May, 2016 at 2359 hrs.
(Editor's decision on Winners are final, and Facebook accounts used solely for Giveaways will NOT be entertained. All incomplete entries will also automatically be disqualified. The management reserves all rights to amend or change the terms & conditions of this promotion without prior notice. Final decisions will be made by Ed Unloaded.com.)
__________________________________________________________________________________________________
And the Winners are:
Karen (Annual Membership)
Leny (Annual Membership)
Doreen Ong (3 free passes)
Congratulations! We will be contacting you shortly about the collection of your prize. To the rest of our readers, do stay tuned for the next giveaway.