We are in The New Paper
Last weekend, We had the privilege of being featured in the Sunday edition of "The New Paper".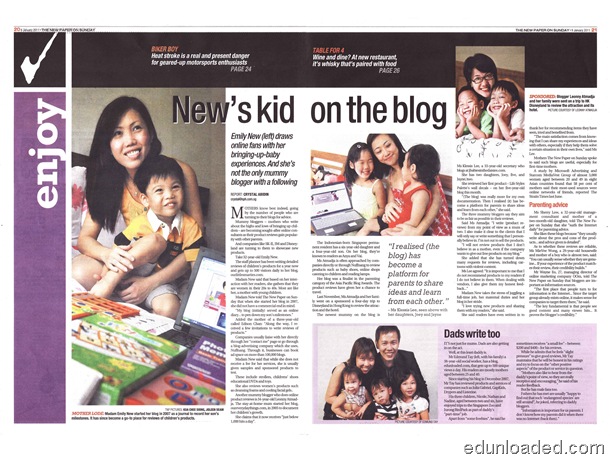 Many thanks to everyone for their support and also Crystal from the TNP for featuring this Daddy Blogger.
If some of the mummies look familiar, they are none other than our friends Klessis and Leonny!

If you have not read the papers on Sunday, here is what I said in the article:
Dads write too
IT'S not just for mums. Dads are also getting in on the act.
Well, at this least daddy is.
Mr Edmund Tay (with his family) a 38-year-old social worker, has a blog, edunloaded.com, that gets up to 500 unique views a day. His readers are mostly mothers aged between 25 and 40.
Since starting his blog in December 2007, Mr Tay has reviewed products and services of companies such as Julia Gabriel, GapKids, Drypers and Listerine.
His three children, Nicole, Nathan and Nadine, aged between two and six, have enjoyed trips to the Singapore Zoo and Jurong BirdPark as part of daddy's 'part-time' job.
Apart from 'some freebies', he said he sometimes receives 'a small fee' – between $200 and $400 – for his reviews.
While he admits that he feels 'slight pressure' to give good reviews, Mr Tay maintains that he will be honest in his ratings and try to focus on the 'other positive aspects' of the product or service in question.
'Mothers also like to hear from the daddy's point of view, so they are really receptive and encouraging,' he said of his reader feedback.
But he has male fans too.
Fathers he has met are usually 'happy to find out that such 'endangered species' are still around', he joked, referring to daddy bloggers.
'Information is important for us parents. I don't know how my parents did it when there was no Internet (back then).'