Maximize your Credit Card Savings!
After getting a stable job, most of us get a Credit Card. According to a survey in 2012, Singaporean cardholders own the most number of credit cards around the region. Most Singaporeans own an average of 3.3 cards per individual. With countries like Hong Kong and Taiwan coming in at a distant second, with 2.7 cards per individual. As you can see, credit Cards are very much part of every young executive's lifestyle.
As a family, we use a few credit cards, in order to maximize our savings! However, as most cards come with a minimum spending, and discounts only available at certain outlets, one must be savvy in order to maximize one's credit card savings! My wife finds it too troublesome to remember every discount detail that comes with every credit card, and would just prefer to use one main card. Sounds familiar right? 🙂 It is therefore not surprising that according to the Roper World Wide 2013 Report, consumers prefer simplicity rather than the complicated deals that come with most credit cards! They want a card, which is "Straight up" and True to its purpose!
Recently, we were walking along the malls at Suntec City, and we were introduced to the new American Express True Cashback card! This card offers 1.5% cashback everywhere,  with no minimum spending and no earning cap! Savings is also given immediately in your next credit card statement. There is no need to look into any quarterly spending, and you can even spend $0 in your next month!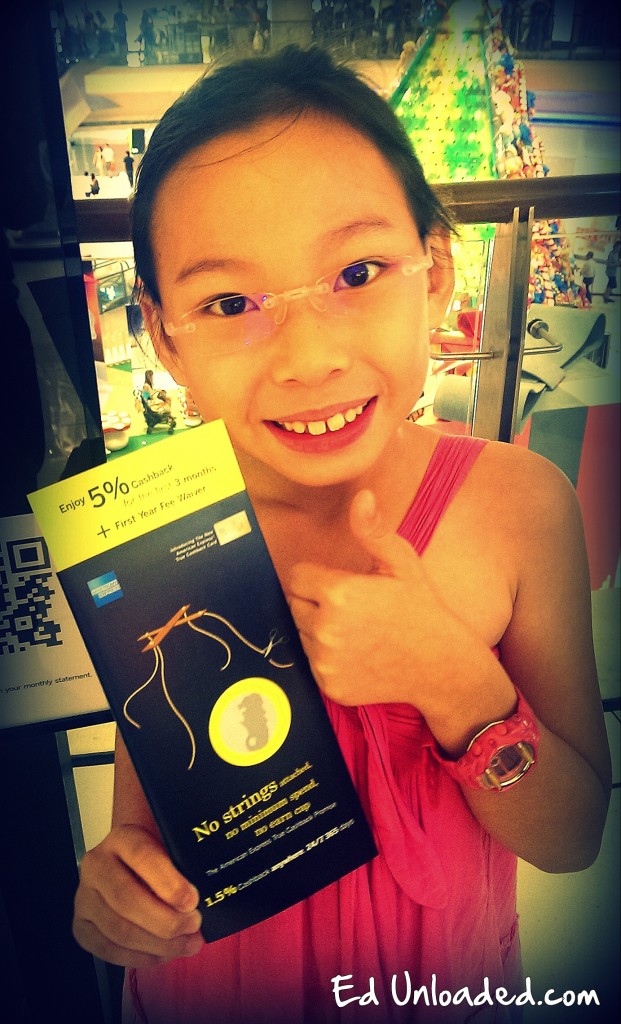 Our previous experiences with other credit cards is that, we will need to keep up our spending for a certain period in order to get the cash rebates.This formula, is further complicated, when consumers are not given the same discounts at different establishments. Upon research, we also realized that at 1.5% cashback for all spending, the American Express True Cashback card, will be a leader in savings in terms of medical bills, electronics and other miscellaneous spending like a wedding dinner, renovation expenses, children's toys and the latest fashion wear.
But wait, there is a special perk that comes with the card, which must this Amex card, one which you must add to your collection! For the first 3 months, they are offering all new applicants a Cashback of 5% on all your spending! Yes! that is truly amazing and great savings for your wallet! 🙂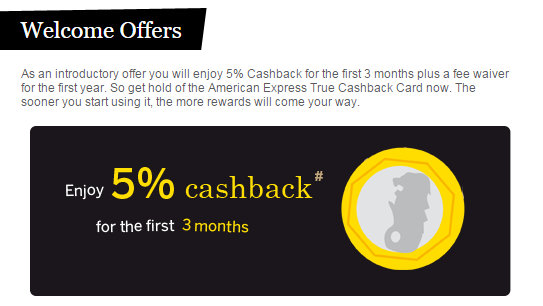 We got this card before Christmas, and we were excited about how the card was going to help us! And true enough it really helped us! For example, our car suddenly broke down, and we had some unforeseen expenses at Cycle and Carriage ($429.29).
Next, we went to the new Fairprice Warehouse Club at Jurong, which does not give customers the normal discounts that we get at Fairprice ($50 + $119.40). No problem, we whipped out our American Express card, and we knew that we we were going to get some special rebates. True to it's name, this is the bill that we got!
Check out some of our expenses below:
And at the end of the day, due to the 5% cashback, we were able to walk away with $44.64 in savings! 
That is fantastic for us as a family, as we would have lost all these SAVINGS, if NOT for the 5% cashback!

With Chinese New Year coming up, we are in for another month of spending! Everyone needs to spend a little bit more on these months to spruce up the house, and get the house prepared for relatives and friends. We are definitely glad that we have our AMEX True Cashback card to accompany us, and help us with some much wanted savings!
Sounds too good to be true right! And Yes! there is no Annual Fee charge, so there is no harm applying for one!
For more information, do click to find out more about the American Express True Cashback Card!  or join the Amex Facebook Page to get updates on the latest offers!
Disclaimer: This post contains Sponsored Content from Amex. But all opinions are 100% my own.