---
It is my favourite time of the year again, and tomorrow is Christmas Eve. Yipee!!!
We have been busy shopping for relatives and friends, and the shops are getting really crowded as everybody is doing their last minute shopping.
The kids have also been getting into the mood, as we have been playing Xmas Carols in the car. Have you ever realized that this is the only time of the year, where you need to check your CD cabinet, and pull out those old dusty Xmas CDs.
The older kids have also been enjoying this A Capella Group called "Straight No Chaser". They were made popular due to Youtube, and they have been entertaining us since their first Xmas album. Check out their famous YouTube Hit here. (It has more than 10 million hits!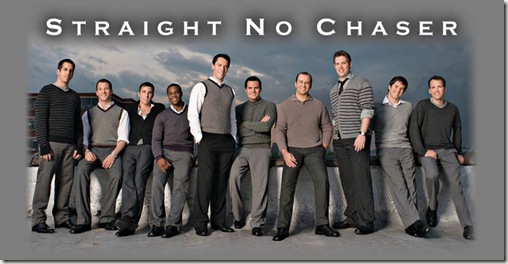 They just launched another Holiday album for 2009, and the songs are proving to be really catchy as well! Check out one of their holiday selections here:
The song is really fun and catchy!!!
This other video gives a good background of the History of Straight No Chaser
If u like their songs, you can also find their albums at HMV!
But most importantly, you got to make this holiday season extra special for yourself and your family.
Join us at the Singapore Expo or at Jurong West St 91, to experience the magic of Christmas.
In my honest opinion, I think City Harvest Church puts up great dramas and I believe that you will definitely enjoy this one! Do come down and join us this Xmas!