---
Primary 1 Registration happens every year from June to September, and this can be one of the most stressful periods for Parents.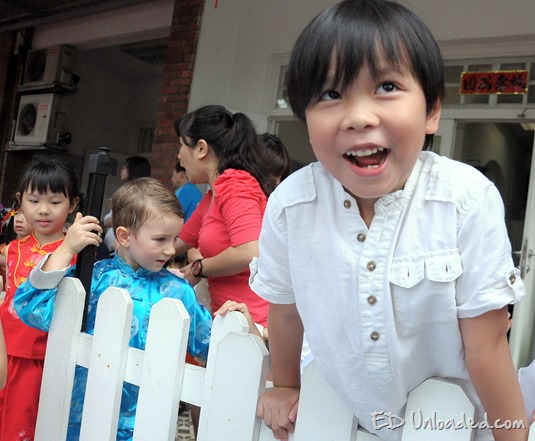 Here lies the traditional debate…Should I go for a Branded School or a Normal  Neighbourhood School? Is branding important? Are things like distance important?
As both my wife and I come from quite famous Primary Schools, we had the luxury of choosing from either one of our Alma Mater. Hailing from these schools, I also tend to have a  natural bias towards putting my kids into a reputable school.
Branded Schools are always much courted as they supposedly offer the best teachers and  best resources. In fact, when your child enters a branded school, there is a good probability that he/she will have classmates, whose parents have a certain social standing as well.
However, a key factor in education is of course the teacher himself. It does not matter how sophisticated an instrument that you put into the hands of an educator, as a skilled craftsmen can shape a beautiful diamond out of any piece of coal. I believe that it is the teacher himself that plays the key role.
After all, all of us remember the classes where we had the most interesting teachers who brought a new "spin" to a topic. Suddenly, core subjects such as  Science and Maths were not as boring, when the new creative teacher were able to explain the new theories simply and coherently. Conversely, we also remember the teachers who bored us to sleep with their monotonous tones, and boring teaching styles. And the sad fact, is that these teachers exist in  branded and non-branded schools…
American Schools try to solve the teacher problem, by hiring the best teachers. However, after working as a teacher for 2 years, it is practically impossible to "sack" a teacher. This means that bad teachers will remain in the school system for a long long time…
A secondary variable to look out for, is the Leadership factor.
I  truly believe that everything rises and falls with leadership. A good thing to look out for when choosing a school is whether there has been a change in leadership in the school. Good academic trek records are determined by past performances, and Principals determine the direction of the school. A good principal determines the morale of the school and how the whole teaching fraternity functions. I have witnessed many schools going up or down in rankings due to a leadership change.
So the Primary school may be good now, but find out if the Principal will still be there, when your child is in his/her 2nd year or later.
And lastly, I believe that every parent should also consider the D word, when choosing a Primary School. DISTANCE is a very important variable in this whole equation. I used to think Singapore is so small, what's that one hour traveling for a kid? Well, imagine your child waking up at 5.30 a.m. instead of 6.30 a.m. Imagine your child having lunch at 2.30 p.m. instead of 1.30 p.m.
Going to a branded school may be important to parents, but spending one's time travelling from point A to point B, may be too tiring for our young children, regardless on whether they are chauffeured or not. To complicate things further, when the kids go for CCA or Enrichments, the Distance problem is further amplified. You've to drive him down to school and then you ask yourself, do I drive home? Or do I go for grocery shopping for 3 hours? And that's the reason why you see many Parents reading the Sat papers in the canteen or at the Mcdonalds nearby?
And what if your child forget to bring the File/workbook/exercise book for school, and you need to drive home to pick it up… imagine doing that in the peak hour traffic. What a torture…
If you have a good school nearby, do seriously consider it! Doesn't have to be branded, cos the sanity you get from a nearby school far outweighs the benefits of the branded school.