---
Mummy blogs & hums…
It's beginning to look a lot like Christmas…Everywhere you go…
Our Christmas tree at home is up with Silver baubles, Silver hearts, Silver raindrops, Silver stars… we have them frosted, matt, and shiny. It looks beautiful, really.
Take a look in the five-and-ten…glistening once again…
So begins our Christmas shopping. I started this list, that seems to be growing. It was time to ask innocent questions like, "What's Tom's daughter's name?" or "Is Grace's kid a boy or a girl?" Well, I'm on track in my shopping! Woohoo!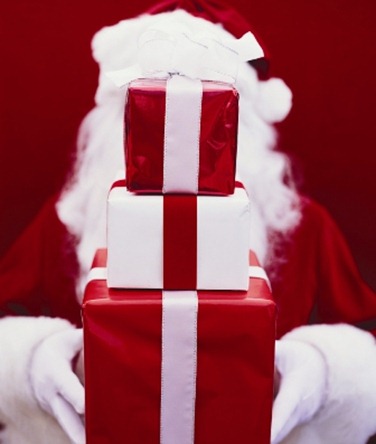 With candy canes and silver lanes aglow…
Then of course there's my three kids to think about. In the past, we brought them to Toys"R"Us and they could choose anything they wanted for Christmas. This year, yours truly came up with what I think is a B.R.I.L.L.I.A.N.T. idea for the kids!
It's beginning to look a lot like Christmas…
We will go Toys"R"Us, but instead of choosing a gift for themselves, they will choose a gift for their siblings! And of course, we would be around to moderate! Ain't that a great plan? They get to think about each other, we get to teach them about giving, and we can say NO without hurting their feelings!
Toys in every store…
We did just that today. Marched to the toy store, while each child was away attending a Trial Class (more about that in the next post), the remaining two kids will pick a toy. We'll pay and get it wrapped, so it remains a SECRET.
It was a huge challenge.
No one wanted to put much thought into the gift. In fact, Nicole wanted to get Nathan a Toy Story Greeting Card! She insisted he likes Toy Story.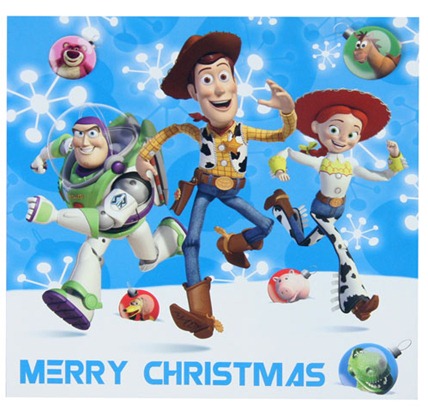 I forgot that getting a boy to think of a girl gift with my friends was so difficult, let alone for a 3 yr old! Nathan was absolutely not interested to look at ANYTHING in the girls' department. Nicole told him she wanted anything Barbie. At the Barbie lane, he saw Barbie as a Dentist, Barbie the Bride, Barbie with the dog, Barbie on a scooter, Barbie in Green, Barbie in Purple… He looked frustrated when he exclaimed, "I don't know!"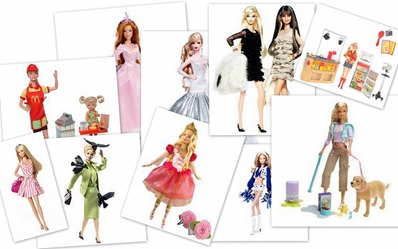 As for a gift for Nadine, no one wanted to look into that. And she was agreeable to buy anything for them!
After much marketing and persuading, they bought their gifts! It was exciting in the car when they saw the three large boxes. Then it started, "I want to open it now", "What's inside", "What did you buy for me?"… if you know kids, secrets do not exist among pre-schoolers. The truth came out quite quickly. Urgh!! We had to change the topic, sing carols to distract them.
But we'll do it again next year. I'll say 2010's just teething problems!

Look at the three new gifts under the tree! And more love in the family eh!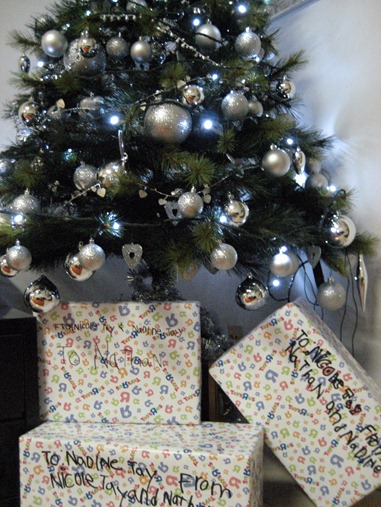 But the prettiest sight to see…is the holly that you see…on your own front door
It's really beginning to look a lot like Christmas! How does your family prepare the Christmas gifts? Do share!
Mummy checks out… still humming…