Top 5 Tips to Save Fuel
As Saving Fuel means Savings for the whole family, here are some Fuel Saving Tips for all motorists out there:
1.  Drive Smoothly:
Aggressive Driving can use as much as a third more fuel than safe driving. Avoid Accelerating and Braking too hard, to keep your steering as smooth as possible.
2. Use Higher Gears:
The higher gear you drive in, the lower your engine speed is, which can improve fuel efficiency. So change up a gear whenever you can, without labouring the engine.
3. Avoid Over Revving:
Change gear in good time when you pull away or when you are accelerating. Never "redline" the rev counter.
4. Avoid High Speeds:
The faster you go, the more wind resistance you encounter. and the more fuel your vehicle will use to maintain speed. Driving just a few kilometres per hour under the 90km/h speed limit can lower fuel economy compared to driving 20km/h over the speed limit.
5. Avoid Excess Idling:
Idling gets you no where and burns fuel. As a rule, if you have stopped for over 10 seconds, switch off your engine.
And of course, the best way to save fuel, is to get a fuel discount! The good news is that the Shell $5 discount coupon is still on. Complete the game, and Shell will be sending you the coupon in September.
(Game Tips: you need to play the game at least twice. Only on the 2nd attempt, do you get to go to the garage to empty the excess load in the car. Remember: Don't Over Rev and let the car glide on the slopes)
Here are the detailed instructions:
1. Proceed to the  Target One Million online game. website
2. Register your details before playing as, this ensures valid entry.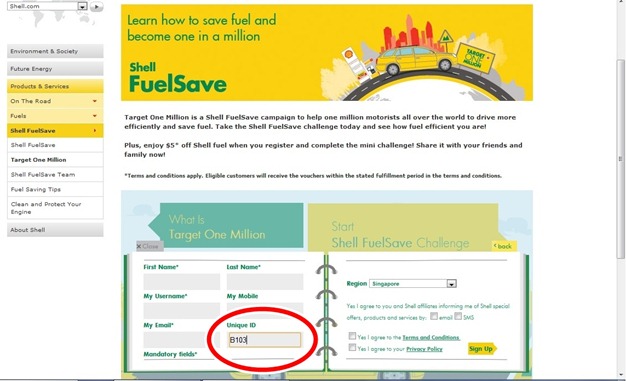 3.  Remember to key in  all your details and the UNIQUE ID: B103, as Shell will need all your details to send you the $5 voucher. The Unique ID also lets Shell know that you are my friend and helps in my blogger competition with them!
4. Play the online game (which is really very simple), and Shell will send you the voucher upon successful completion of the game.
So, don't delay in signing up and click on this link to head over to Shell
I am definitely getting all my friends and relatives involved. $5 can go a long way, as the vouchers can be combined, and it is definitely great savings! (Promotion ends 26 August 2012 at 2359hrs)