Your weekends are never going to be again, as Wicked the Musical is in town! The emerald city has arrived in SIngapore and playing with a musical plot that keeps one mesmerised, Wicked the musical is set to thrill the young and the old. Together with a track record of already breaking box office records around the world and winning 3 Tony awards, 1 Grammy and 2 Olivier Awards, Wicked is a "MUST WATCH" musical.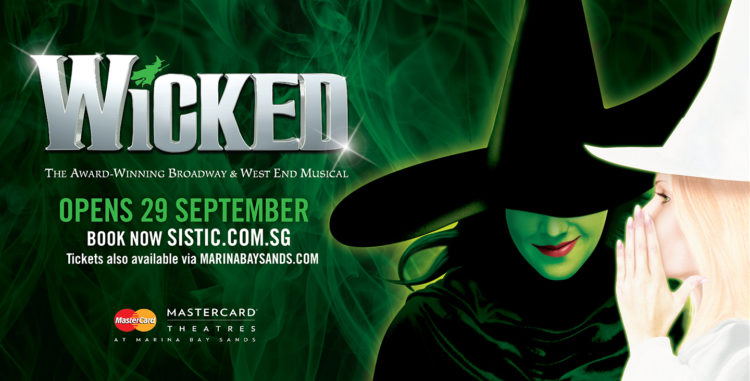 We first caught the musical while we were in London and the show has definitely kept us coming back! Yes! It's totally WICKED! 🙂 For this run in Singapore,  we decided to bring the kids and let them experience the musical for themselves.
Initially, Nathan was a bit afraid of the Wizard! It seems that he watched an old TV production of "The Wizard of Oz!" and it left a nasty scar on his life. The production seemed to have scared the jeepers out of him, and he was afraid that this Wizard will be just as scary. Well, the good news is that he totally loved the show and the "Scary Wizard" was not a bother to him at all. In fact, even my youngest 8 year old enjoyed the show! 🙂
If you are wondering what the musical "Wicked" is about, here is a brief synopsis.
Synopsis of Wicked the Musical
The musical is told from the perspective of the witches of the Land of Oz; its plot begins before and continues after Dorothy's arrival in Oz from Kansas. Wicked tells the story of two unlikely friends, Elphaba (the Wicked witch of the West) and Galinda. Growing up, Elphaba is ostracized due to the color of her skin, while Galinda has all the right attributes to be the most popular girl in school.
The Musical explores about how the girls discover themselves, their love lives and how they ultimately find their destinies in life. Throw in a corrupt government helmed by a fake Wizard, spice it up with an evil innuendo and we have a great musical!  Together with Elphaba's quick wit, great voice and dumb blonde jokes, it was a great night out for the whole family!
If you are wondering about the songs in "Wicked", check out "Defying Gravity" in the video below:
If you are a fan of the theatre and would love to see your children following in your footsteps, we strongly recommend the "Wicked" experience!
For theatre bookings and details, check out the listings below:
Event Date
Thu, 29 Sep – Sun, 20 Nov 2016
Tue – Fri: 8pm
Sat: 2pm & 8pm
Sun: 1pm & 6pm
Venue: Mastercard Theatre at Marina Bay Sands.
Tickets start from $55 onwards
Visit
SISTIC
for more details.