Erth's Dinosaur Zoo (Giveaway)
Kidsfest 2015 is in town and one of the show's that we are looking forward to is Erth's Dinosaur Zoo. Part puppet show and part palaeontology lesson, Erth's Dinosaur Zoo features large scale dinosaur puppets brought to life by a team of skilled performers and puppeteers, designed with the help of professional palaeontologists. If your kids love dinosaurs, this educational and fun show is definitely for you! 🙂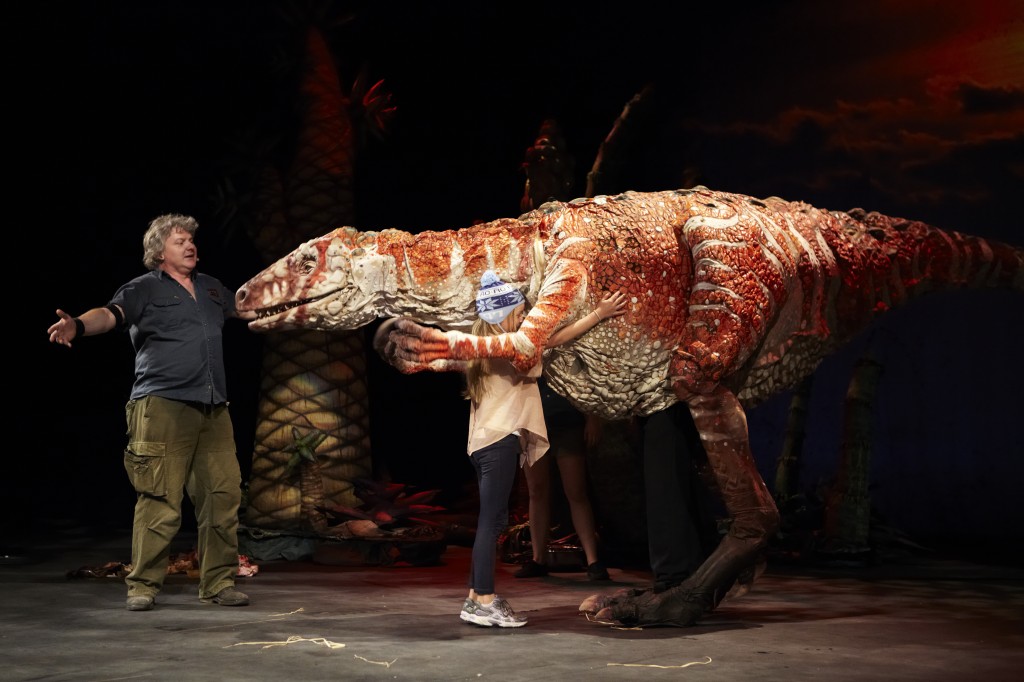 In the show, kids will get up close and personal with an amazing array of creatures from bygone eras, connecting young audiences to the real science of palaeontology. They will meet a menagerie of insects, mammals and dinosaurs that once roamed free around the world and are now in daily residence at Erth's Dinosaur Zoo™.
We managed to meet up with some of the team late last year, and the team was very engaging! They are very good in building up the atmosphere for the arrival of the puppets, and the movements of the crew, were so life-like! For a while, the kids taught that they were in the presence of real live dinosaurs.
In the show, kids will get to meet dinos from  some of the largest carnivores and herbivores that have ever walked the planet! Erth's dinosaurs are unmistakably 'alive' and mostly friendly! In this fun, educational and unique performance that will delight all audiences from ages 5 years and up.  Kids will learn how to feed and interact with Erth's dinosaurs in a once in a lifetime interactive experience. Children can watch wide-eyed from a safe distance or dare to get right up close to these prehistoric creatures.
Show will be suitable for:
For children aged 5 and above and their families
Running time 60 minutes with no interval
A 10% discount is available for groups of ten or more
There is no minimum age for this performance and all audience members must have their own ticket.
Performances for schools are available during weekday mornings.
Click here for more information.
Click to find out more about Kid's Fest 2015
______________________________________________________________________________________________________
And Yes! we have a Giveaway for our readers! where we are giving away 1 family package (4 Tickets).  Besides the top prize we are also giving away 2 Kids Fest Hampers worth $200. Some items in the hamper includes toys such as Magic Maize Fashion Fairies and Jumbo Knockout from ELC, 1 Gruffalo's Child music CD, 1 The Gruffalo Story book and a KidsFest goodie bag!
This means a TOTAL of 3 Prizes in this giveaway, and all  you need to do to Win is:
1. Comment on this blog post, and tell us what you love about Erh's Dinosaur Zoo?
2. Join and LIKE the Kid's Fest Facebook Page and ED Unloaded Facebook Page Facebook Page
3. Share this blog post on your Facebook Wall with the Caption "See the Dinosaurs for FREE!"
For those who are new to the process, just copy the link below and Paste it on your FB Wall. Do Remember to add the Caption!
 http://edunloaded.com/giveaways/erths-dinosaur-zoo-giveaway/
The Giveaway ends on 25 Jan, 2015 at 2359 hrs.
(Editor's decision on Winners are final, and Facebook accounts used solely for Giveaways will NOT be entertained) 
(All
Prize collection
will be at ABA Productions office, on weekdays during office hours)
Additional Note: 
For the contest, the date and the time of performance is: 
Date  
: January 29
th
/ Thursday
Time  
: 7.15pm
Venue
: School of the Arts (SOTA) – 1 Zubir Said Drive, Singapore 227968*Note that the date/ time cannot be changed and Erth's Dinosaur Zoo is recommended for audiences from 5 years old and up.  ______________________________________________________________________________________________________ And the Winners of this Giveaway are:  1) Karen Chen (Family package) For the hampers: 2) Sharine Lim 3) Jean Tan We will be in touch with you about the collection of your prize, and to the rest of our readers, do stay tuned for our other giveaways! 🙂 ______________________________________________________________________________________________________